Billy's Burgers and Bar has been getting a lot of love on social media lately.
Do they live up to their reputation? Keep reading to find out!
---
Hobart's waterfront is a mecca for visitors and locals alike.
At least it used to be…before the dreaded 'C' word.
But despite the doom, gloom and worn out novelty of the office-in-a-room…things are looking up. Tassie has proudly declared itself CV-free and there's even talk of travel 'bubbles' and open borders (sorry Victoria, no soup for you!).
It might be winter, and tourism is still non-existent, but there is still a palpable 'buzz' around town that wasn't here four years ago when we left Tassie for our world travels.
Hustlers hustling, bustlers bustling, peakier peak-hour traffic, more opportunities for sidewalk dancing with random strangers, more Asian grocers, more highrise, less blue skies…
But best of all? More restaurants and cafes at which to eat!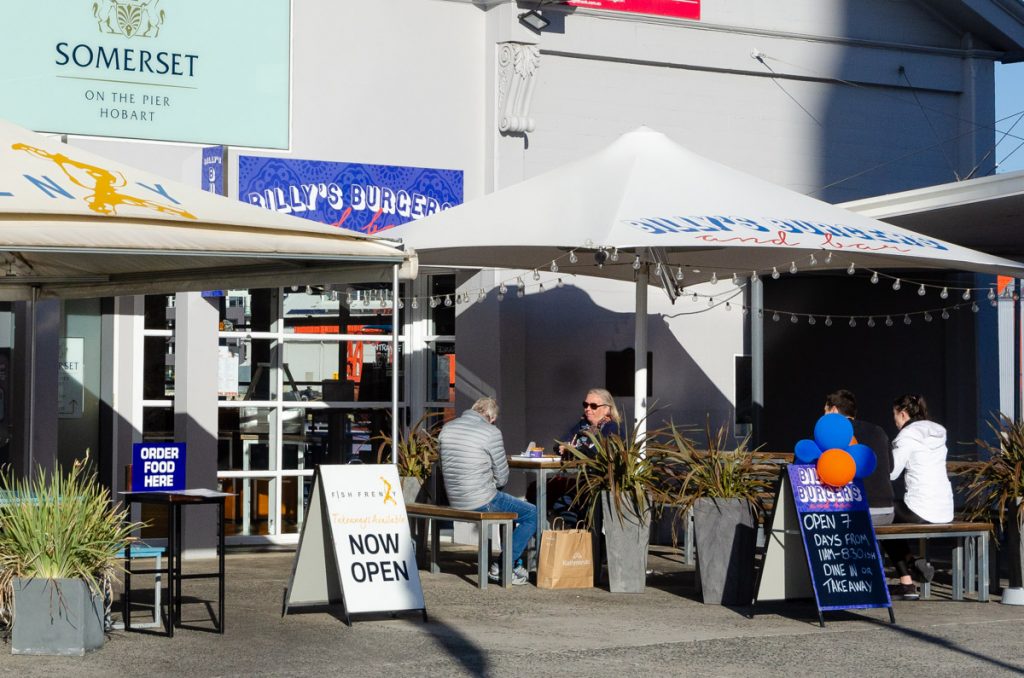 ---
Billy's Burgers and Bar – the 'Classic Deluxe'
When we asked you on our Facebook page where to go in Hobart for the best burger experience there was a lot of love for Billy's Burgers and Bar. In fact, it was the most recommended venue in town.
Did it live up to its reputation?
Oh yeah!
But with a catch…
First of all I need to get this out of the way…the burger isn't the best in town (that accolade still rests with Belles Burgers). But you know what? It's still streets ahead of most.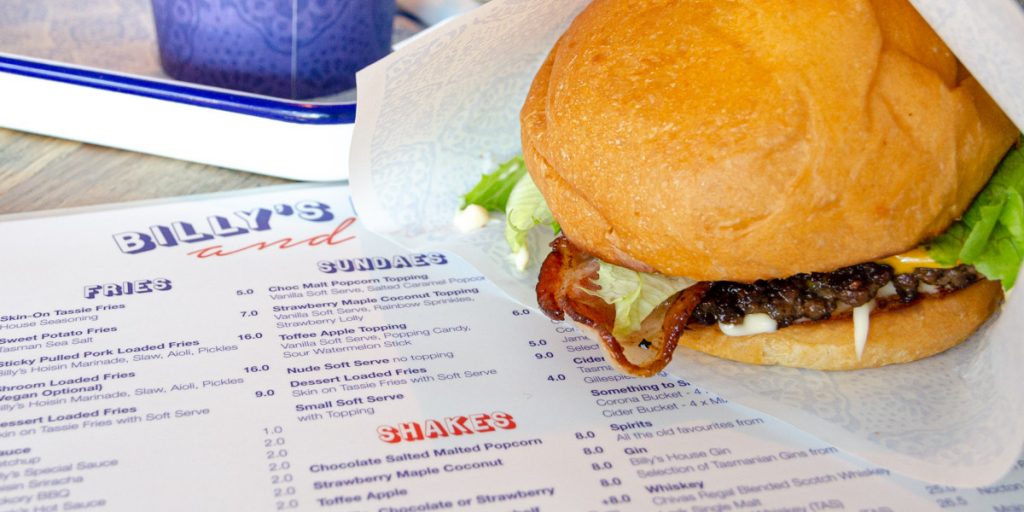 The 'Classic Deluxe' was my choice ($14), comprising a beef patty, bacon rasher, cheese, pickles, lettuce, mayo, ketchup and American mustard.
It's a traditional 'never fail' combo and I really like the way they fried the bacon. Crispy on the outside, but still tender in the middle – I'd pay for buckets of that bacon alone 🤤
My only criticism is that it left me feeling unsatisfied. The patty was delicious and beautifully cooked, but unfortunately it was too thin and ended up playing second fiddle to all the other ingredients.
I bang on a lot about how it's the ratios that make a truly epic burger, and in this case it was enough out of kilter to knock it down a notch.
Don't get too hung up on this though, because it's still a brilliant burger and there is plenty more that I absolutely loved about Billy's Burgers and Bar that make it a 'must-visit'.
#1 – The vibe
Hobart's wallet-unfriendly waterfront can come with a sideserve of hoity toity condescension, but there's none of that at Billy's.
The complete opposite in fact, and I can't remember the last time I was made to feel so welcome.
A friendly g'day as soon as I walked in. Smiles all round. Easy advice on where to sit and how to order. Occasional visits by Leo to ensure we were being looked after – especially the youngest one at our table – without feeling overbearing.
All such little, easy things that don't cost a cent, yet how many businesses can't seem to get it right?
#2 – The location
No matter where you are in Australia it doesn't get much better than Hobart's waterfront.
Billy's is in a prime position, at the city end of Elizabeth St Pier and within easy walking distance of the city centre and Salamanca precinct.
Whether it's a post-session Saturday night feed, or you're looking for a bright and breezy family-friendly lunch venue, Billy's ticks a lot of boxes.
Don't forget to keep an eye on your loaded fries though…those dastardly seagulls on the wharf would love to steal a chip or three!
#3 – The menu
If you're a parent you won't stop smiling when you see what's hidden in the menu.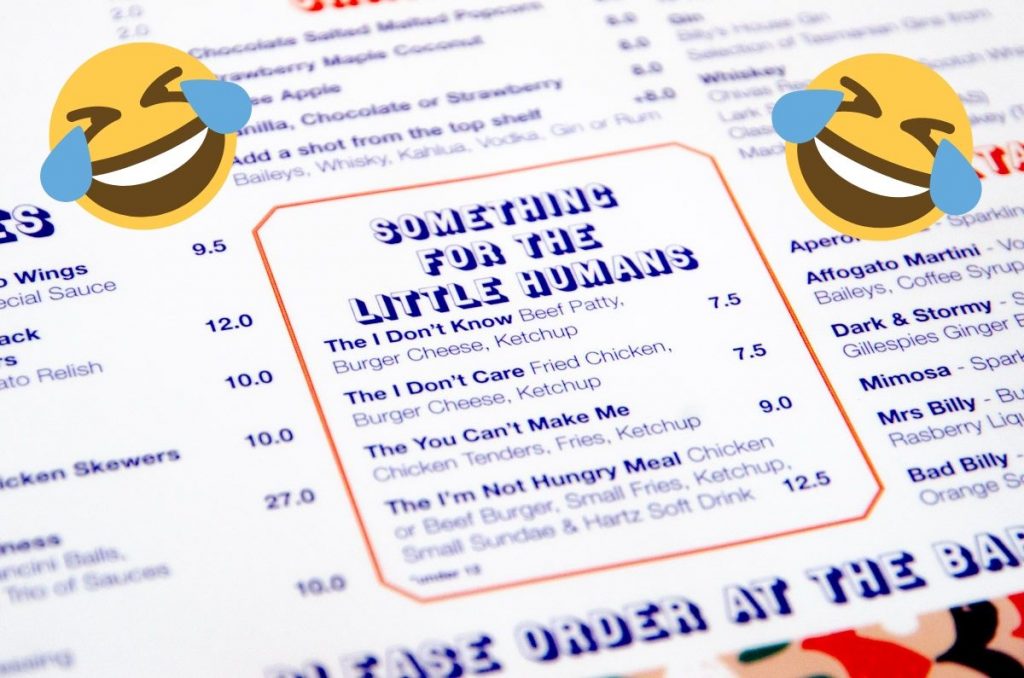 How about the "I Don't Know"? Or the "You Can't Make Me"? Or maybe the "I'm Not Hungry"…?
Menu selections are a piece of cake for even the most recalcitrant squirt or vexed parent 🤣
Adults are also well looked after. On the burger front you'll find 10 options for all tastes, including classic beef patties, sticky pulled pork, grilled chicken, and even a couple of vego and vegan burger options – all varying between $10-20.
Buffalo wings, polarising poppers (you'll either love them or hate them), and a huge range of fries make for great side-dishes – most under $10 – and next time I visit I definitely need to try their dessert 'Skin-on Tassie Fries with Soft Serve'!
Thirsty? There's shakes, beers, wine, spirits, and even a handful of shmancy pancy cocktails.
---
Final verdict on Billy's Burgers and Bar
Billy's Burgers and Bar is the big burger box-ticker.
Central location, amazing views, service that is second-to-none, delicious burgers, and surprisingly affordable for the waterfront…what's not to love?
Flavour – 4/5
Patty – 4/5
Bun – 4.5/5
Other ingredients – 4/5
Condiments – 4/5
Presentation – 3.5/5
Stuffable* – Yep, big-time!
Value – 4/5

*Can you stuff it in your face without a knife and fork?
---
Looking for more Tasmanian burgers?
With great vim and much vigour we are working our way through Tasmania's best burger joints. Please feel free to suggest our next venue!!
In the meantime you'll love:
Happy tasting!
Andrew and Karen.