Belles Burgers in Bellerive have been on our radar for so long, and finally we get the chance to try this Hobart burger mainstay.
Was Belles Bellerive worth the wait? You bet!
---
Oh holy day! Oh holy day!
Hark the prophet and hold thy rabid tongue. When cattle lay among the wheat, and pickles dwell on mustard seas. When oral pleasures are thine for 10 holy dollars…know that the day of reckoning is at hand!
Belles Burgers (and a resurrection of sorts)
International Burger Day.
That one day every year when Santa, the Easter Bunny, Martin Luther King, St Patrick, and even James 'the original' Valentine down tools, pull up a chair, put up their feet (or paws), and take a well-earned breather.
And under such holy auspices, what better day for us to witness a resurrection of sorts?
It was more than three years ago that Karen and I said farewell to Tasmania's golden shores.
But you know what? It may sound a little soppy, but absence really does make the heart grow fonder.
From Edinburgh to Albania, and Latvia to Guatemala. From naked Bulgarians to broken ankles, and tripe soup to tacos…it has been one hell of a ride!
But you know what? Despite all our wonderful experiences Tasmania is still our #1.
Its beaches, mountains, laid back lifestyle and eclectic vibe are the perfect combination that – no joke – could not be beaten by any of the 24 countries in which we spent time over the last few years.
And the food! OMFG…
It's only when you've spent a miserable day trawling through soft spuds and birthmark-ridden capsicums, Google translating off-white dairy products and squinting sideways at the mercurochrome meats of a Montenegrin Super Voli that you realise how good we have it here in Tasmania.
Our Euro-culture might be youthful at best, and yes, it can cost a small fortune to dine out, but damn our chefs know how to make the most of our quality produce!
If only we could escape isolation and savour it all 🤣
It hasn't been the homecoming we expected. Far from it. But how good has it been in recent days and weeks to see things starting – ever so slowly – to return to normal?
And what better way for these Two Clowns – well…one of them anyway – to show their support for the local foodie economy by making their way to Belles Bellerive and exchanging dollar bills for meaty thrills?
---
Belles Burgers Bellerive – the burger challenge continues!
Three and a half years ago our Tasmanian Burger Challenge was in full swing, and Belles Burgers was the newest addition to Hobart's burger scene.
A breath of fresh air we never inhaled.
Among garage sales, Gumtree (oh, the horror), packing, storing and the general chaos that a move overseas entails…we never got to try them.
Our loss.
But with $10 'Classic' burgers on the menu in celebration of IBD, what better way to wet my burger whistle and get our Tassie burger Challenge back on the road?!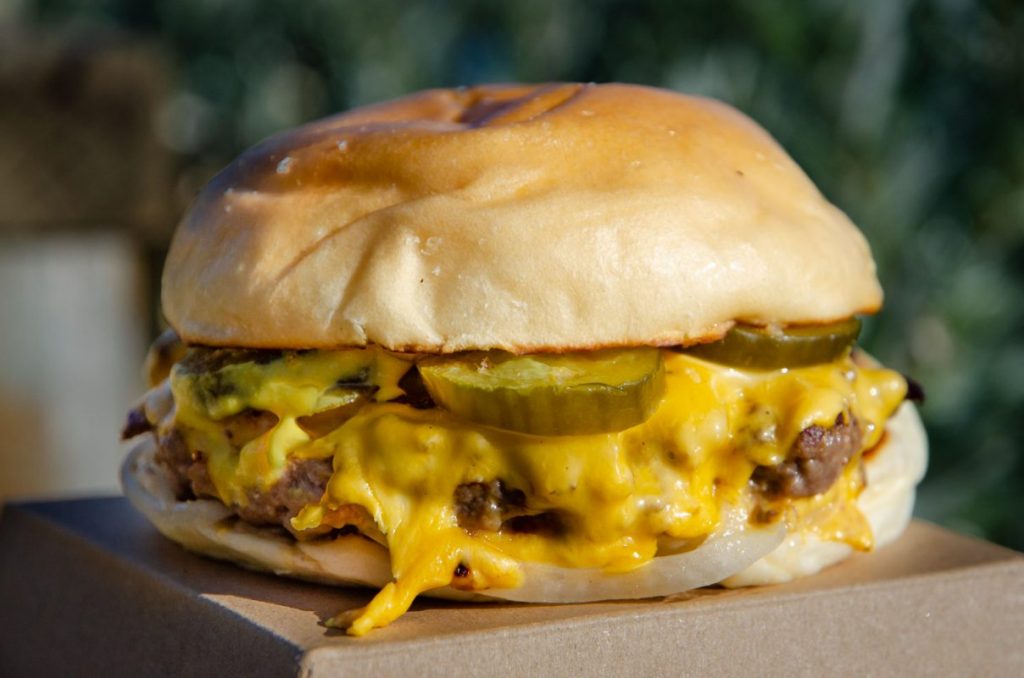 Check that bad boy out! ☝️☝️☝
Is that not perfection on a cardboard plate?
If looks could kill, that burger is pure poison.
Cute as a button bun, pickles peeping, American cheese casually draped over all and sundry, softly screaming, "Eat me!"
And I did.
And I wish I could have done it again. And again. And again.
Grilled patty + pickles + cheese + onion + mustard + ketchup = Classic
It's a simple formula and there is a good reason you'll find it on every self-respecting burger joint the world over.
It tastes goooood!!!
It's a hard combo to get wrong, but it is nek-level messianic Marco to get this sucker right.
And Belles Burgers delivered.
It wasn't perfect, but by Odin's beard they gave it a good crack.
No single ingredient stood out, but that's the way it should be. Everything working in harmony to fill your mouth with a little bit of pickle zing, onion pow, and beefy bam.
The cheese? Great flavour, and not too much – just enough to know you've taken a couple of hours off your life. And that light, yet deceptively sturdy bun that holds its shape from go to woah.
If you love your salt you won't bat an eyelid. But I can guarantee some of you will be gasping by that final bite.
I also prefer my patty blushing in the middle, but this one had been cooked just beyond. This is very much a personal preference – I'm probably in the minority – but together with the NaCl it was enough for me to shave off a half point.
But my biggest gripe?
It's too small! 🤣
By itself this burger is a snack at best. But paired with a side-serve of their deliciously seasoned shoestring fries and you've got yourself the perfect meal. Manna from heaven even.
Seriously, if you enjoy a good burger and you haven't been to Belles Burgers, get yourself over to the eastern shore – walking on water is our preferred mode of transport – and work yourself a miracle of biblical proportions 🍔😋
Belles Bellerive menu and prices
The range of burgers at Belles Bellerive is very good – click here to see their menu.
While I only paid $10 (praise-be IBD), the 'Classic' will normally set you back $14, while other options covering chook, pork, and even a couple of veg options, reach $16.
There are too many other options and sides to mention – wings, quesadillas and tenders get a mention – but if you are hankering for fries you're looking at $5 for seasoned (perfection, but again, heavily salted), up to $9.50 for 'Cheese and bacon'.
The range of beers gets both a gold star and an elephant stamp. From trusty Cascade to the hoppy delights of Shambles, Spotty Dog, T-Bone and Moo Brew, there is something wrong with you if you can't find a beer that satisfies.
With iso-restrictions slowly loosening, as of May 2020 Belles are currently providing limited dining-in, delivery and takeaway. Get on it!
Final verdict?
So, the big question – are they the best in Hobart?
Honesty is our policy, and it is too early too tell for this white-collar burger.
If this was three years ago it would be a neck-and-neck tie between Belles and the Winston – but for now we need to revisit all our favourite haunts, and some new ones, to get a better feel for where they sit.
A tough gig, but someone has to do it!
Taste – 4.5/5
Patty – 4.5/5
Bun – 5/5
Other ingredients – 4/5
Condiments – 3.5/5
Presentation – 5/5
Stuffable* – Absolutely
Value – 5/5

*Can you stuff it in your face without a knife and fork?
---
Looking for more Tasmanian burgers?
We are slowly working our way through Tasmania's best. Please feel free to suggest our next venue!!
In the meantime you'll love:
Happy tasting!
Andrew and Karen.