No holiday to Vietnam can be considered complete without trying the iconic banh mi. Yeah, it's got spam – but who knew how good it could taste on a crunchy baguette with pate, mayo, pickled veg and fresh greens? Simple, delicious, and ridiculously cheap – we've reviewed 7 stalls to find you the best banh mi in Saigon!
---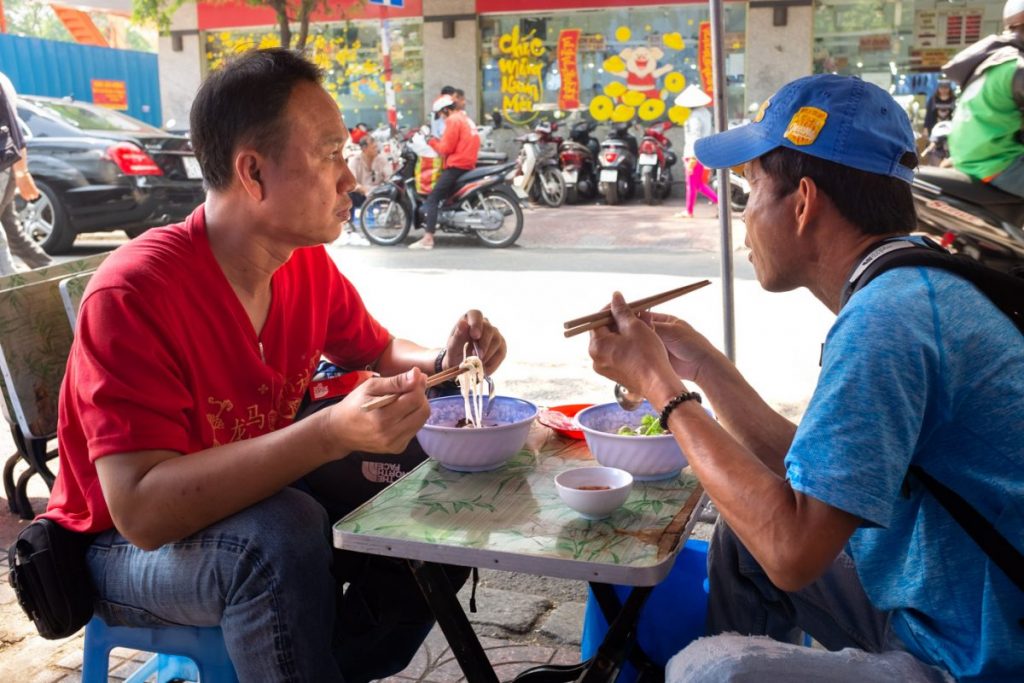 Banh mi. Banh what?
Vietnam is famous for its delicious street food, and one dish you can't miss in banh mi (bánh mì). Some call it the 'Vietnamese burger', others dismiss it as a plain old Saigon sandwich…but it is so much more than that, as we are about to show you!
Bread (bánh) isn't common throughout south east Asia, but before the French colonists departed Vietnam in the 1950s they left their legacy – the baguette.
When Mr and Mrs Le at Banh Mi Hoa Ma decided to start stuffing their baguettes with pate, mayonnaise, pressed meats, pickled vegetables and fresh herbs – instead of on a plate on the side as was the tradition – they had no idea they were kicking off their own culinary revolution – the banh mi was born!
This was the perfect, pocket-sized meal for Vietnam's working class that was not only affordable but ultra-portable as well.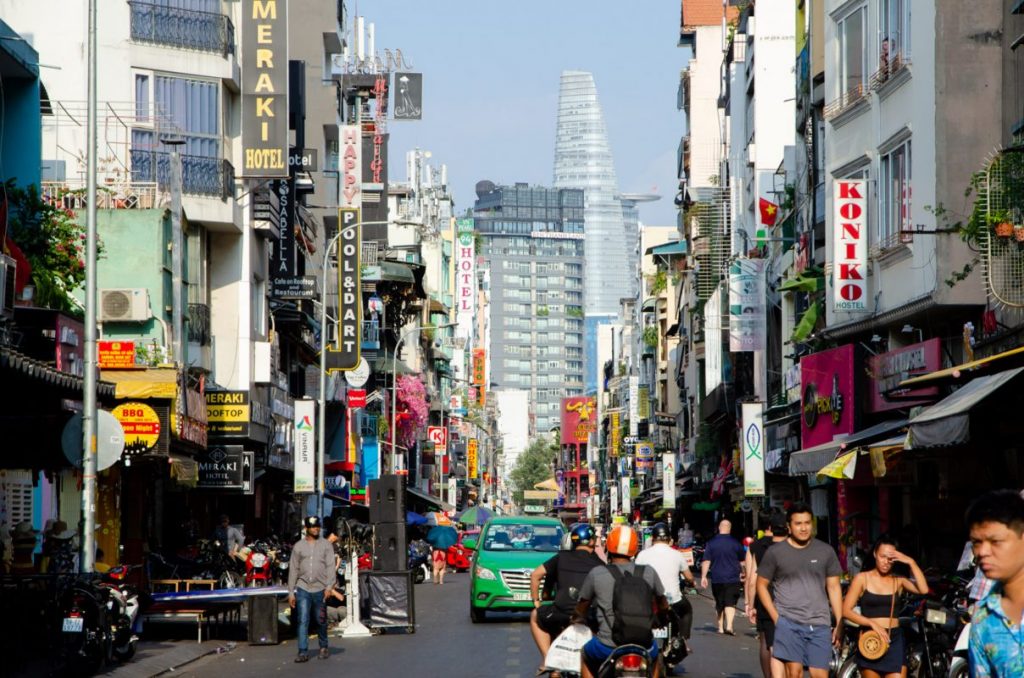 Today you'll find banh mi stalls everywhere in Saigon and throughout Vietnam and they will rarely cost more than 40k Dong (~US$1.75). Throw in an ice cold 'cà phê sữa đá' (ice coffee) or 'nước mía' (sugarcane juice) and you've got the perfect light meal to combat the heat of Ho Chi Minh City.
But with literally hundreds to choose from, which ones are the best?
We spent 4 weeks in Saigon and made it our personal mission to try as many banh mi as possible within walking distance of our apartment in the middle of District 1. So here goes…our 7 best banh mi in Saigon!
---
#7 – Thien Nhien (Thiên Nhiên) – The 'Porky Duck' Banh Mi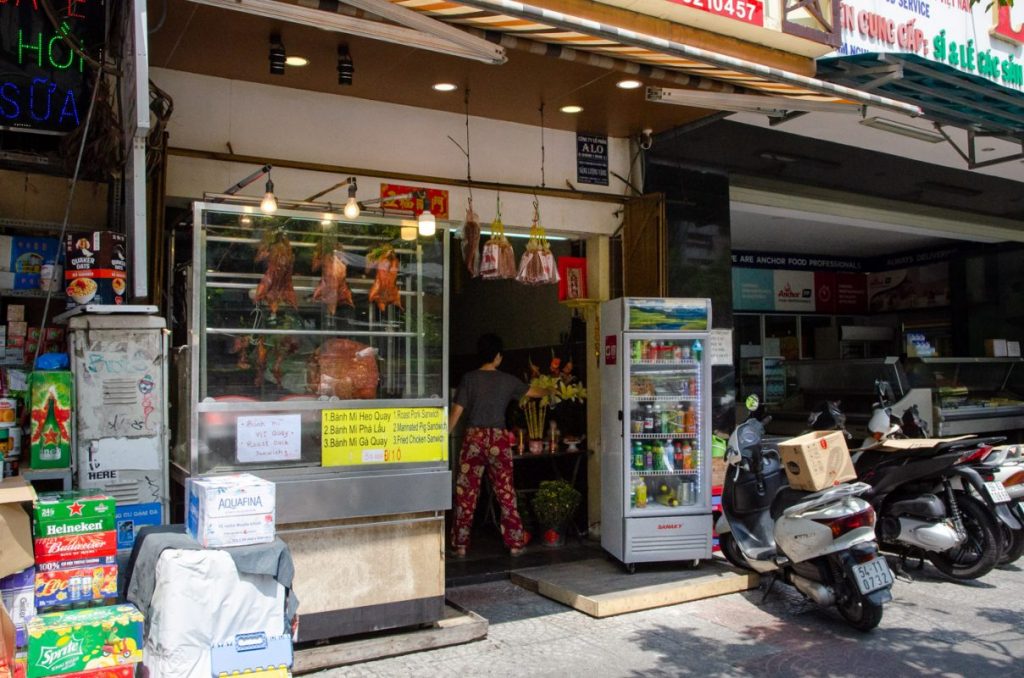 We discovered this banh mi vendor by accident as we were walking down Ham Nghi Road to Nhu Lan Bakery (who we hear also make a very decent banh mi).
There's just a small window out front, but instead of the usual assortment of pressed meats and pickled vegetables there were roast ducks and pigs hanging from hooks, and a sign offering 'banh mi vit quay' for 45k. Roast duck 'vit' is our kryptonite – so there was no way we weren't trying one of these bad boys!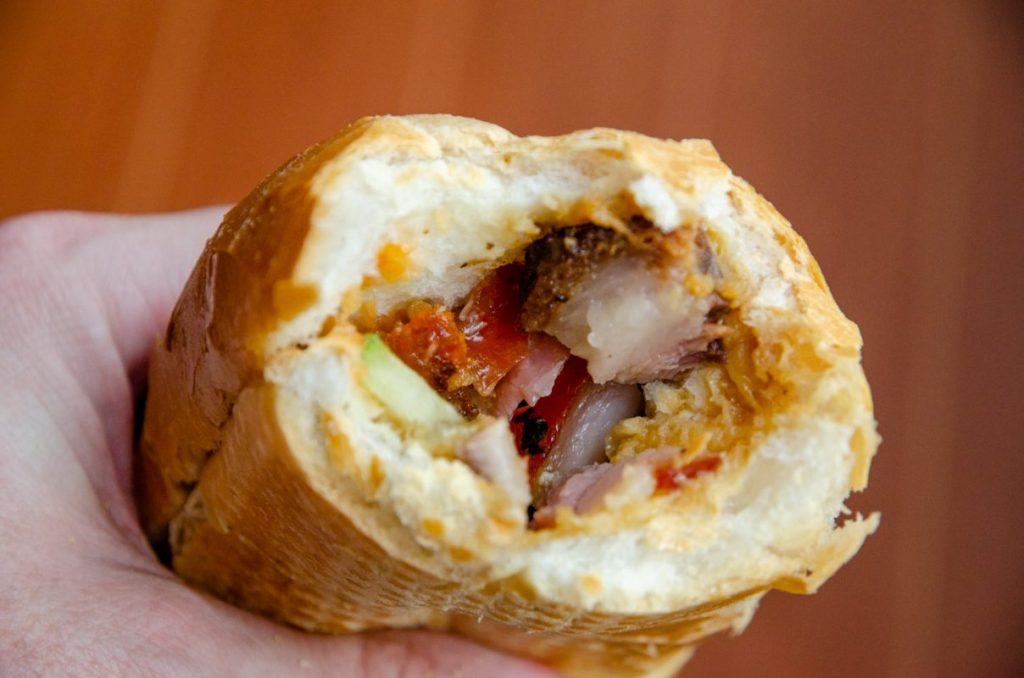 Sadly, something was lost in communication because instead of duck we ended up with a couple of roast pork banh mi 😀 They weren't bad, with alternating pieces of crisp, crackly skin and rich fatty meat. Unfortunately they didn't use enough pickled veg and herbs to balance out the saltiness of the pork, so it ended up being somewhat unsatisfying.
Price: 45k for duck | 30k for pork
Hours: Seemed to be open all day
Service: Very friendly
Pros: Duck!
Cons: Small banh mi. Lacking balance.
#6 – Banh Mi Ba Lac (Bánh Mì Ba Lắc)
It was midday and we were hungry. Strangely, banh mi isn't a popular lunch time meal for Vietnamese and most vendors only start doing business late in the day.
But…Banh Mi Ba Lac is right next to the huge pedestrian-friendly boulevard extending from City Hall down to the river, and with so much foot traffic it makes sense for them to stay open all day. Perfect!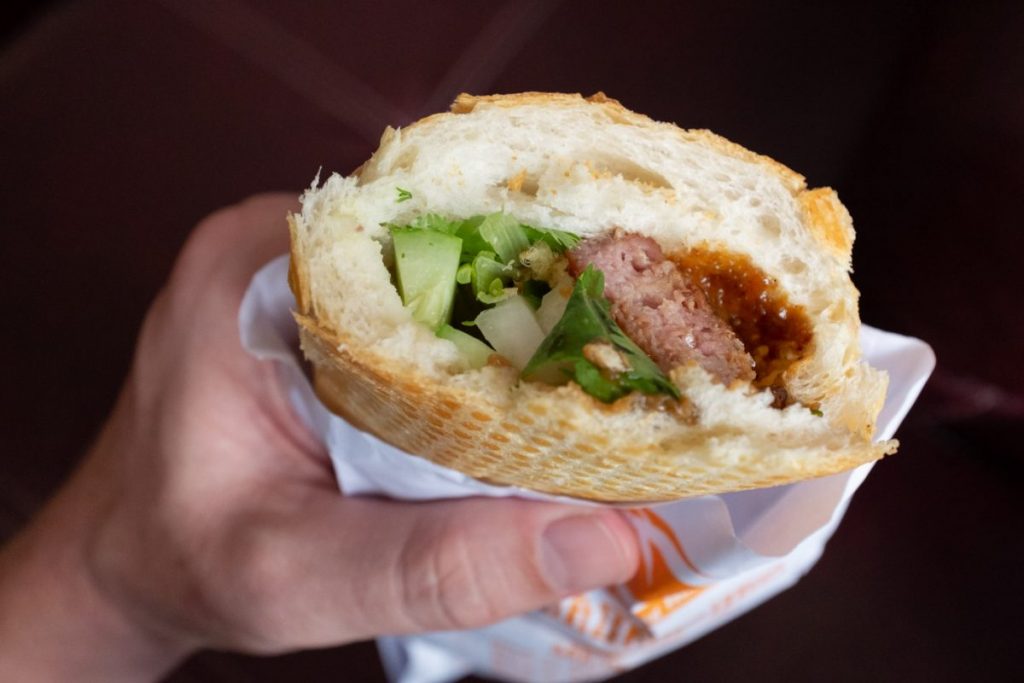 Chances are there will be a short queue of hungry lunchers, but they've got quick hands so you won't be waiting long. Of all the banh mi we tried in Saigon these were the smallest – but at the same time they were also very cheap at only 25k.
The flavours were pretty good, with a nice balance in meat/greens, and for a quick feed they hit the spot. The mayonnaise was tasty and we liked the addition of some grilled pork patties. We could be wrong but we're pretty sure the pâté they use is the commercial variety and as a result the banh mi didn't have the same depth of flavour we got from some of our more highly rated options (below).
Price: 25k
Hours: 6am – 10pm
Service: Business-like
Pros: Great value
Cons: Small. Pâté not as good as other options.
#5 – Banh Mi 37 Nguyen Trai (Bánh Mì 37 Nguyễn Trãi)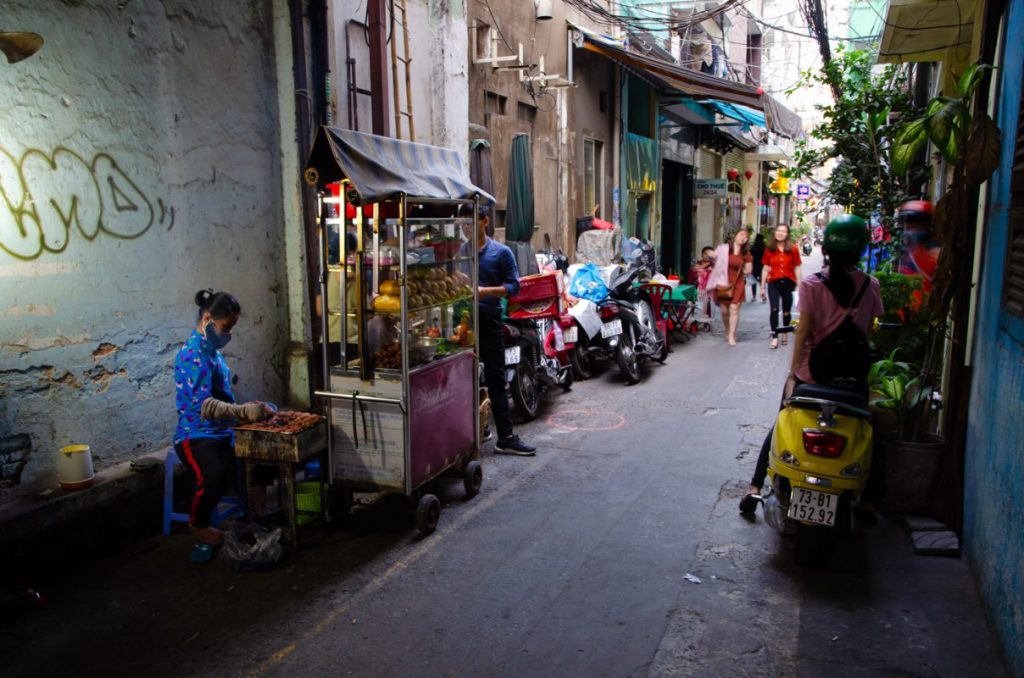 We've heard these guys mix up their location on a regular basis, but never straying far from Alley (hẻm) 39. We found them 20m down the alley, smoke billowing from the small grill on which they had more than a dozen pork mince patties slowly charring. The aroma was mouthwatering!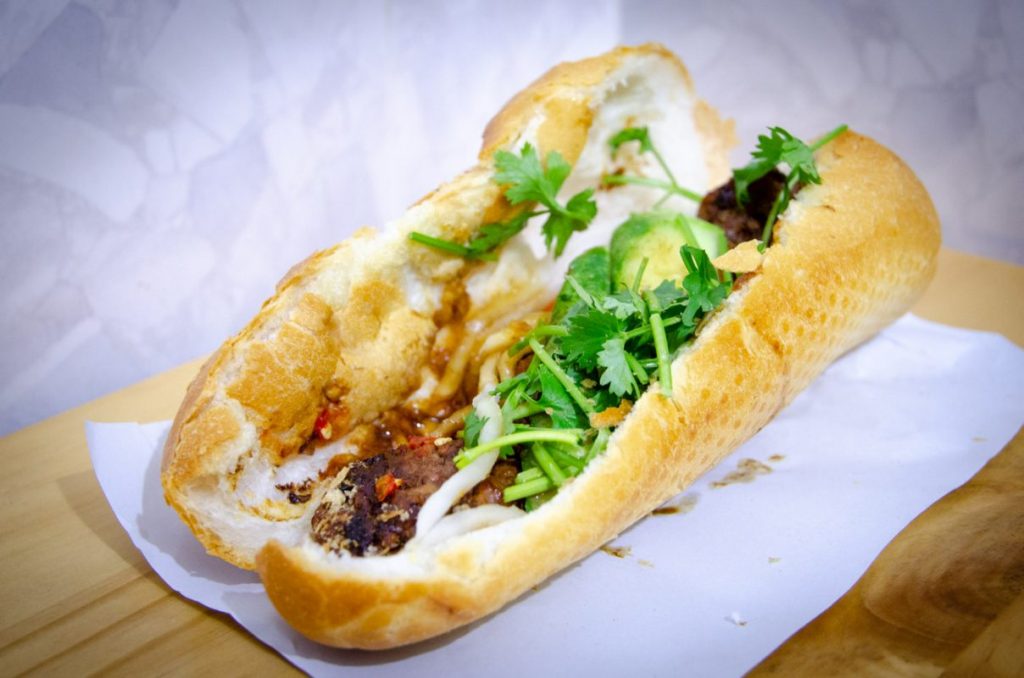 This was one of those instances where more care in the construction of the banh mi would have resulted in much better flavour. The pork patties are sensational and it's worth trying this banh mi for that guilty pleasure alone. But unfortunately the rest of the banh mi was thrown together with a very loose hand and we ended up with one end full of greens and the other just meat.
Price: 40k
Hours: 4pm – 9pm
Service: Friendly enough
Pros: Awesome grilled pork patties!
Cons: Only open after 4pm. Poor distribution of ingredients.
#4 – The Old Compass – Banh Mi Op La (Bánh Mì Ốp La)
We've heard that banh mi op la translates to 'sunny-side up bread'. So of course there's guaranteed to be an egg involved. And if you're missing your regular weekend breakfast fry up, this could be your perfect Vietnamese alternative.
Pâté base, mayo, pickled radish and carrot (the best pickled veg we tasted in Saigon), crunchy cucumber, lightly fried egg with a deliciously gooey yolk and a generous handful of coriander (cilantro) to top it all off. This is the ultimate breakfast roll!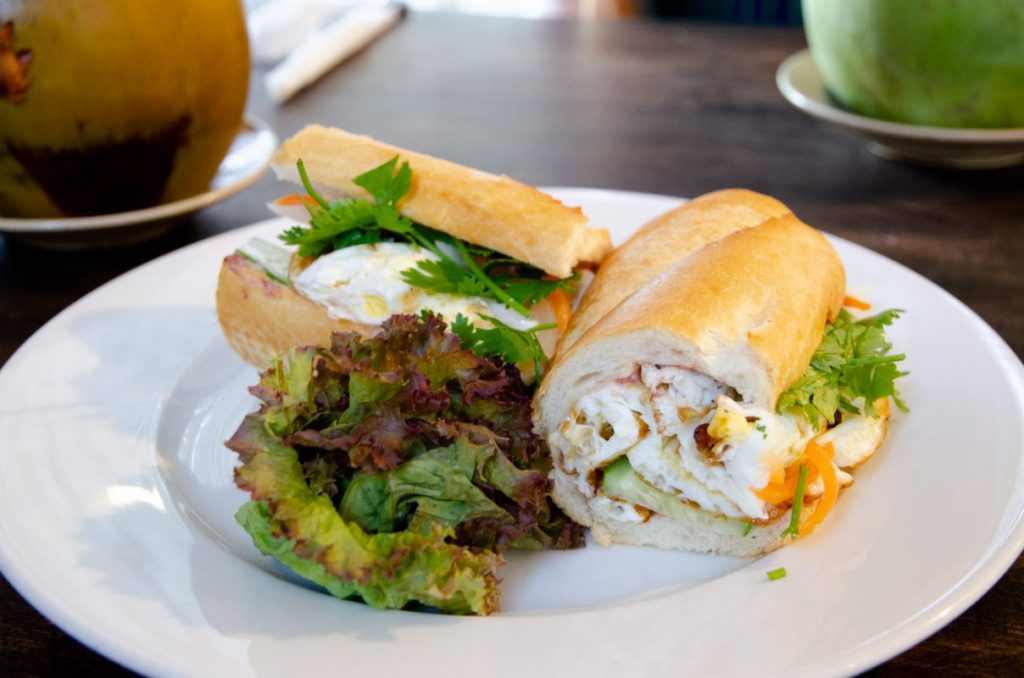 The Old Compass is a wonderful cafe hidden away in one of the narrowest alleys of District 1 (here). They really know their coffee and their Robusta variety was one of the best we tried anywhere in Saigon.
Their food is even better! The Aussie owner certainly knows how to pick a good wine/beer, and the small but varied menu is sure to satisfy for breakfast, lunch or dinner.
Price: 90k
Hours: 8:30am 'til late
Service: Exceptional
Pros: Traditional Vietnamese with a modern twist
Cons: No chilli on the banh mi 🙁
#3 – Banh Mi Huynh Hoa (Bánh Mì Huỳnh Hoa)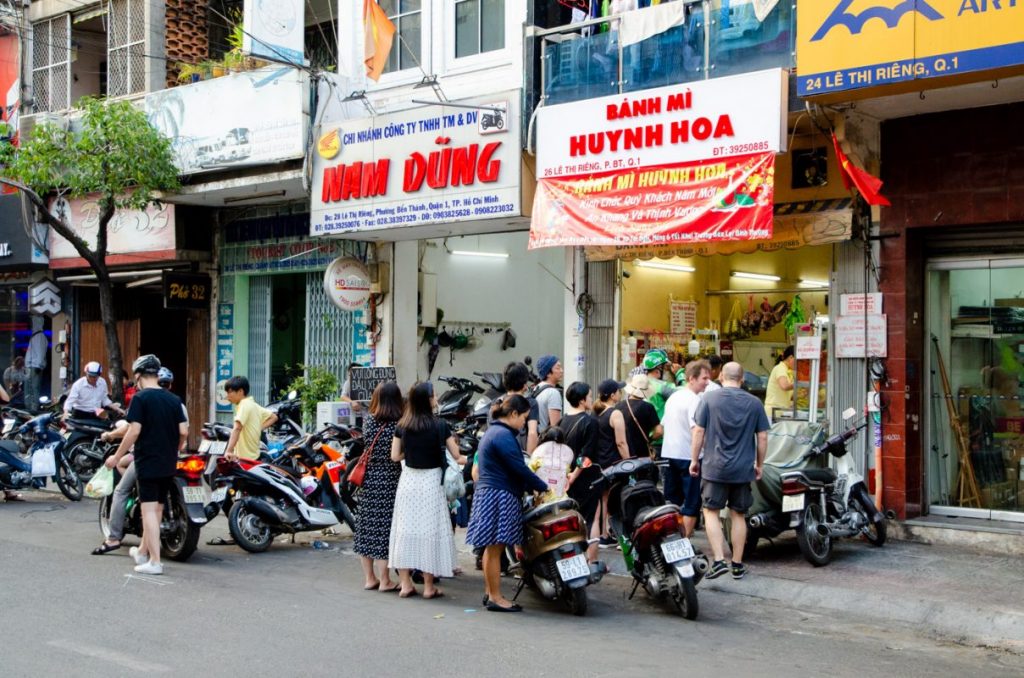 If you were to judge the best banh mi in Saigon by the length of the queue, then Banh Mi Huynh Hoa would beat them all, hands down!
If you get there right on opening (~2:30pm) you won't have a problem, but leave it a couple of hours and you could be 20 ravenous foodies deep. But you know what? It doesn't really matter, because these two fearsome women have evolved into banh mi superhumans, capable of manifesting banh mi out of thin air – and the most you'll wait is probably 10 minutes 😀
Whether you love the banh mi from Huynh Hoa or not is an interesting question. When we first visited Saigon back in 2014 it was first banh mi we had ever tried – and it was orgasmic. But second time around we found it waaaay too heavy on the pressed meats. It was like they had cranked up the spamometer to the max!
If you're a carnivore or backpacker on a budget looking for max filling at minimum cost you'll be loving it. Don't get us wrong, the flavours are still really good, but if you care about harmony, restraint or finesse, we've got a couple of better options for you below.
Price: 40k
Hours: 2:30pm 'til late
Service: Fierce and feisty – don't say we didn't warn you!
Pros: You'll eat your weight in pressed meats
Cons: You'll eat your weight in pressed meats 😀
#2 – Banh Mi Than Phat (Bánh Mì Tấn Phát)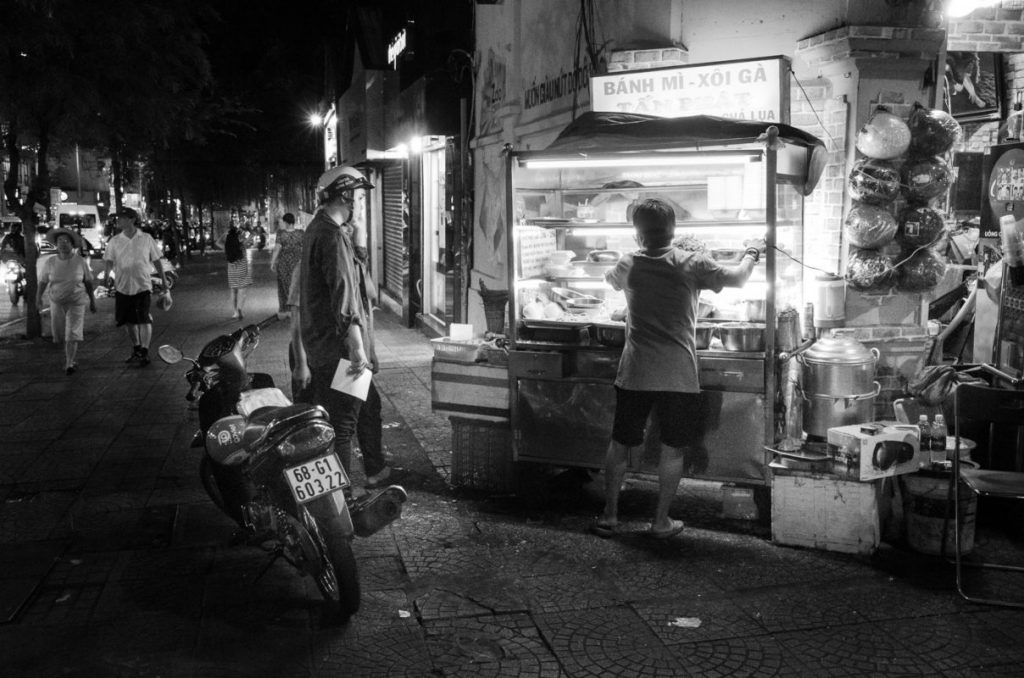 What better way is there to manage the heat and humidity of Saigon than with a boozy beer crawl. And after a few cold beverages, what comes next? Banh mi!
We were in desperate need of a feed and walking home one evening we found this banh mi vendor and his pack of vicious* fluffy terriers on the corner of Hai Ba Trung and Ly Tu Trong doing crazy-good business.
We put our order in for a couple of banh mi's 'with the lot' not knowing what to expect. Paradise? Poisoning? Meh? In the end we had nothing to worry about, because the banh mi was sensational!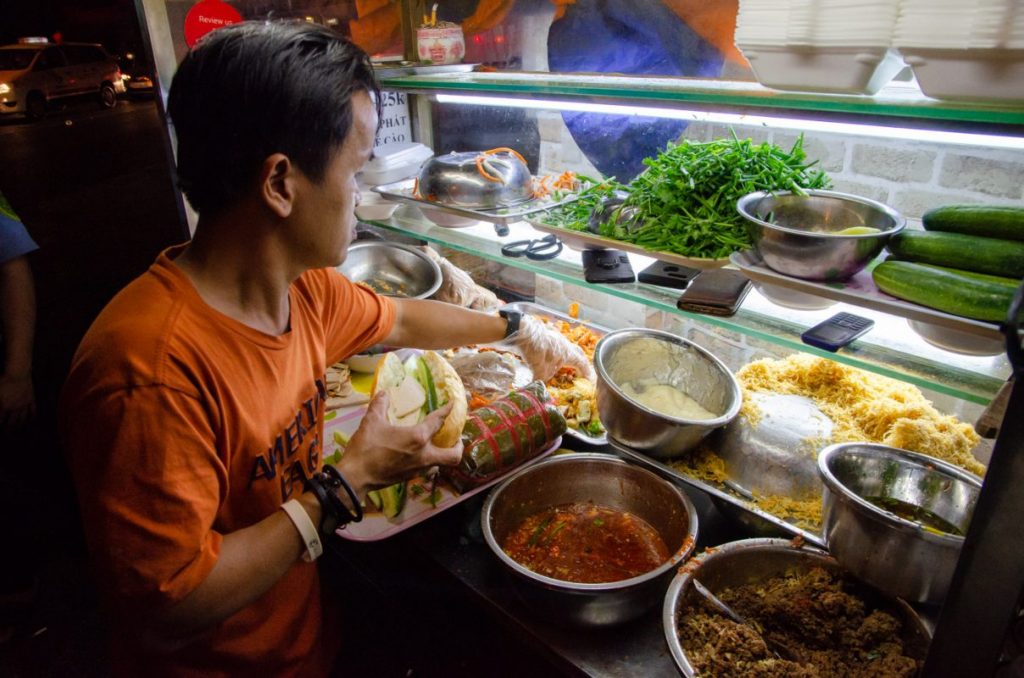 A generous spread of dark, rich homemade pâté on the bottom, crisp and crunchy pickled vegetables with zingy tang, judicious chilli 'punch', fried egg, and a special sauce that he drizzled across all the ingredients. We're not sure what that sauce was, but it added a fantastic savoury, spiced (not hot) element that elevated this banh mi to sublime.
And no, it wasn't the beer talking. We went back a second time for quality assurance purposes, and it was just as good 😀
Seriously, if you're in Saigon this is one of the best banh mi you've got to try!
Price: 40k
Hours: They claim 24hrs, but we suspect they may close after 11pm
Service: The friendliest of all the banh mi vendors 🙂
Pros: The flavours are amazing. That special sauce…wow!
Cons: None
* If you're worried about being licked to death
#1 – Banh Mi Hong Hua (Bánh Mì Hồng Hoa)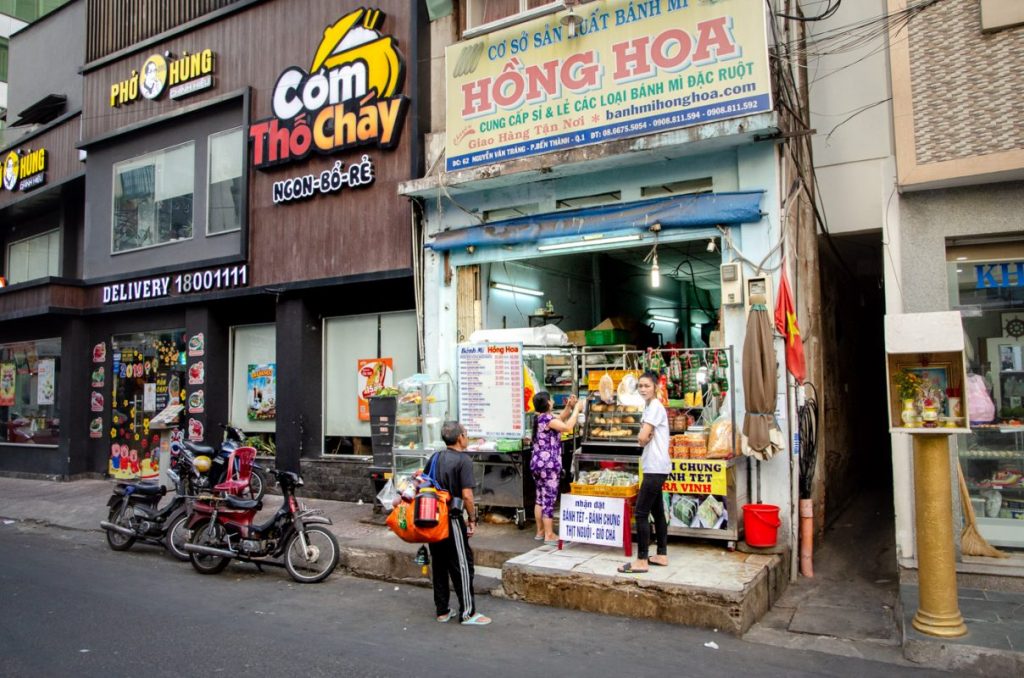 Finally, the one you've been waiting for – the best banh mi in Saigon!
Banh Mi Hong Hua is a funny little place. They are located barely a 20 second walk from the hugely popular Banh Mi Huynh Hoa – just around the corner in fact – and yet the difference couldn't be more stark.
We visited twice – once at around midday, another day closer to 5pm. Both times there was only one other customer getting served, and yet their banh mi is light years ahead in flavour, balance and satisfaction.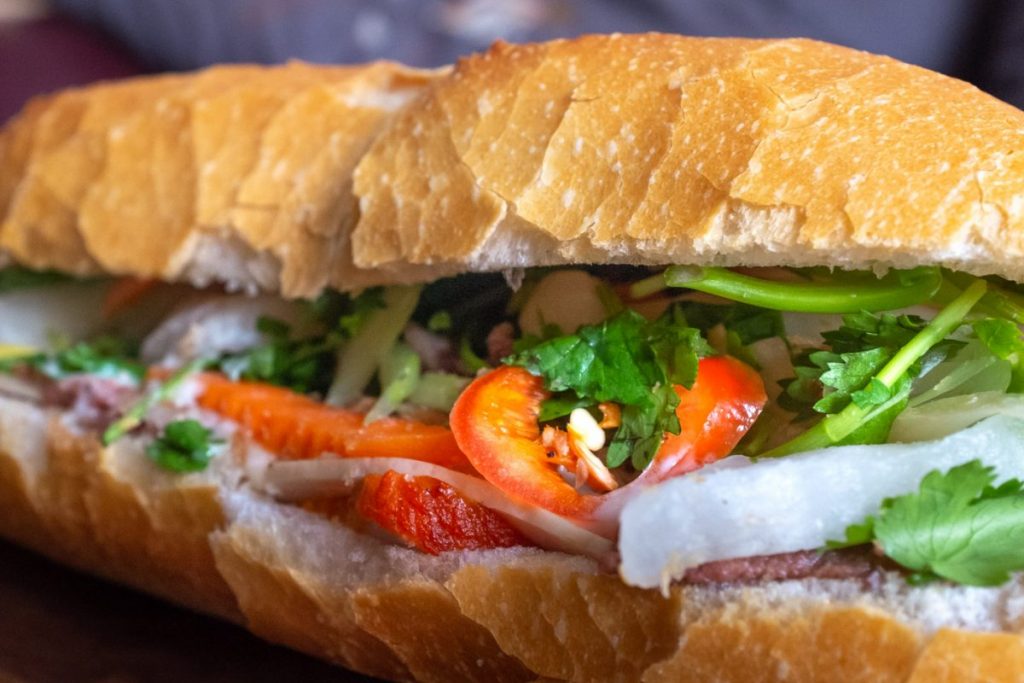 As with most of the best food in the world, there's no secret. Quality ingredients, an intuitive feel for the interplay of flavours, and the ability to execute.
Their bahn mi isn't huge. It isn't packed with meat. It doesn't have a secret ingredient. But it is very, very special.
Every ingredient shone through, sparkling and stimulating the palate. Deeply satisfying umami from the rich pâté, energy and punch from the delightfully pickled carrot and radish, real flavour in the pressed meats, coriander to cut through the richness, and enough chilli to raise a slight sheen on our foreheads.
If traditional is what you love, then this is the banh mi for you. If not, go for #2 on our list and you'll be just as happy!
Price: 25k
Hours: 5:30am – 9:30pm
Service: Grumpy as !@#$ 😂
Pros: The sublime flavours and killer price
Cons: The service (but it's still worth it)
Map: Where to Find the Best Banh Mi in Saigon
We hope you find this map useful is planning your own banh mi adventures in Saigon 🙂
---
Where to next?
Are you looking for some 'out of the way' places in Vietnam that haven't been over run by tourists yet? Or maybe you're looking for a different perspective on this crazy country?
We spent 4 weeks travelling through Vietnam and found some incredible towns and regions that we know you'll love!
Mai Chau – A fantastic alternative to Sapa, this region is full of lush rice paddies and is surrounded by crazy mountain ranges. It's beautiful, and you'll probably have the place to yourself!
Tu Lan Cave – This is for the adventure seekers. Imagine trekking into a cave system, camping the night and then spending another day exploring underground rivers, caverns and waterfalls?! Check out the pics and our travel notes.
Hue – Most people visit Hue for the war history. We went for the food! It's the old royal city of Vietnam and those kings sure new how to make some ridiculously tasty dishes. Check out our itinerary for one day in Hue.
Nha Trang – Yep, it's super touristy, but dig deeper and you'll find some fantastic authentic Vietnamese food and other experiences, hidden in plain sight. Sound good? Here's our itinerary for one day in Nha Trang.
Happy travels!
Andrew and Karen.