The Antigua cafe culture is as strong as a double-shot espresso – but where to start? Whether you're looking for a hot cup of Joe or a bag of the best Guatemalan coffee beans to take home, we've got you covered with this guide to the best coffee in Antigua Guatemala!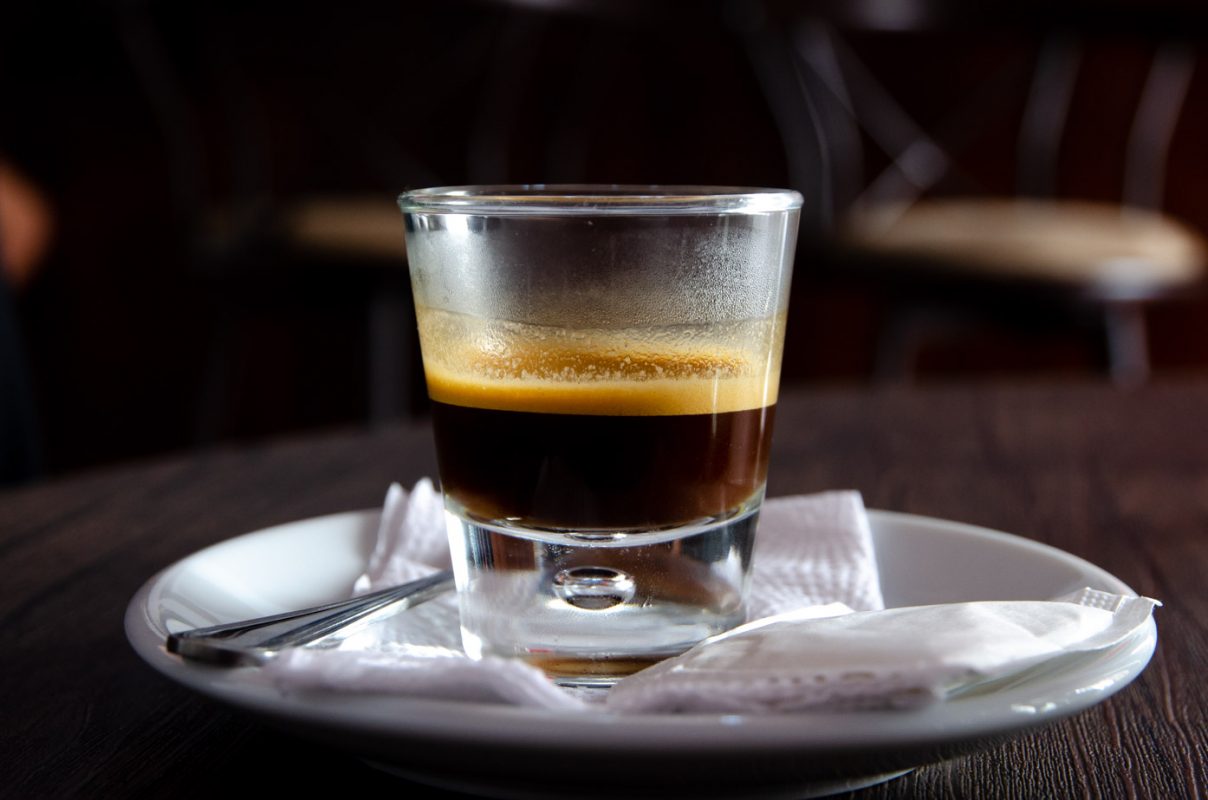 This article contains links to activities we think you'll love. Clicking through these links won't cost you a penny, but we receive a small commission on any bookings, helping us stay online. Thanks for your support!
---
Antigua cafe culture: Finding the best coffee in Antigua Guatemala
If you're already in Antigua Guatemala, or you're on your way, you've no doubt heard of its two most famous exports – chocolate and coffee!!
So it's no wonder we decided to stay 6 weeks, dodging fireworks and exploring its cobblestone streets, pastel walls and tumbled-down gardens.
But to keep those energy levels up we needed coffee! Buckets of gloriously rich ichor, black as night and with a kick like a Guatemalan mule 😀
Strangely, for the home of coffee there aren't a lot of articles online that give a visitor in search of the best Guatemalan coffee a sensible place to start.
Worryingly, those that do exist recommend cafes and coffee shops that closed down a loooooong time ago. We got burnt trying to follow some of these outdated reviews, and we don't want that to happen to you!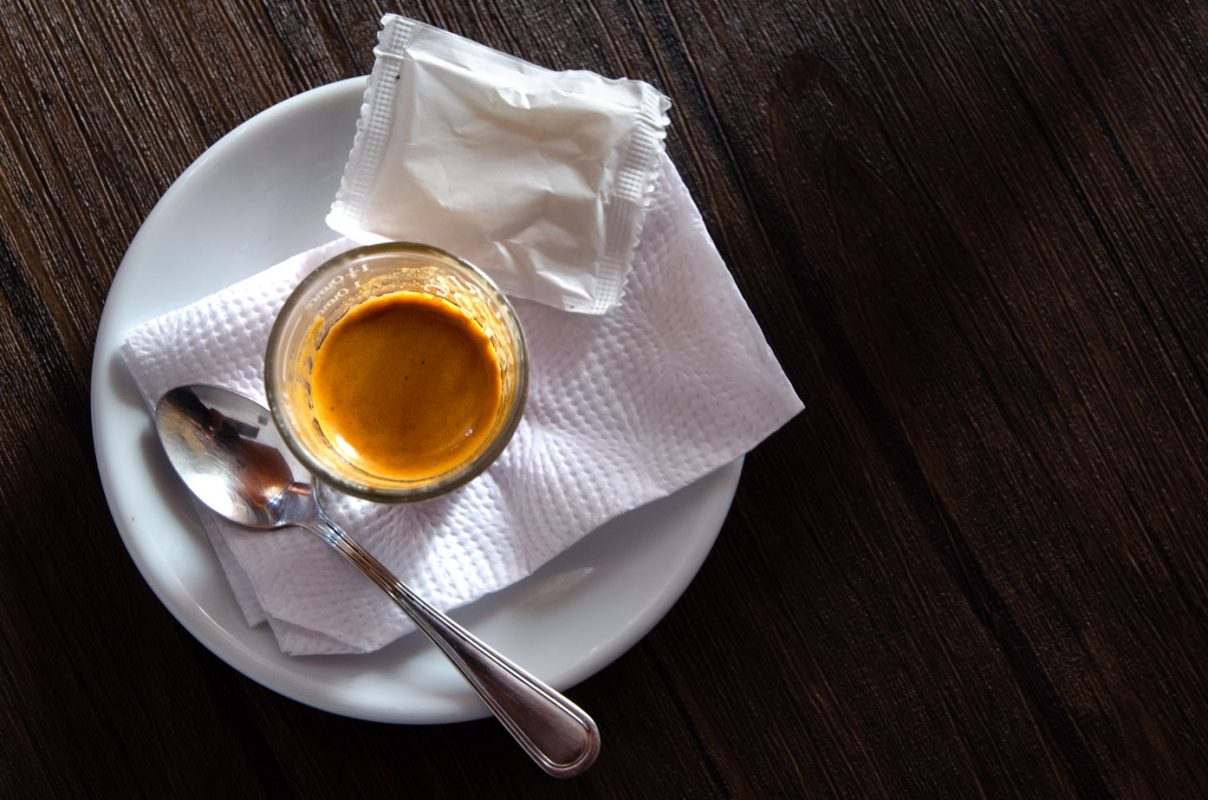 It's pretty simple. We love our coffee served as an espresso and that's how we ordered at every single coffee shop that we visited. While the coffee itself played a big part in our final ranking, it wasn't the only thing that mattered.
Has it got a great vibe? Is the WiFi strong and can I get some work done? Are the baristas approachable? Have they got a view of the volcano? <– Seriously, in how many other cities in the world would you ask this question? 😀
There wasn't a coffee shop in Antigua we didn't enjoy, but a couple kept drawing us back – like bees to the honeypot we were compelled to return for more of that delicious Guatemalan coffee.
So here goes…
8. Fernando's Coffee and Chocolate Shop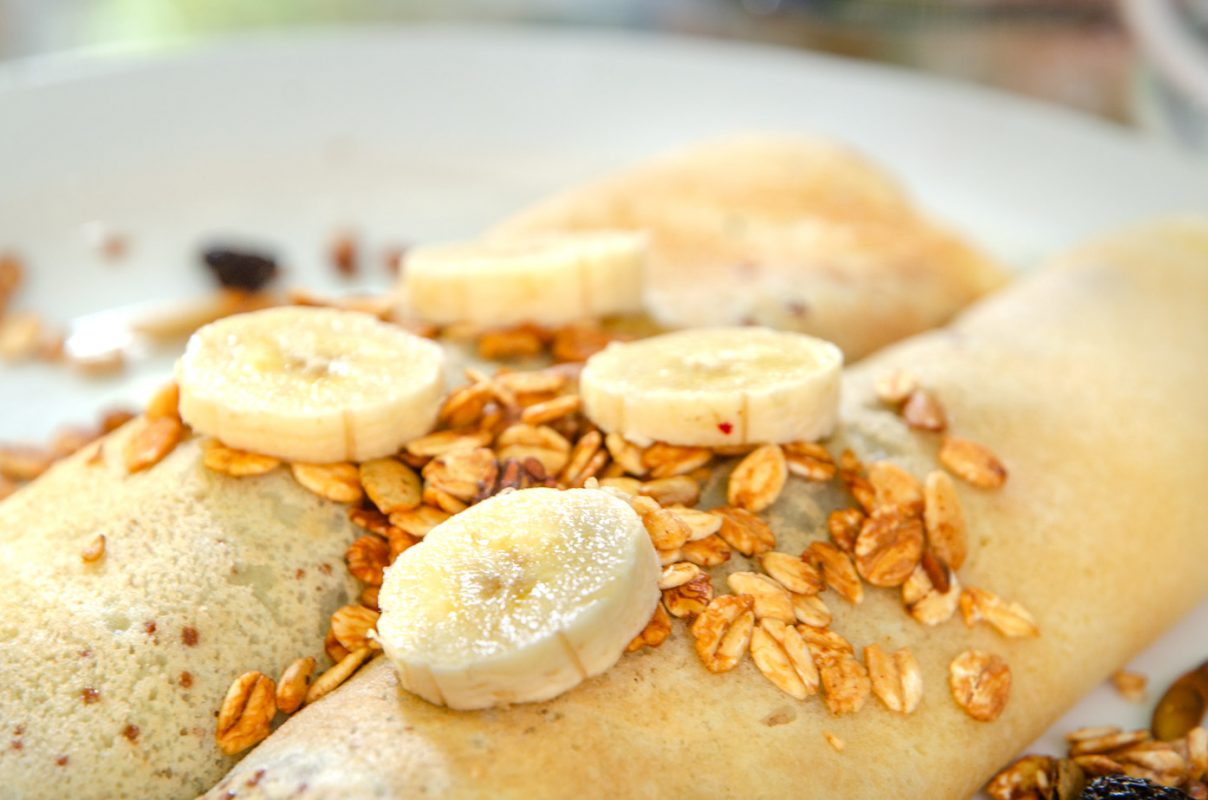 "The finest drugs on earth are NOT illegal!"
They're talking about the coffee, but for us it was their chocolate sauce that took us to another dimension.
Our espressos were criminally hot, scorching any hopes of appreciating the fair trade beans and quality on which Fernando's Coffee and Chocolate Shop prides itself. Such a shame 🙁
But those crepes…wow! With generous lashings of home-made Guatemalan chocolate sauce, crunchy granola and perfectly ripe fruit, we were prepared to forgive them their coffee fail.
The menu is extensive, so hang around and make it a lunch date by the water fountain in their beautiful courtyard garden.
WiFi: It's free, and you'll get typical Antiguan speeds of 5Mbps download at Fernando's, 1Mbps upload.
Hours: 7am – 7pm every day except Sunday, when they close at 12:30pm.
Address: 7a Avenida Norte, #43D
Website: Fernando's Coffee and Chocolate Shop
7. Bella Vista Coffee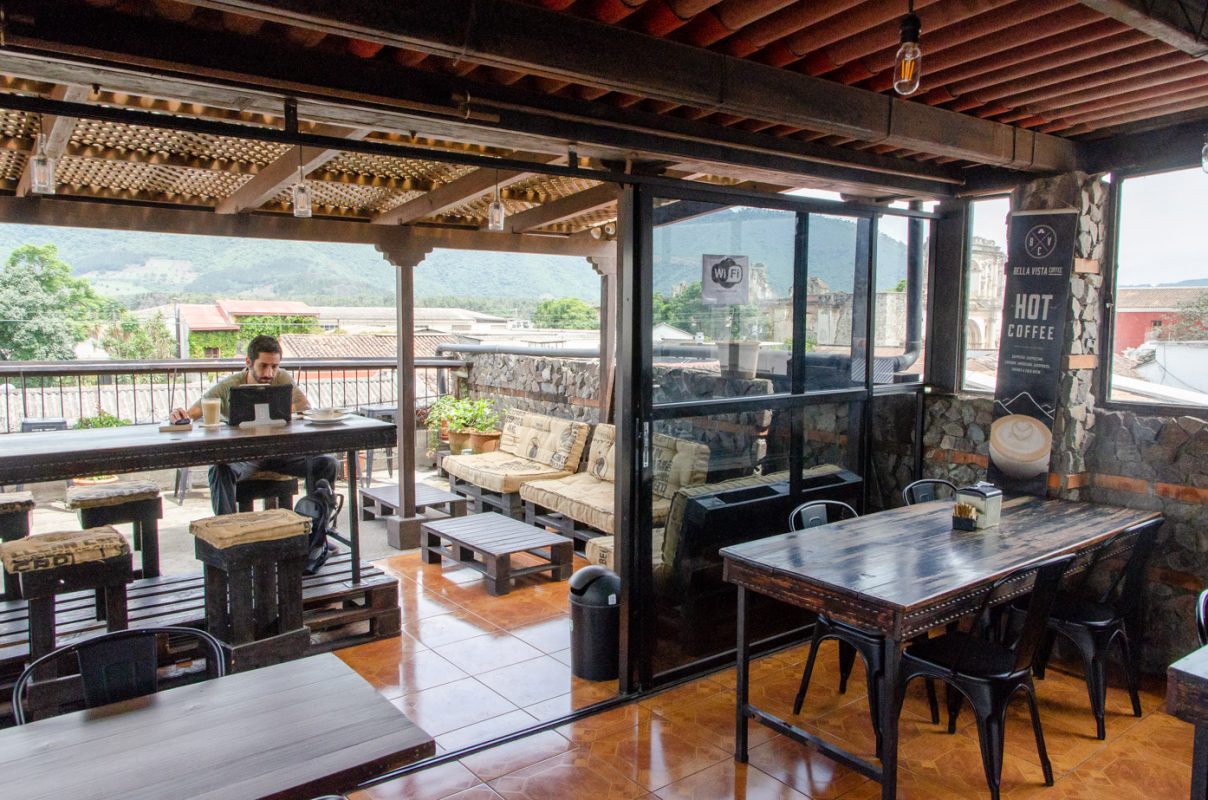 Bella Vista Coffee is touted by many as not only one of Antigua's most digital nomad friendly cafes, but also one of the best roof-top breakfast experiences.
The coffee? Meh. Not bad, not memorable – something in between. It gave us a kick start to the morning, and that's what really matters, right?
But…if you want an amazingly instagrammable backdrop to your croque monsieur or Peruvian alfajores (think 3 MASSIVE freaking volcanoes!!) then this is the place to come – it would have to be one of the most jaw-dropping views in the world.
WiFi: Free, but flaky. It might be fine with only a few patrons logged on, but we had a dozen or more at the tables around us and it was sloooooow. So slow we gave up and moved on to our workplace of choice – Refuge Coffee – but more on that soon!
Hours: Monday to Friday, 6:30am to 6pm. Saturdays until 2pm. Sundays closed.
Address: 6a Avenida Norte, #1
Website: Bella Vista Coffee
6. Don Cafeone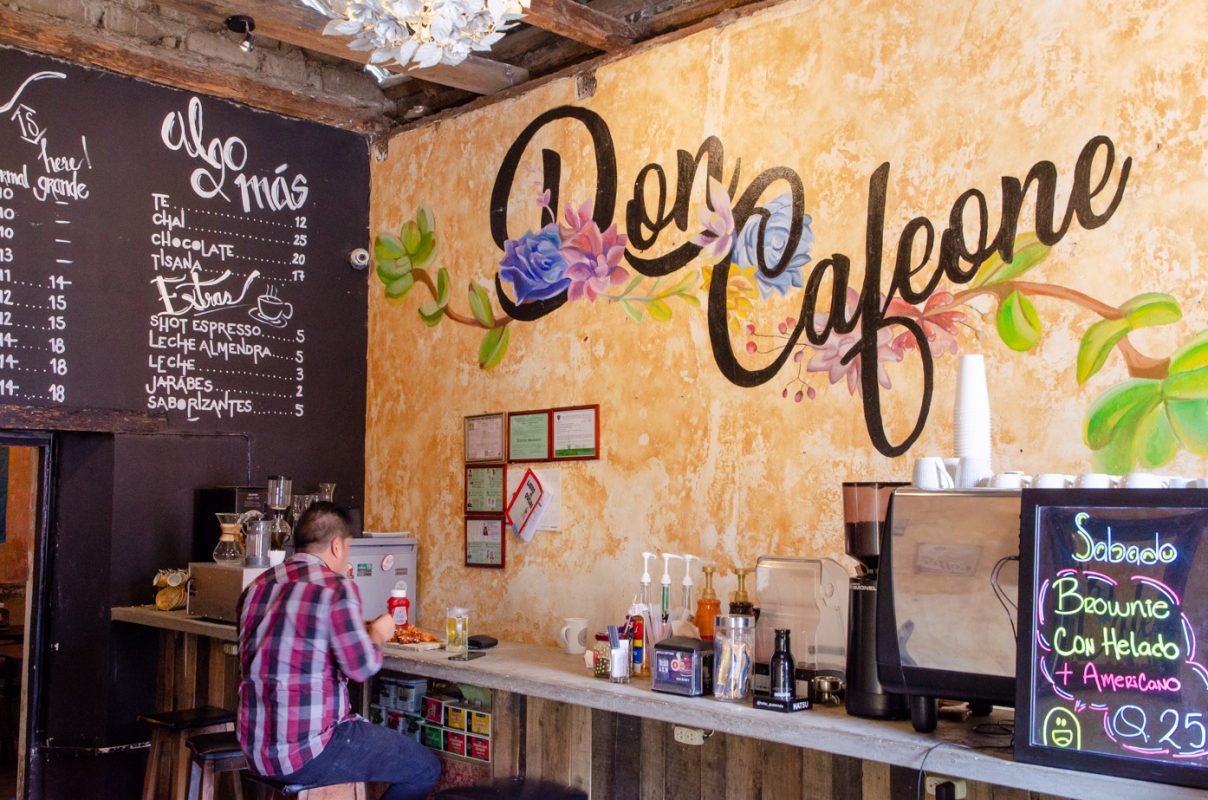 Is it a cafe? Is it a restaurant? Is it a sports bar? If you were a coffee-loving foodie with World Cup fever then you'd be in heaven 😀
The front room is the place to be for coffee, with a couple of very comfy chairs in which to chill out. Or if you prefer to watch the world go by then take the cosy 2-seater in the bay window. 1a Calle Poniente is one the busiest streets in Antigua – it's where you'll find Iglesia de la Merced and most of Antigua's street food stalls in Parque la Merced – and you could happily spend a morning soaking up the Guatemalan buzz.
Out back and spread across two rooms and a courtyard is a HUGE restaurant area. It was a little early in the day for a beer for us, but the locals were loving the massive 5L beer dispensers sitting on their tables and cheering on Sweden in their battle with eventual champions, France 😀
The coffee really hit the spot! Not mind-blowing, but our espressos were well made and got our day off to a great start. Their coffee menu has a lot of different options at very reasonable prices, so even if an espresso isn't your style Don Cafeone should have you covered for your caffeine hit.
WiFi: They have free WiFi at Don Cafeone, and it's fast enough to get some work done.
Hours: Monday to Friday, 6am to 8pm. Weekends, 7am to 8pm.
Address: 1a Calle Poniente, #11a
Website: Don Cafone
5. Republic Coffee Shop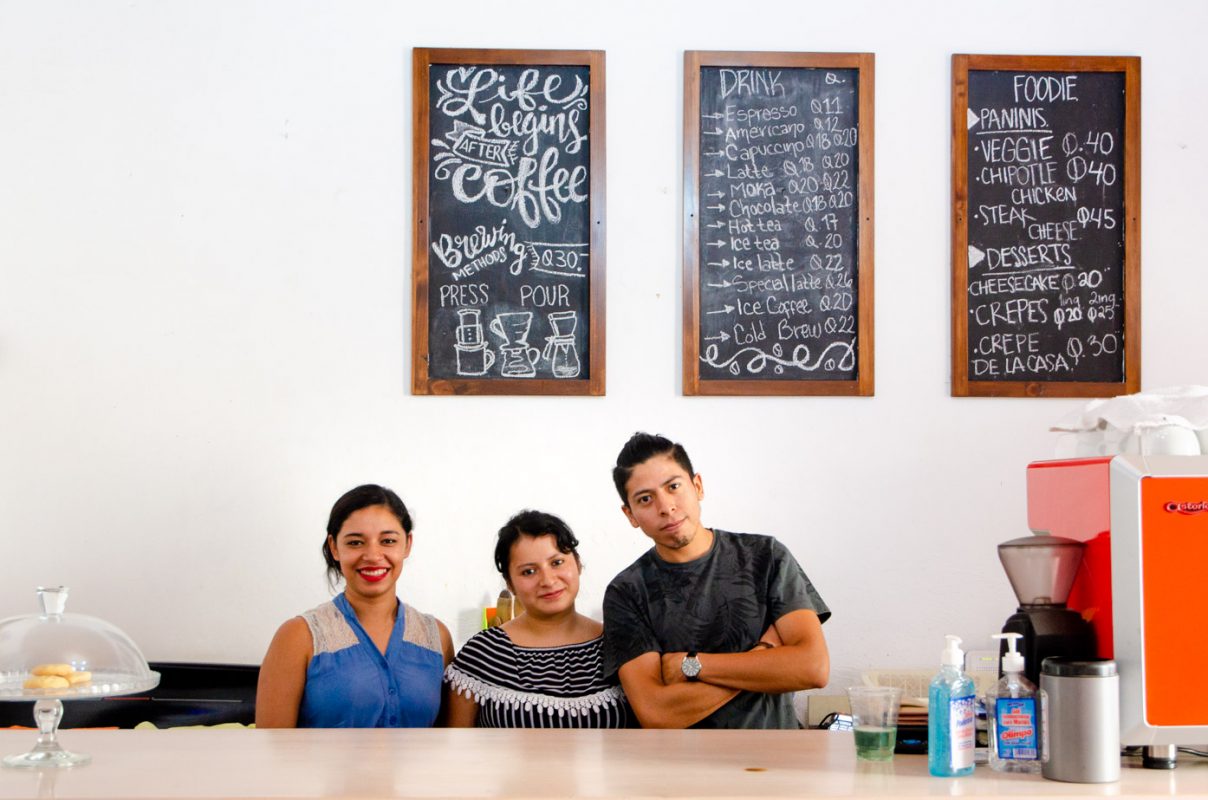 "We've all had coffee once. But for us, coffee is not just a drink, it's a way of living life…"
There are a handful of coffee shops and cafes in Antigua that get all the love. Republic Coffee Shop flies under the radar, but that just means you'll have this wonderful little coffee shop to yourself!
There's no hipster vibe, just genuine smiles and a passion for their craft. Traditional options abound, but they also offer hand pressed variations including V60, Chemex and AeroPress.
The verdict? These guys know how to make a mean espresso! Not quite the best coffee in Antigua, but not far behind either.
The interior isn't quite as cozy as some of the other venues in town – the only reason for us not ranking it more highly – but if you're in search of excellent coffee then Republic Coffee Shop is the place to be.
Hours: Tuesday to Sunday, 8am to 8pm. Mondays closed.
Address: 7 Avenida Norte, #8
Website: Republic Coffee Shop
4. GuateJava Roastery and Coffeehouse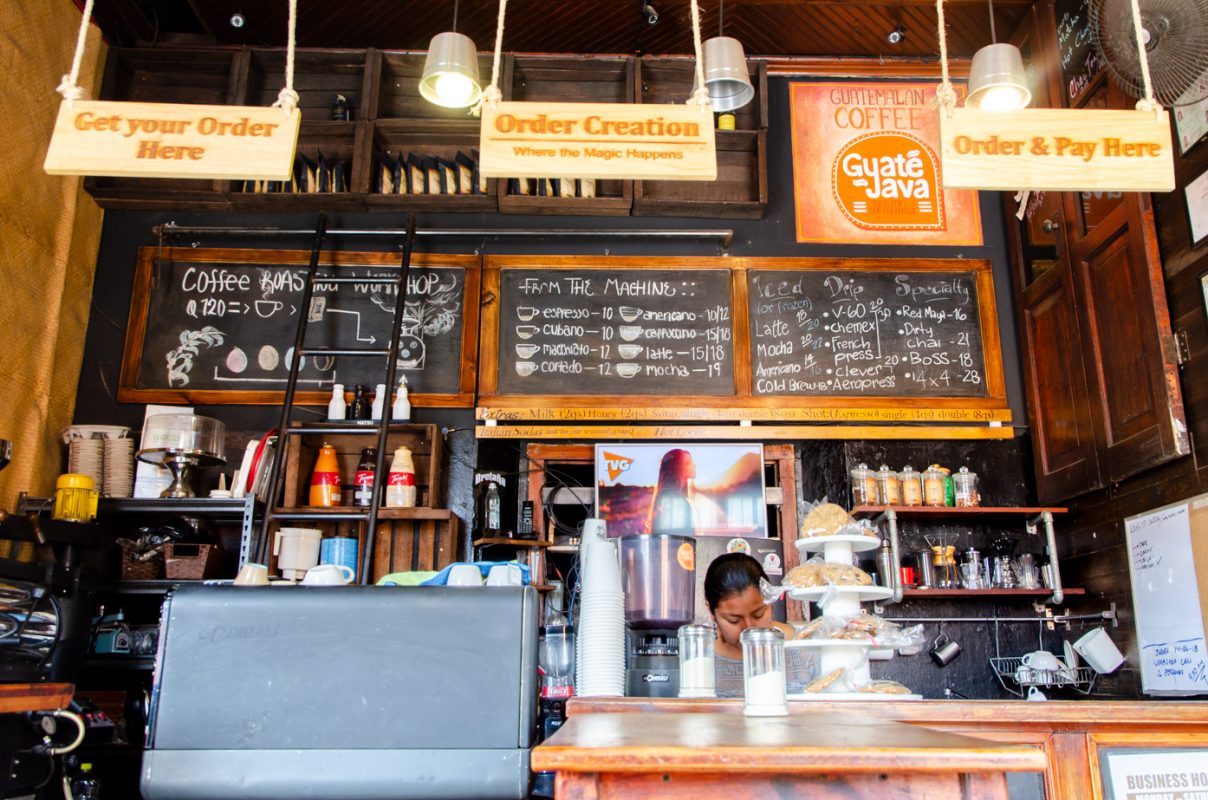 EDIT: Guatejava have moved! Many thanks to one of our readers, Umberto, for letting us know. You'll find Guatejava just up the road, directly across from Pappy's BBQ. The new location also has better Wi-Fi speeds, at around 30Mbps down, and 20Mbps – epic!
It might be tiny, but when it comes to coffee GuateJava is punching way above its weight.
Poverty is a real and confronting issue for many Guatemalans – but coffee offers an escape. The local coffee growing community matters a lot to the team behind GuateJava, and they have made it their mission to help these small communities gain access to the global market and improve their quality of life.
For that reason alone you should show GuateJava your support, but they also happen to make a very solid espresso. The flavour is intense and you can tell the beans are super fresh, but more care is needed in the presentation. It's only a couple of metres from the espresso machine to the couch, and yet numerous times they managed to slosh the espresso around, destroying the crema and taking the edge off what could have been a very special coffee.
WiFi: Excellent, with speeds up to 30Mbps. This is extremely rare in Antigua, so take note.
Hours: Monday to Saturday, 7am to 7pm. Sundays until 5pm.
Address: 6 Calle Poniente, opposite Pappy's BBQ
Website: GuateJava Roastery and Coffeehouse
3. Fat Cat Coffee House
"The best coffee in the world, is what you like."
Too true!
We didn't see any fat cats (booooo!) or pretentiousness, but we did find a dabbing skeleton and a couple of delicious coffees at Fat Cat Coffee House!
Have you ever wondered about all the different types of coffee out there, and how you're supposed to make them – ristretto, Americano, cappuccino, latte, and so on…? The folks at Fat Cat Coffee have a chalkboard on the wall where they have drawn this incredible 'genealogy' of coffee showing all the different variations (and how much they cost).
But that's not what your looking for is it? 😊
The coffee at Fat Cat Coffee is exceptional. We could tell that the barista knew exactly what she was doing and had had a LOT of practice. The temperature was perfect and the crema one of the best we were served anywhere in Antigua. It's no wonder the team here have been previous winners at the barista World Championships.
For our palates the flavour of the bean blend they were using wasn't quite as good as the next two venues that we review below – but honestly, we're really starting to nitpick and you won't be disappointed at all.
They have quite a few tables out front, making it a great choice for a bit of digital nomad-ing, and they are also one of the few coffee shops we came across that also had an extensive and interesting food menu.
WiFi: Yep, they've got it and it's fast enough to get some work done.
Hours: Sunday to Friday, 7am to 7pm. Saturdays until 8pm.
Address: 4a Calle Oriente, #14A
Website: Fat Cat Coffee House
2. Refuge Cafe (el Refugio)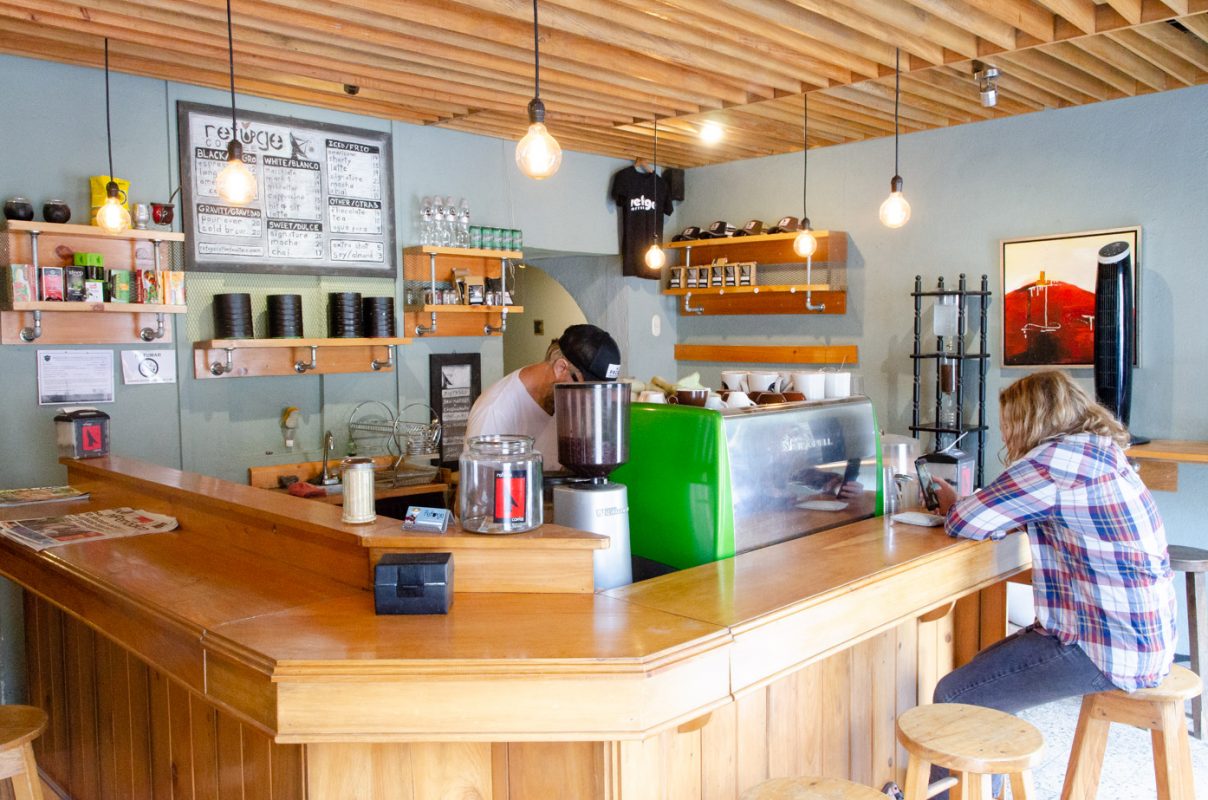 When the 'bombas' started exploding at 9am, the marimba music from the shop next door got cranked up to '10', or the neighbours started making a ruckus – Refuge Cafe lived up to its namesake, providing us the ultimate refuge from the madness of Antigua.
Out back are deep, vintage lounges and intimacy, while facing the street are tall tables and bar stools, perfect for both people-watching and getting a LOT of work done.
The coffee is sublime – their signature latte gets rave reviews – and they source some exceptional cakes and biscuits to accompany your drinks order. If you happen to visit on a day when the carrot cake is on offer…just do it, no questions. It's handmade by a local lady and it's da bomba 😀
The friendly team at Refuge offer the perfect all-round package – delicious coffee, comfortable working environment, and not only a willingness to share their deep knowledge of the Antiguan coffee scene, but an instinct for when you simply want to get some work done in silence.
WiFi: Exceptional. No dropouts and great speed – note our tip below though.
Hours: Monday to Saturday, 7:30am to 7pm. Sundays closed.
Address: 7a Avenida Norte, 18A (you'll also find a branch in Fairhope, Alabama!)
Website: Refuge Cafe
1. La Vid Coffee Roasters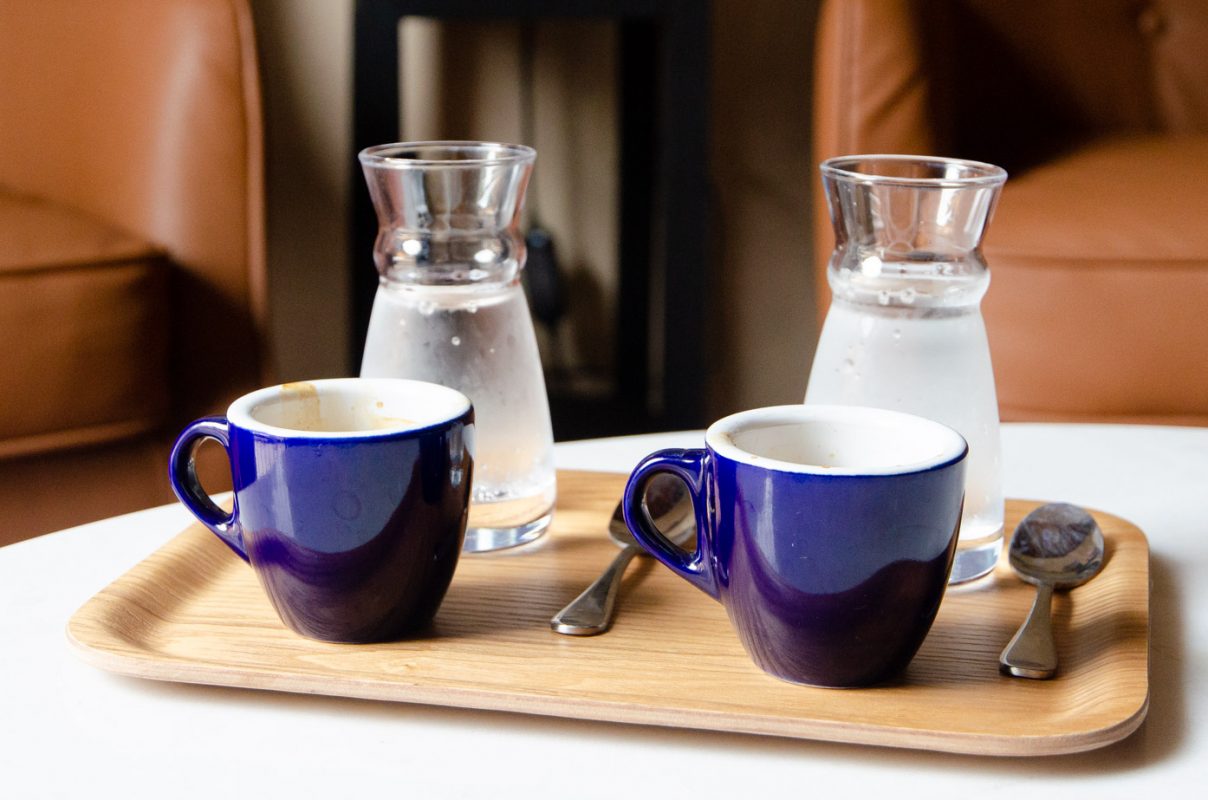 Why did it have to be our second last day in Antigua that we discovered La Vid?!
La Vid is the rarest of coffee shops in this age of social sharing. They have virtually zero presence online, with only a basic website to outline their tiny menu and an occasionally updated Instagram account to show you what goes on behind the scenes.
After learning his trade with the team at Refuge Cafe for 6 years, Alex opened the doors to La Vid Coffee Roasters in early 2018 – it was time for him to make his own mark on the Antiguan coffee scene.
La Vid might be simple, but it ticks all the coffee boxes with ink as thick, dark and rich as the magnificent coffees he serves from behind the handmade timber bar of this little gem.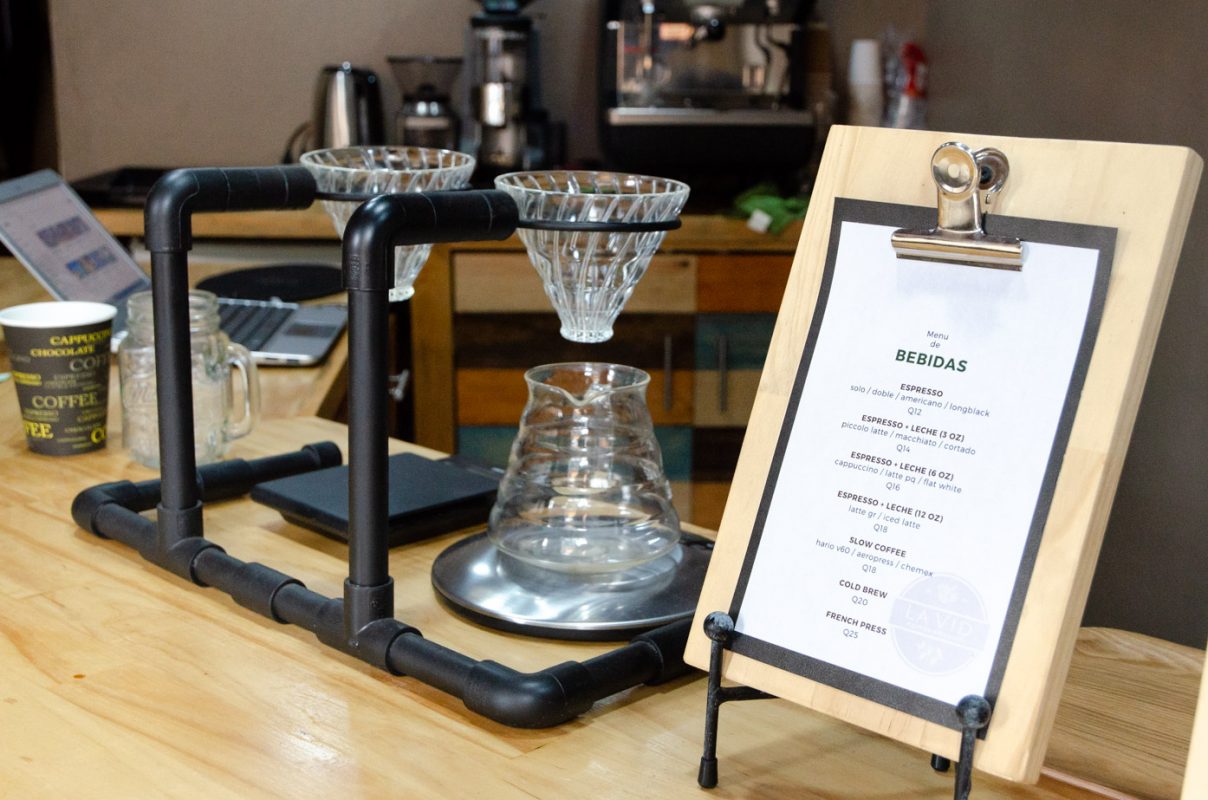 Well balanced, perfect temperature, soft and persistent crema. The bean blend was exceptional in our opinion – enough for us to buy a bag for the road – showcasing the quality of the raw product and his own expert hand through the roasting process (which you can see happening at back of the shop).
That would normally be enough in our books, but Alex has taken his coffee to the next level by being the one and only venue in Antigua we found to provide a glass (beaker?) of complimentary sparkling water with every espresso. It's old school and it makes a real difference to the way in which you taste and appreciate the flavours in every mouthful.
The space is small, but the tall table is perfect for those that prefer a standing desk, and the lounge chairs proved extremely comfortable for hours on end.
The food options are limited at La Vid, but that's because coffee is life – and Alex is living it to the fullest at what we believe is Antigua's best coffee shop!
WiFi: Excellent. We got a lot of work done across our two visits.
Hours: Monday to Friday, 8am to 12pm, and 2pm to 6pm.
Address: 2a Calle Poniente (next to Electron bar)
Website: La Vid Coffee Roasters
Where to buy the best coffee beans in Antigua Guatemala
Oh…you want more? You greedy thing!
Of course, no visit to Guatemala or Antigua can be considered complete without taking some of that incredible coffee back home.
A word of warning though, your friends, neighbours and anyone else within a 5 mile radius will be baying at your door as soon as they inhale the intoxicating aroma of freshly ground Guatemalan coffee beans!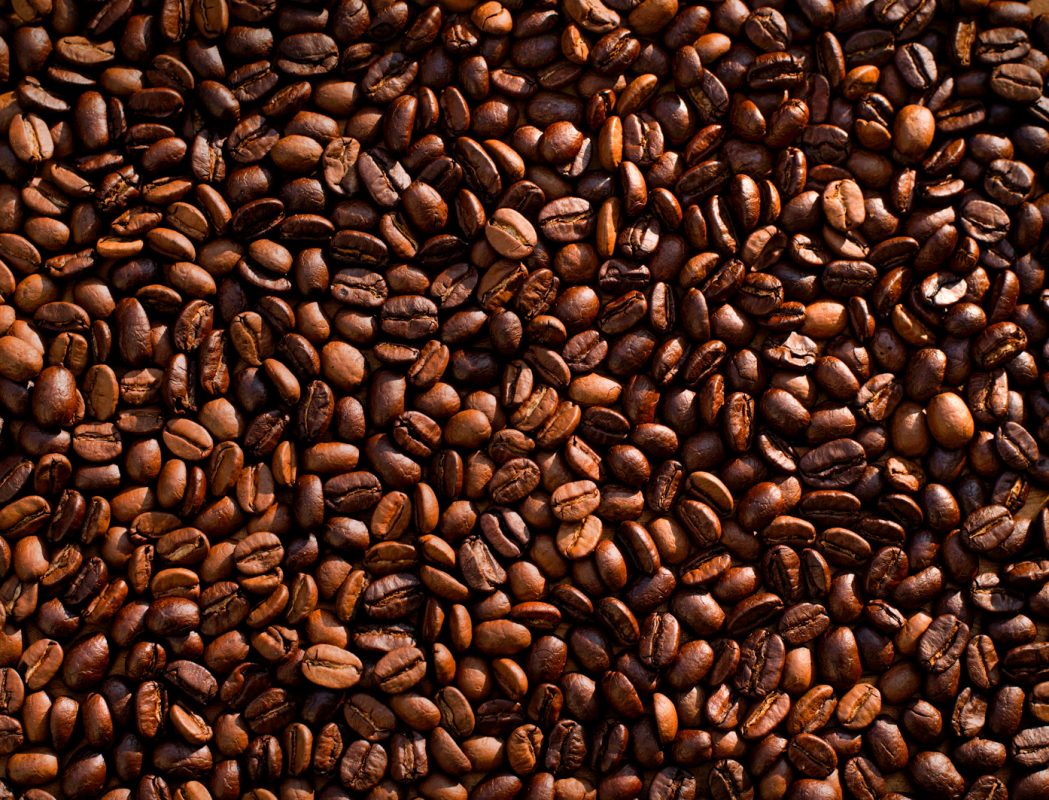 So, where to find the best coffee beans in Antigua?
Interestingly, the venues that could brew the best coffees weren't always the best options for beans.
As unbelievable as it may sound, there is a limit to how much coffee we could buy – excess baggage and financial constraints eventually take over 🙂 But…in our 6 weeks in Antigua and Guatemala City we managed to try the beans from five different roasters. So don't treat this as a definitive list, but more a solid place to start your own taste test:
Paradigma Cafe (The best!) – Words can not describe how good the beans from Paradigma are. This little cafe in the heart of Zona 4 in Guatemala City doesn't distract you with epic breakfasts or other fluff. It's all about the coffee and they do it with style!
GuateJava (Recommended) – We bought their medium blend as the dark wasn't available. Our second favourite blend and very similar in flavour and texture to the beans from La Vid.
La Vid Coffee Roasters (Recommended) – Superb. Well-balanced, full in the mouth and delicious. In fact, 2 months later finds us writing this article in Thailand with a cup of La Vid coffee by our side bringing back great memories of Antigua Guatemala! It will be a sad day when they run out.
Refuge Cafe – A good option, but a very different flavour profile at home to what we experienced in the cafe (unlike La Vid and GuateJava). It still tasted good, but with too much acidity and sharpness for our liking.
La Bodegona Supermarket – There's a comprehensive selection of coffee beans on offer inside La Bodegona. El Cafetalito was the brand we tried and while it wasn't bad, we found it to be too 'hard' and acidic for our liking. It IS convenient though.
Food and coffee tours in Antigua Guatemala
An Antigua coffee tour is a great way of getting a deeper understanding of the whole process, and there are a few ways you can do this.
If you don't mind arranging your own transport to the plantation then you'll enjoy Filadelfia (this place is geared up for tourists in a big way).
But if you'd rather relax and have everything taken care of then an organised tour is the way to go.
This Small-Group Coffee Tour of Antigua is excellent value, providing plenty of tastings and a comprehensive insight into how coffee is made in an Antigua coffee plantation, finishing off with a stroll through the market.
Do you want to find out more about Guatemalan food? Check out this Hands-on Cooking Tour hosted by local chefs and using traditional family recipes.
The Antigua market is a maze of colour and excitement, but it can also be a little intimidating for a first-timer. This fantastic Antigua Day Tour takes you shopping in the market with a local for fresh ingredients in the morning, after which you'll cook up a delicious lunch, followed by a visit to the Choco Museum where you can try your hand at making your own chocolate!
We love this place, and you will too 😀
---
We had a fantastic time in Antigua Guatemala, and while food is normally our 'thing', in this case our love of coffee was the big winner.
It's an awesome little town, with a rich history and so many instagrammable rooftops, alleys and panoramas. If that sounds like your ideal holiday then you might also like these destinations:
Thanks for reading, and if you've got any questions at all feel free to leave a comment below or on our Facebook page, or send us an email.
Cheers, and happy travels!
---
~ Like it? Pin it 🙂 ~