Do you love your hiking, but you really want to explore a side of the Isle of Skye that isn't teeming with tourists? This hike to Brothers Point will give you the REAL taste of this amazing island – and you'll probably have it all to yourself!
---
Discovering Brothers Point (Rubha nam Brathairen) on the Isle of Skye
Update – April 2018: Well, if it wasn't awesome enough, it turns out Brothers Point has more than a dozen dinosaur tracks that can be seen at low tide! While this news is fantastic, it also means that the peninsula is going to see a LOT more foot traffic as people hike to Brothers Point. If you're planning on walking or hiking to Brothers Point, please do everything you can to minimise your impact by sticking to the beach and the marked path wherever possible – future generations will thank you for it!
It is so hard these days to find a 'thing to do' or a 'place to see' that hasn't been done or seen by a GAZILLION other tourists already. But in Brothers Point, (or Rubha nam Brathairen if you prefer the Gaelic version and don't mind tripping over your own tongue), we found a fantastic little walk on the Isle of Skye that we know you'll love!
We didn't discover the hike to Brothers Point through our normal channels (Walkhighlands being our primary resource). This was a bizarre left-field discovery.
One evening, Andrew happened to be thinking about the Aurora Borealis (the Northern Lights) and whether the coastline of the Isle of Skye would present any good photographic opportunities of this natural phenomenon. And so, Google Maps was opened and a methodical tracing of the coastline commenced. Hours later (yes, hours…silly man) he found what appeared to be a very oddly shaped, yet intriguing headland jutting out from the Isle of Skye's eastern coast…Brothers Point.
We'd never heard of this one before, but after a bit more research to confirm it could actually be accessed safely, we knew we were on a winner!
How to get to Brothers Point?
The car park for the Brothers Point hike – if you can call the small bitumen layover by the side of the road a car park – is about 20km north of Portree, or 5km south of Staffin. As you're driving, keep an eye out for 'The Glenview' on Google Maps and you'll find the layover just 100m to the north on the left hand side – here.
Park your car and then head back towards the café where on the opposite side of the road you'll find the dirt road (with a VERY faded sign). This is the start of the walk to Brothers Point.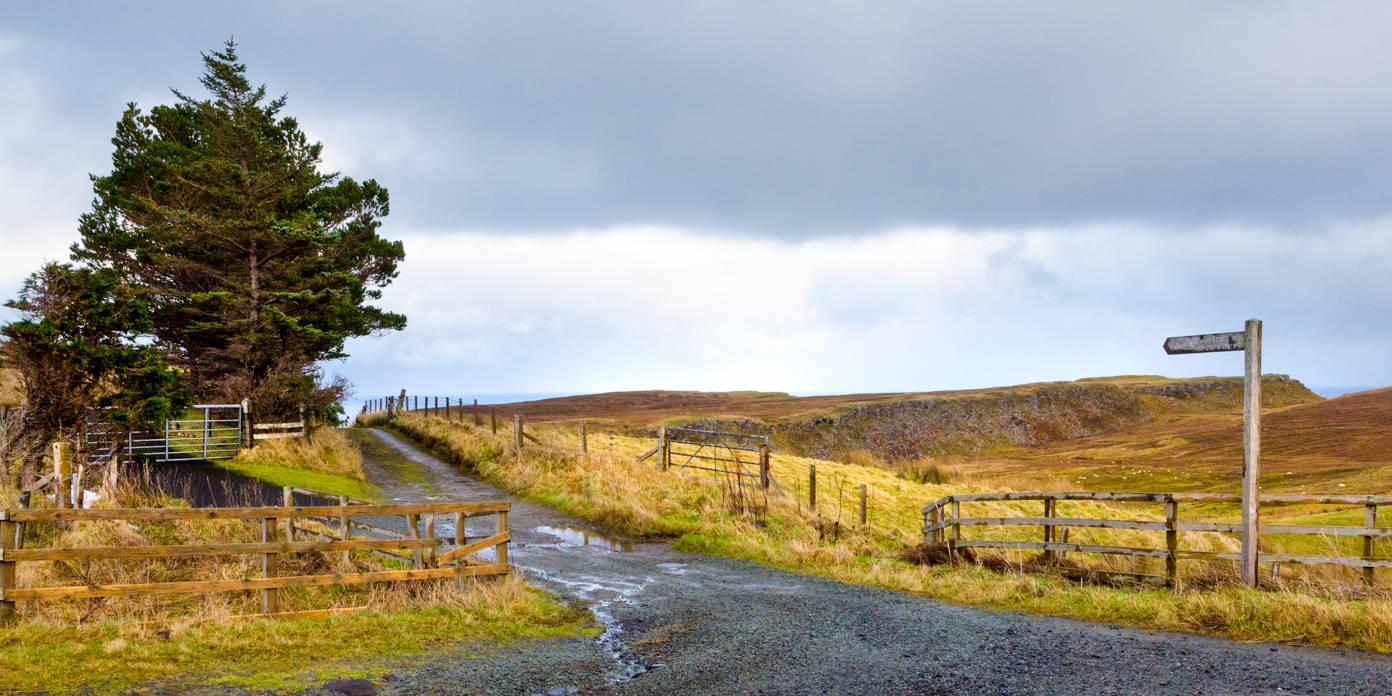 Hiking to Brothers Point
The hike to Brothers Point is a hike in three parts, all reasonably short, but distinctly different from each other.
The first section takes you past a white-washed holiday bothy, through a gate, and past someone's house. We felt a little bit weird simply letting ourselves in and walking through (making sure we closed the gate behind us of course!), but it's important to remember Scotland's amazing Outdoor Access Code that essentially allows walkers the right to wander across any land that isn't seeded with crops (it's a little bit more complicated than that…but that's the gist of it). How cool is that?
Once past the house you'll find the trail snaking down the hill (keep your eyes open for the cascading waterfall to your right, back near the road) and towards the ruins of an old bothy. The path descends to the pebbly beach and tumbled-down remains of what used to be an old salmon processing shack. The evidence is sketchy, but it's also thought that monks lived here hundreds of years ago…hence the name of the headland.
While you're not going to be sunbathing anytime soon on such a rocky beach – unless you really love the smell of kelp and the intimate caress of a thousand rocks under your spine – the views are lovely looking out to the tip of Brothers Point and further up the coast.
As you climb up and away from the beach you'll notice that the trail gets very boggy and becomes unclear. It's of no concern though as you only need to follow the line of cliffs on your right-hand side to the only place that gives you access to the next dramatic section.
This final spit of land is why you're here, and it is simply amazing. Upwards and outwards along a fast-narrowing ridgeline, only curious sheep for company and a long drop all the way down to the crashing breakers below.
It looks worse than it is in real life 😀 We wouldn't say it's dangerous, but a lot of caution is needed as you navigate the narrow trail to Brothers Point. It rises to a small plateau where you'll find the faint remains of an old fort. The views will take your breath away, from the epic Mealt Falls and Kilt Rock in the north, sweeping across the grey waters of The Minch to the dark silhouette of the Isle of Rona in the east.
This is Scotland and the Isle of Skye at its finest!
What's most surprising though is the way the headland then flattens out into rolling meadows of the most vivid green. Time it right and you'll find it to be the perfect place for a picnic lunch.
Alternatively, if you're looking for a unique angle on the Isle of Skye, between September and April the sunrise dramatically lights up the southern side of Brothers Point. If you're a photographer you've GOT to check out some of the photos online, and then go and create your own memories!
Accommodation near Brothers Point
If this hike to Brothers Point sounds tempting then it makes sense to book your accommodation either close by, or a short drive south in Portree. The other bonus is that this region is central to two of the most popular walks on the Isle of Skye – The Quiraing (see our review here) and The Old Man of Storr – making this an ideal base for all your explorations.
We're not joking when we say that the Isle of Skye books out fast – months ahead of the peak and shoulder tourist period – so don't leave it too late!!
Here are some excellent options that get great reviews from fellow travellers. Clicking through these links and making a booking won't cost you a penny extra, but we may receive a small commission helping us keep our caffeine levels above critical, and our blog costs low 😀 Thanks for your support!
Accommodation near Brothers Point
Accommodation in Portree
While exploring the Isle of Skye we stayed at Bealach Uige Bothy.
The Bothy is gorgeously decorated with a modern interior (quite rare!), it's self-catering and we found it to be the perfect escape from winter's bite. Click here to view rates and availability for the self-contained Bothy – it's an absolute gem!
If you haven't tried Airbnb before, we highly recommend that you do. It can save you an absolute packet!
---
Our final thoughts on hiking to Brothers Point?
It's not overly taxing, the landscape is truly memorable, and you'll even get a little adrenalin rush navigating the steep ridge. Even better, hardly anyone knows about it so just like us you may well get the whole place to yourself! (so keep it quiet, yeah? 😃)
What more could you want? This is one of the best walks we completed on both the Isle of Skye and in Scotland in general.
In total the return hike took us around two hours. The weather was turning for the worst though, so we didn't spend as long on the meadow than we would have liked. The only reliable thing about Scotland's weather is that it's always changing, so dress in layers and make sure you take a waterproof jacket. If the winds were high then you definitely would NOT want to be attempting the ridgeline, so do check the forecast before you go.
Reward-to-effort: 10/10
Leech count: 0
Snake count: 0
---
Looking for more inspiration?
If you love hiking as much as us and you're looking for other options on the Isle of Skye, you have got to consider hiking The Quiraing. Click here for our hiking notes and some jaw-dropping photos (one of which happens to be an award winner in the 2018 Scotland Landscape Photographer of the Year competition!!):
Are you thinking of tacking on a few days on the Isle of Skye to your North Coast 500 road trip? This guide to driving the NC500 in winter is exactly what you need to plan the perfect Scotland road trip.
Thanks for reading, and as always, if you've got any questions or comments just let us know, either in the comments box below, or on our Facebook page 😊. We'd love to hear from you!
---
~ LIKE IT? PIN IT!! ~