Are you thinking about driving the NC500 in winter? Are friends and strangers calling you mad? 😀 It's not a decision to be made lightly, and we're here to help!
---
This article contains a few affiliate links. Clicking through these links won't cost you a penny, but it helps us keep Fork+Foot online.
---
Last updated – October 2018
If you've ever watched an inkling of television in your life, you'll know why northern Scotland is on so many bucket lists.
Game of Thrones, Braveheart, Outlander, James Bond…even Monty Python used the sweeping landscapes, tempestuous seas and craggy castles to create their most iconic scenes.
It's one thing to see them on screen, but when you are graced by its snow-capped peaks, feel its pure, rushing waters trembling through the peaty soil at your feet, or take your first lungful of bracing sea air…that's when Scotland really hits you!
A package tour is one way to experience the Highlands, but for a truly memorable experience it has got to be the North Coast 500. Some like to refer to it as the Route 66 of Scotland, but honestly, we prefer to think of Route 66 as the NC500 of America!
Either way, and friendly one-upmanship aside, it's quite simply one of the world's greatest road trips.
But in winter…? Really?
We were crazy enough to spend 11 days driving it in January 2017, but you need to know what you're getting yourself into.
If all goes well you'll have the time of your life, with barely another car sighted on some sections of the NC500. But severe storms are a very real possibility, with the potential to make life an inconvenience at best, at a tragedy at worst.
The winter of 2017-18 was a bad one (just look at Storm Ophelia and the 'Beast from the East'), but 2018-19 is predicted by the Bureau as the harshest in 10 years, with heavy snows forecast from November through to February.
If there is one thing we beg, it's to be prepared. And the best place to start that preparation is right here!
Want to skip ahead? Just click one of these links!
Part 1: The Route
Part 2: How to plan your NC500 road trip in winter
Part 3: Things to do on the NC500 (and where they are!)
Part 4: The NC500 weather in winter
Part 5: What to wear in winter
Part 6: Staying safe on the NC500 in winter
Part 7: Road rules and etiquette
Part 8: Where to stay in winter
Part 9: Mobile phone (cell phone) reception
Part 10: Useful online information
Part 11: Am I crazy?
~ LIKE IT? PIN IT!! 😀 ~
---
Part 1: Your perfect NC500 route planner
So, let's get some NC500 route planner basics out of the way.
As you can see from the map below, the NC500 is a 516 mile route that circles northern Scotland. It wasn't 'built' to bring in the tourists, it is simply a network of highways, roads and billy-goat trails that link the very best of Scotland's natural and historical attractions.
Some choose to follow its route with religious precision, while others (like us) occasionally strayed from the path, chasing rainbows!
Do I need a paper map?
As strange as it may sound in this digital age, the answer is a definite YES!
We found 3G/4G cell phone coverage (3 Mobile) along the route to be decent on the east coast, not so good in the north, and virtually non-existent for most of the west coast. Thankfully, the GPS functionality remained largely unaffected, so the best piece of advice we can give is to do a local download of each part of the route that you think may prove useful, and use that if needed.
Regardless, a map doesn't run out of batteries, so take one with you and you can rest assured you'll always know where to go! Mind you, so long as you keep the coast on your left or right the whole way round you should be fine 😀
Where should I start the NC500?
Officially, it starts in Inverness at Inverness Castle, a 3-4hr drive north of Edinburgh. Unofficially, it's a circle peeps, so you can start wherever you like!
We began our journey in Glasgow, picking up a rental vehicle and spending an extra day driving up through Fort William and past Loch Ness (no, we didn't spy its most elusive resident) to Inverness.
How long does it take?
Well, that depends! How long do you have?
At 516 miles this isn't a long road trip by any means. BUT. And it's a big but. The roads of the NC500 aren't four lane highways, and the scenery is going to arrest your attention at every turn, so it's going to take time.
The Quick (3 days): If you are tight for time, the NC500 can be driven in 3 days. It CAN be done, but just because it can, doesn't mean you should. You'll see, and perhaps have the chance to stop at some of the North Coast 500 highlights, and for many that may be enough. But you WILL leave wondering…
The Essential (1 week): To give yourself the chance to experience the NC500 without feeling rushed, allow 5-7 days. This will let you choose one or two locations at which you can spend a couple of nights and explore the surrounding countryside or coastline.
The Ultimate (2 weeks): Honestly, if you can afford it, allow more than 7 days. This is a truly unique corner of the world that deserves the time to be fully appreciated. We were so fortunate to spend 11 days exploring all its nooks and crannies. But you know what? We could have easily extended that to a couple of weeks!
Which direction for the NC500, clockwise or anti-clockwise?
Did you know there's actually a third option? Read on, to find out more!
There are pros and cons to each. These reflect our own travel preferences, so it's likely you'll disagree in places 😊 We'll assume that you're starting from Inverness.
Anti-clockwise (our choice)
Some luddites claim the east coast is boring as bat shit and is best done as quickly as possible. As we discuss in more detail further on, we strongly disagree. BUT, we wanted to finish our road trip with the natural beauty of the west coast, rather than the cultural riches of the east, so for us it made sense to start in the east.
Pros
Gives you the option of adding on a few days on the Isle of Skye at the end (as we did).
You'll start the NC500 with the sun at your back, so less glare and the scenery will be lit up in front of you.
For those driving a van or larger vehicle for the first time, the wide and well-made east coast road is the perfect training ground, before you get to the mountainous, windy road of the west coast.
Cons
You'll be driving the spectacular west coast into the sun (assuming it makes an appearance!) meaning more glare and more craning your head over your shoulder to see what's behind you.
It's harder to time your attempt at Bealach na Bà for good weather. All you can do is hope!
Clockwise
This is a super popular option, mainly because you hit the spectacular west coast so early. When driving the NC500 in winter, it also means you can time your run to Bealach na Bà on your first day, ensuring you start with fine conditions (rather than drive all the way around anti-clockwise, only to hit storms and not be able to back out so easily).
Pros
This will bring you to one of the highlights of the NC500, Applecross Pass (Bealach na Bà) very early in your trip.
"First impressions last."
The coast is on your left-hand side all the way, so there won't be any traffic between you and the awesome views.
Cons
For those driving in vans or other large vehicles for the first time, tackling Bealach na Bà so early in the trip may be nerve wracking without many miles under your belt.
The most spectacular part of the NC500 is the west coast, meaning your last few days across the north and down the east may seem like an anti-climax.
The figure-of-8
Yep, it's a thing! Debra, one of the admins at Scotland Time made us aware of this option and she's a big advocate. It isn't widely publicised, and takes you off the NC500 for some sections (does that really matter?), but it makes a lot of sense if you've got the time.
There are a number of variations, but most include cutting through the middle of northern Scotland, by taking the road between Bonar Bridge (stop your chuckling) and Ledmore, or between Lairg and Laxford Bridge.
This way you can see sections of the east and west coast with the sun both in front and behind you. It also gives you the opportunity to explore the beautiful central region that is still relatively unvisited. It's unconventional, but worth considering.
How busy is the NC500 in winter?
One of the best reasons for driving the NC500 in winter is that you'll virtually have the roads to yourself. You can stop where and when you want, you can drive slow if something takes your fancy out the window, and it's extremely unlikely that you'll get caught behind a convoy of motorhomes for miles on end with their exhaust in your face!
In summer, it can be the complete opposite. Talking to the locals we heard some real horror stories such as the time a daisy chain of RVs slowly made their way along its narrow roads, causing havoc at the passing places and holding up traffic for hundreds of other travelers and locals. This is an extreme, but as the NC500 gains in popularity, the traffic in summer is only going to get worse, on roads that are still only really designed for local traffic.
I'm driving a motorhome, is there anything special I need to be aware of?
Yes! Summer or winter, so long as you respect your fellow road users and follow good driving etiquette (which we discuss in more detail shortly) you're not going to have any problems on almost all sections of the NC500.
BUT, there are two sections that you do need to be aware of…
Bealach na Bà (Applecross Pass)
This is one of the most stunning sections of the NC500, as it winds its way up from sea level to more than 2000ft. However, the incline approaches 20% in places and there are dozens of extremely sharp switch-backs, both of which combine to make life very difficult for the driver of a large vehicle.
Are you experienced? Are you comfortable reversing your vehicle for hundreds of yards down a narrow road…with a sheer drop to one side…and with close to zero visibility? Is your vehicle shorter than 18ft?
If you can genuinely answer 'Yes' to all three questions, and you're not towing anything, then you will probably be fine. But, do err on the side of safety.
Remember, these are remote areas and it would be devastating to cause an incident that prevented emergency services from saving lives. And besides, are you really going to enjoy those views when your attention is completely absorbed by keeping your vehicle on the road…?
If it sounds a bit too risky, the alternate route is via the A896 from Tornapress to Shieldaig.
The B869 between Kylesku and Lochinver
This is one of the most picturesque sections of the NC500, but it is very windy and narrow with plenty of blind corners, and should only be used by those that know their large vehicle very well.
The A894 is the safer alternative route here.
---
In winter these concerns remain the same, although you will also have the added risk of ice, strong winds and/or snow. Again, be honest with yourself in assessing your own abilities under trying conditions.
How often will I need to refuel on the NC500?
It's so frustrating hearing that nagging little voice in the back of your mind questioning whether you're going to make it to the next petrol (gas) station.
Our approach was to refuel at the earliest opportunity after our tank dropped below half-full. This was very conservative, but served us well. We've heard of others using a similar tactic, but at quarter-full, that worked just as well.
Larger towns like Dornoch, Wick, Thurso, Durness, Ullapool, Lochinver, Applecross and Lochcarron have petrol stations, but in the more remote areas they are far less likely and/or may not be staffed in the evenings or on Sundays.
Does the North Coast 500 get closed in winter due to snow?
Yes, but thankfully not very often!
As we're sure you can understand, the pass at Bealach na Bà is very exposed and heavy snowfalls occur annually. We were unable to find statistics, but a highly unscientific review of Facebook updates posted by the Applecross Inn suggests that closures occur around a couple of times a year, typically lasting a day or two before either snow ploughs get in and clear the road, or the snow melts.
In January 2017 when we drove the NC500 we needed to rearrange one of our days due to high winds and snow up on the pass, but the next day it had all cleared and the road was back to normal, albeit shrouded in mist!
But, 2018-19 is looking like it's going to be a big season for snow storms, so please be careful.
There's no denying it, this is a risk you take in winter and it's why we recommend to anyone planning on driving the NC500 in winter to try and squeeze in a little bit of flexibility to their itinerary. Stay a couple of nights in the Applecross area so that you can always go back the next day. We had a flexible itinerary that could handle this type of disruption, but if you have no room to move then make sure you keep an eye on the forecast.
Regular checks of Roadworks Scotland and Traffic Scotland are essential, even if it's simply to keep track of closures due to plain old roadworks. 
---
Part 2: How to plan your NC500 road trip in winter
There are as many different ways to plan your NC500 road trip as there are biting midges in summertime!
We've done a bit of travelling in our time and have settled on a pretty good system. It may not work for you, but that's ok, it will still give you food for thought.
Set your limits – How many days in total have you got available?
Do you prefer short drives every day, seeing things along the way, no backtracking, and only a single night at each accommodation location?
Or, do you prefer longer drives every day, but staying 2 or more nights at each accommodation location, using each as a base to explore the surrounding countryside (our preference)?
We recommend aiming for less than 100 miles per day (Goldilocks would tell us that 80 is 'just right').
Make note of the towns/regions with a lot of accommodation options and mark these on Google Maps.
Make note of your 'Must See/Do' and 'Nice to See/Do' attractions and mark them on the same map.
Put the pieces of the jigsaw together!
If you are planning on driving the NC500 in winter then we can't stress enough that slightly longer drives, with more days at each location is the way to go. Poor weather may slow you down or even prevent you from getting to your next destination. By having an extra day up your sleeve you have more flexibility to find an alternate route, without as much time pressure in the back of your mind (something you don't need when driving in the snow!).
Mind you, one of the advantages of travelling in winter is that many accommodation providers aren't fully booked, so they too may have greater flexibility in adjusting your booking to account for delays. This nearly eventuated for us in Achiltibuie, but thankfully the weather cleared and we could move on. Regardless, it was such a relief to hear our Airbnb owner tell us we were welcome to stay another night if needed.
---
Part 3: Things to do on the NC500 (and where they are!)
When planning your NC500 road trip it's important to know in advance where you're going to want to spend your time. Castles? Beaches? Hiking? It's all possible!
To help with your planning, we've broken up the NC500 route into typical sections that align nicely with daily driving distances, and towns where you'll find good accommodation options.
So, strap yourself in, because you're in for a treat…!!
East Coast – Inverness to John o' Groats – 119 miles
~ For a detailed account of our adventures on the east coast, here are Day 1 and Day 2 of our NC500 diary ~
It isn't as dramatic as the west coast, but what it lacks in craggy munros and deep glens, it more than makes up for in history, culture and most importantly…alcohol!
It's one of the longest sections of the NC500, and its lack of mountains means that higher speeds are possible compared to other sections of the NC500. Keep in mind that it bypasses many smaller coastal villages that are worth a quick visit, so do allow time to leave and rejoin the A9.
These are some of the fantastic places you'll want to consider stopping at:
Black Isle Brewery – A very good selection of Scottish brews. Remember, don't drink and drive!
Chanonry Point– Dolphins (at high tide)! Parking limitations at the point mean that Rosemarkie or Fortrose are the best places to park your car.
Dornoch – Wide, sandy beaches, one of the world's best golf courses, and the Witch's Stone, commemorating the last place a witch was burnt in Scotland!
Dunrobin Castle – Only open from April to mid-October, but you can drive past and admire it from the access road.
Helmsdale – A very pretty village, perfect for a lunch stop. There's a nice park and walking trail by the river's edge to St John's Well, and you can also drive out to the wharves and watch the fishermen at work.
Whaligoe Steps – An old harbour, nearly 300 steps down the side of a VERY sheer cliff, this is where the ladies of old used to carry the day's herring catch up from the boats below – in both heels and skirts! This place is hard to find as it isn't well signposted, so we recommend looking for the Whaligoe Steps Café instead (another excellent place for a meal, but normally closed during winter) as the steps begin right next door.
Yarrows Archaeological Trail – A loop walk, taking you past an iron age broch, bronze age hut circles and Neolithic stone cairns! The trail is 2 miles long, so allow a couple of hours.
Old Pulteney Distillery – Back in its heyday Wick was known for not only its barrels of silver (herring), but also for its barrels of gold (whisky). Their 'Old Pulteney' was voted the world's best whisky in 2012!
Girnigoe Castle – Seat of Clan Sinclair, this gnarly old castle on the northern side of Wick is closed during winter, opening in May.
Duncansby Stacks (and Lighthouse) – We've saved the best 'til last! If there is any location you mark as a 'Must Visit' on the east coast, THIS IS IT!! From John O' Groats it's just a short drive over to the Duncansby Head Lighthouse but what you'll find there is nothing short of jaw-dropping! Sure, the lighthouse is interesting (you can't get in though), but what you want to do is follow the marked trail to the south. If it's dry you won't have a problem, but if it's wet then you better take your wellies or hiking boots because it gets really slippery! The reward is incredible, with the cliffs looming in front of you, and the huge angular shapes of the Duncansby Stacks rising out of the roiling waters below. We could have spent a full day exploring the cliff edge further to the south, so if you've got the time make the most of it!
North Coast – John o' Groats to Durness – 90 miles
~ For a detailed account of our adventures on the north coast, here are Day 3 and Day 4 of our NC500 diary ~
There's a distinct change in geology as you drive Scotland's northern coastline, with the plains and green rolling hills of Caithness county giving way to the rugged, craggy slopes of Sutherland county. The road narrows, and the sense of excitement starts to build as you get closer and closer to the fabled west coast!
Here are some great sights and things to do:
Dunnet Bay Distillers – There's nothing wrong with a post-breakfast gin pick-me-up is there? If you're the passenger then instruct Jeeves to make a stop at Dunnet Bay Distillers where you can try their delicious Rock Rose gin. With rose root, sea buckthorn and rowan berries in the mix, this is the essence of Caithness!
Dunnet Head Lighthouse – Perched precariously above soaring cliffs, this is mainland Scotland's most northerly point. Access to the light house itself isn't permitted (unless you're staying at their accommodation), but there's a great trail that you can follow up the hill to the lookout, with awesome views back down towards Brough. We were the only people there, something I'm sure you could never claim outside the winter months!
St John's Loch – An odd little place that you won't find on many other NC500 guides, St John's Loch is a mecca for twitchers (bird watchers) and fishers. The loch is man-made and has resulted in all manner of common and rare breed birds being spotted between spring and autumn. Sadly, winter isn't the best time for bird watching, but it's still a lovely place to explore. Make sure you take your waterproof boots…it's a tad muddy!
Flagstone Trail and Battery (Castletown) – A very pretty trail that will educate you on the history of the famous flagstones that were quarried in this district, while at the same time revealing the beautiful coastal dunes behind Castletown.
Dounreay Nuclear Reactor – Going live in 1958, the Dounreay reactor was the first 'fast breed' reactor built in the UK. It's now in the process of being decommissioned, and while tours aren't available it's still interesting to park your car and view this piece of modern history from a distance.
RSPB Forsinard Flows – If you've got time to spare, turn left before you get to Melvich and take the A897 for around 30 minutes to the tiny town of Forsinard. Parking your car at the cute little railway station, walk across the railway and onto the boardwalk of the Dubh Lochan trail. The peatlands of Scotland are under threat, but this is one place where they have been wonderfully preserved.
Strathy Beach – There's a picturesque viewing point at the top of the dunes overlooking Strathy Beach. A great place for a picnic!
Bettyhill, Borgie, Coldbackie and Tongue – All lovely villages. If they take your fancy then park the car and go for a stroll. Farr Bay (below Bettyhill) is another beautiful beach, and it's worth exploring Castle Varrich in Tongue.
Talmine – Talmine village is nice enough, but what you really shouldn't miss is the views south towards the Kyle of Tongue!
Cocoa Mountain – The perfect way to finish another awesome day on the NC500 is with a mug of steaming hot, silky smooth hot chocolate from the folks at Cocoa Mountain. You'll find them in the Balnakeil Craft Village a few minutes to the west of Durness.
West Coast – Durness to Ullapool – 96 miles
~ For a detailed account of our adventures on the west coast, here are Day 5, Days 6 & 7, and Day 8 of our NC500 diary ~
It's the west coast baby! As you leave Durness it's all about the changing light on the rocky mountain tops, but as you get closer to the coast the road gets very narrow, taking you along the dramatic coastline and past numerous tiny lochs and hidden beaches.
Here's a few places to mark on your map:
Scourie – Another of Scotland's beautiful little villages, with pretty whitewashed walls and excellent views of the sea.
Kylesku Bridge – It's an architectural masterpiece, with construction managed by the same design engineer responsible for the Sydney Opera House! For a view with a difference, park on its southern side and make your way down the hill and underneath its soaring concrete struts.
Drumbeg – More great views!
Clashnessie Beach – Watch the powerful Atlantic swell punch and seethe its way across the wide sands.
Stoer Lighthouse – A nice little diversion.
Clachtoll and Achmelvich beaches – Clachtoll is right by the roadside, near Flossies Beach Store (good for a cuppa or bite to eat!) and Achmelvich a short drive off the main road, but it's recognised by many as another of Scotland's finest beaches. On a sunny day you could be mistaken for being in the Bahamas!
Lochinver – A large town, and a good place to stock up on provisions or fuel.
Knockan Crag Nature Reserve – There are plenty of great hikes of varying lengths and difficulties in this reserve, with some even sporting some very cool rock sculptures, perched on the side of the hill!
Stac Pollaidh – For intrepid hikers, Stac Pollaidh awaits. Its profile is unmistakable and the views sensational. Bring your best boots and warmest jacket!
West Coast – Ullapool to Shieldaig – 93 miles
~ For a detailed account of our adventures on the west coast south of Ullapool, here are Day 9 and Day 10 of our NC500 diary ~
This section of the NC500 is similar is many ways to the previous section, and that's not a bad thing! However, the roads are wider, so you'll make better time.
Gruinard Island – If the blood red sands of Gruinard Beach weren't enough to give you the heebie jeebies, do some research on Gruinard Island to learn more about the anthrax experiments that used to be carried out there!
Red Point Beach – if you've got a spare couple of hours, take the one-way road Kerrysdale out to Red Point Beach. You'll meet some ornery viking sheep and find yourself rewarded with views across to Rona and the Isle of Skye on a clear day!
Loch Maree – What a gorgeous loch. It was a cold, drizzly day when we stopped for a bite to eat, but what a sight it was. It's mirror surface and swirling mists evoking Arthurian tales and leaving us in awe of just how beautiful Scotland is, and in the rain, no less!
Diabaig – Unfortunately we ran out of time, but we've heard many describe the one-way drive out to Diabaig as 'little Applecross'. Not many know of this detour, but if you've got the time it sounds like a little gem! The Gille Brighde Restaurant has an excellent reputation as well, making it the perfect place to stop for lunch.
West Coast – Shieldaig to Inverness – 70 miles
~ For a detailed account of our adventures near Applecross, here's Day 10 of our NC500 diary ~
At last, we find ourselves exploring the section of the NC500 lauded by all as the most magnificently memorable section of the NC500, home of the famous Bealach na Bà, or Applecross Pass!
Well…it would be if you could see anything! We copped a dose of bad winter luck with a day full of mist and cloud, literally not even realizing that we had driven past the top of the pass before we were already on our way back down! Ah well…this IS the NC500 in winter after all.
The Red Cottage – One of the most recognisable icons of the NC500, the red cottage begs every traveller to pull over and take a photo.
Applecross Inn – We're still raving about the delicious red ale that we tried at the Applecross Inn. So tasty! Their meals and accommodation are quite good as well we hear, but they do book out fast!
Bealach na Bà (Pass of the Cattle) – It's huge. It's spectacular (allegedly). It's scary (especially in a van). It's a part of Scotland you'll never forget. We really hope you get better conditions than us!
---
Part 4: The NC500 weather in winter
The chapter you've been waiting for! There's plenty of climate info out there for summer, so we're going to focus on what weather you can expect in winter on the NC500.
We give you a good snapshot in the following sections, but we can't stress enough that you need to do your own research, both now and especially in the days and weeks before you travel. Forewarned is forearmed!
For more information please visit the MetOffice and the Mountain Weather Information Service.
Our experience driving the NC500 in winter
We drove the NC500 in a Vauxhall Astra in January, taking 11 days. In hindsight, we were very lucky in some ways, and unlucky in others.
Our first couple of days were magnificent as we drove up the east coast, with the low sun dramatically lighting up the rolling hills and beaches. Magnificent!
From Thurso the clouds set in and we had intermittent drizzle and sunny periods for the next couple of days.
While in Durness we then got hit by some ridiculously exciting squalls while out hiking. We had dressed for the conditions and had an absolute ball in between torrential rain, sleet, and hail stones (you can see a photo of us both at the top of this article)!
As we drove south along Scotland's west coast the conditions deteriorated even further, to the point that we had heavy snowfalls overnight, with a few of inches of snow remaining settled throughout the next day.
After a day without snow it then returned with a vengeance, causing Bealach na Bà to be closed for a day. Playing it safe, south of Ullapool we chose to deviate off the NC500 to Lochcarron, returning to Bealach na Bà the following day (as we had extra days up our sleeve 'just in case').
Without such a relaxed itinerary we would have struggled. It also shows that no matter what the statistics and climate averages tell you, storms can hit at any time and you need to be prepared!
Temperature
Let's make no bones about it, it's going to be cold!
Climate data from the MetOffice shows that, as you'd expect, the winter months are the coldest in the north. On a daily basis you can expect temperatures to vary between 0-10°C (32-50°F). If you're lucky, it might reach 15°C, and if you're really unlucky, it may drop as low as -16°C!!
The data shown here is for Inverness which is a reasonable reflection of what you can expect on the NC500. It was a surprise to us to find out that the east coast actually experiences slightly colder weather than the west, due to the warming effects of the Gulf Stream in the west.
Rainfall
Autumn and early winter are the wettest periods in Scotland, with the west coast and highlands receiving a lot more rain than the east coast. During winter, on the east coast you'll experience less than 40 days of rain, while in the west it's closer to 60 days.
Snow
White Christmas, anyone? 😀
When considering snowfalls, it's important to remember that most of the NC500 route follows the Scottish coastline. The tempering effects of the sea mean that while it tends to snow between 25 and 35 days throughout winter, on average it only settles for less than 20 days, and that's neglecting the effects of snow ploughs and general traffic in keeping the roads clear.
However, there are two HUGE caveats to this.
Firstly, Bealach na Bà. Its altitude means that it receives far more snow and the colder temperatures mean the snow settles a lot longer. As we've already mentioned, it appears that on average the pass gets hit a couple of times a year requiring road closures.
Secondly, these numbers are only averages. If you happen to get hit by a storm cell then all these averages become meaningless and you could be looking at days of heavy snowfall and significant delays on the roads.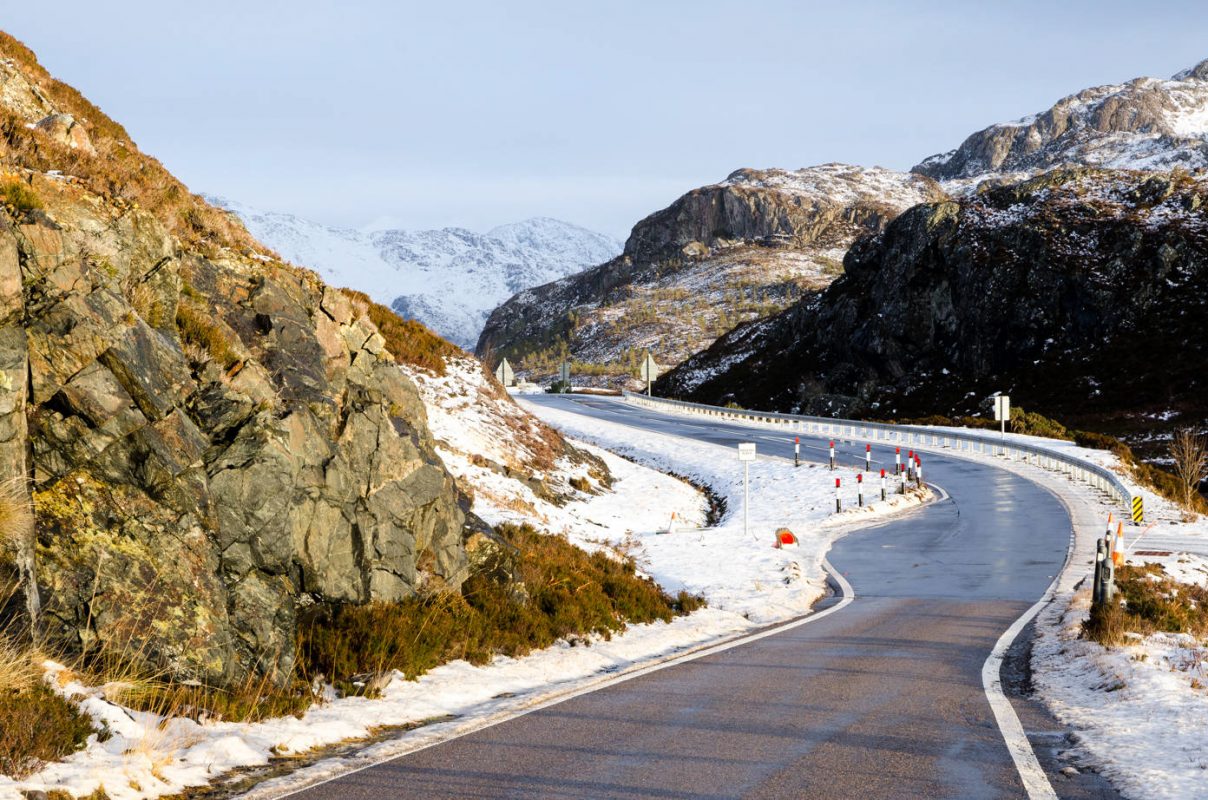 Wind
There's no doubt, it's going to be windy. They don't build wind farms across Scotland for no reason!
Interestingly, average wind speeds remain relatively consistent throughout the year (10km/hr), but do see a slight increase up towards 12km/hr during winter. This isn't such a concern, but what you really need to keep your eyes on is the Atlantic storms that sweep through with regularity. High winds and gusts in excess of 100km/hr are not unusual, making any travel by road a risky proposition due to debris and reduced visibility.
These winds also tend to coincide with rain and/or snow increasing the risk even further. Whatever vehicle you're driving, but especially those with motorhomes, play it safe and wait for the winds to drop, before proceeding with great care and at a prudent speed.
Daylight hours
Here's the real kicker! When you're this far north the days get very short. 21 December is the winter solstice, and on this inauspicious day you'll get barely more than 7 hours of sunlight (assuming the clouds have disappeared!), with the sun setting before 4pm.
We can't stress enough how much this impacts your time driving the NC500 in winter. Early starts and early finishes are the order of the day, and you're not going to squeeze in anywhere near as many sights or attractions as you would in the middle of summer when you have more than 17hrs of daylight up your sleeve.
Choose your attractions wisely so you don't waste your time faffing about with non-essential diversions.
Aurora Borealis – The Northern Lights in Scotland!
One huge attraction of driving the NC500 in winter is the opportunity to experience the surreal wonder that is the Northern Lights.
The extended hours of darkness, the high latitudes of northern Scotland, and the inclination of the earth all coincide to give you the greatest chance you may ever have of witnessing the dramatic spectacle!
Experiencing the Aurora Borealis is a dark art, mixing a little bit of knowledge with a whole lot of luck! To get yourself started, have a read of this article at Scotland Info.
If you'd like to get notified by email of forecast aurora activity, sign up to AuroraWatch UK.
---
Part 5: What to wear in winter on the NC500
What's the checked baggage limit for your airline? 23kg…?
Bahahahahaha!!!
If you don't want frostbite, you'll be wanting to double that 😀 (just joking!)
All kidding aside, staying warm is going to be a daily challenge. Unlike most Aussies, we're from Tasmania so we had a reasonable idea of  how cold it would get and what we'd need. But, if temperatures barely above freezing aren't common in your corner of the world, then listen up and pack wisely!
Here are a few tips to get you thinking…
Socks
Socks. Socks. Socks. We can't stress this enough. Socks are life on the NC500!
Wool is best, as it doesn't sweat or smell as much as synthetics, and will keep your tootsies toasty. If hiking is on your agenda then we recommend getting a few pairs with extra padding in the sole. We've tried a lot of different brands in our time, with Darn Tough and SmartWool the best of the bunch.
Shoes and boots
Water resistance is the key here. Obviously, if you decide to go roaming the glens then you'll definitely need a pair of waterproof boots (we've had good experiences with boots made by Scarpa, Zamberlan and Columbia). But even around town you'll be surprised at how damp your feet get due to splashes, rain and unsuccessful attempts at jumping puddles!
Leather is a good all-rounder, while still being very fashionable. A mid-rise cut is also useful, as it will reduce the amount of moisture that can get in at the top.
Thermals
Yes, you need them. No questions. They are the cheapest, most effective way of regulating your core temperature. They also look fantastic whilst cavorting under a full moon at midnight by the loch…
Again, wool is your best option. We recommend going for full length thermal pants with a fleece lining. Whether you choose a short sleeve or long sleeve top comes down to personal preference. We both went for long sleeved and found them to be perfect.
Jumper
We're going to sound like a broken record here, but wool is again the best option for a warm jumper. Considering how often you'll find yourself putting on and taking off your jumper, it can be handy to bring one lighter weight jumper or fleece to go over your thermals, and then a slightly heavier jumper with a zip over the top of that. The zip will make it extremely quick and easy to get it on or off when needed, and at the same time save your hair from getting mussed up!
Jacket
There are a couple of different approaches to selecting a jacket. You can go for a fully insulated, heavy and deliciously warm jacket, or you can go for one that is water and windproof and is part of 'layered' approach.
If you find yourself getting cold easily, then you may want to adopt the first option, but we've always found a lighter weight jacket to be far more flexible and practical. It also suits itself to the constant on/off/on/off cycle that you go through every time you walk into a shop!
Hat, scarf, shawl and gloves
The decision on whether to bring a hat and/or gloves depends a lot on your core temperature and whether you are naturally a 'hot' or 'cold' person.
If you're going to be spending a lot of time in the outdoors (and why wouldn't you?!) then we recommend that you buy a pair of gloves. Look for those made with either waterproof synthetic, or leather, with a fleece lining.
Similarly, a warm hat or beanie is an extremely cost effective way of keeping yourself warm outdoors. It's also a great chance to flaunt your favourite football team's colours to an unsuspecting Scottish public 😀
As for a scarf or shawl, bringing at least one of these is a MUST! They are so lightweight and yet they make you feel so warm. It can also act as a makeshift pillow when you're flying 🙂 You know the drill…it's wool all the way!
---
Part 6: Staying safe while driving the NC500 in winter
It doesn't matter how much fun you're having on holidays, unfortunately the very act of jumping in a car and embarking on one of the world's best road trips brings with it an element of risk.
Foreign roads, strange cars, different road rules, poor conditions, time pressures, the urge to stop and admire the highland coos through an open window…there's a lot that can distract and potentially take a turn for the worst.
While this guide focuses on winter, the very fact that Scotland can throw four seasons at you before you've even finished your bowl of porridge means these tips are relevant year round.
Unlike the weather, it's a dry subject, but when the safety of your family is at stake you've got to take the time to be prepared.
Know your vehicle
If you're like us, you've probably booked a rental car for your NC500 adventures.
Four wheels? Check! Steering wheel? Check! All rentals are the same, right? Wrong!
You'll be feeling a little bit of pressure when you pick up your vehicle. Pressure to turn that key and get out on the road!
The best advice we can give is to wait. There's no rush. 10 minutes spent getting to know your car could save you a world of pain and frustration once you're battling bumper to bumper on totally foreign streets.
Indicators/wiper configuration – I don't know where you're from, but in Australia the indicators are on the right-hand side of the steering column and the wipers on the left. In the UK it's the opposite! At least there's no real harm done with getting this one mixed up.
Right-hand drive – In Scotland they drive on the left-hand side of the road, meaning their vehicles are right-hand drive. ie. the driver's seat is on the right-hand side of the car. This might throw you out a little at first, but you'll quickly become accustomed to the change in perspective.
Gear stick – Manual (stick-shift) vehicles are generally a little cheaper than automatics, but if you make this choice and you're from the USA or another country where the cars are left-hand drive, you'll need to remember that in Scotland you'll be changing gears with your left hand.
Reverse – It doesn't matter where you're from, the reverse position and activation mechanism seems to vary between between all makes and models. Make sure your rental agent explains this to you, because the last thing you want is to move forwards and stall your vehicle by putting it into 6th instead of moving backwards in 'R'!
Winter tyres and socks – From all the research we've done it seems that winter tyres or snow socks are not an option provided by rental companies in Scotland. It's a shame, because they make a real difference. If they are offered as an option, take it!
Mirrors – Take a couple of minutes to get them all aligned correctly. Fumbling around with mirrors while driving at speed in a strange car is not a good idea.
Spare tyre – Check that you've got one and that it's inflated! Taking 20 minutes to change a tyre in the freezing cold, only to find that it's flat is not our idea of fun.
Driving in winter
We all spend a lot of time driving, but if you're anything like us you're probably wondering what a Scottish winter might throw at you, and whether you're up to the challenge, right?
Let's get this out there, we aren't experts in winter driving! And you know what? That makes us a pretty good case study for your average tourist wondering what it's really like to drive the NC500 in winter.
This section of the guide isn't intended to be an extensive 'how to' on winter driving. Instead, we want it to highlight some of the risks you need to consider, and point out some helpful resources where you CAN get an expert's guidance.
Our experience? We encountered 3 instances during our 11 days where we had to drive in the snow.
The first was after we'd had overnight snowfalls. It was only inches deep, but even on a relatively small incline we found the car skidding under brakes at low speed (we didn't have winter tyres). Then, trying to get back up that same hill took us half a dozen attempts due to our inexperience (to our immense frustration, as the locals were obviously having no troubles whatsoever!).
The second and third were over the next two days where we needed to drive through falling snow at dusk. This was quite the eye-opener, teaching us to stay away from the hard shoulders where there is deep snow that you may not escape, to reduce speed, and to watch out for the hypnotic nature of the snow in your headlights.
Other things we learnt was that the low winter sun will be below your sun visor for much of the day, and in the wet it creates blinding glare! Take sunglasses, and keep your wits about you.
We strongly recommend that anyone considering driving the NC500 in winter should as a minimum read this in-depth guide from the RAC.
Key points include:
Visibility

It's essential, and required by law. Your rental car should be equipped with an ice scraper, so make sure you use it to clear snow and ice from all windows, including your side mirrors. Also make sure you demist your windows.
How to drive in the snow

Use low revs, and don't accelerate or decelerate rapidly.
Don't turn sharply
One big lesson for us after getting stuck in the snow was to start the car in 2nd gear as you'll get better traction.
Allow a larger gap between vehicles than normal
Use your dipped headlights for greater visibility
Drive at a speed suitable to the conditions
Anticipate where you might encounter ice (shaded places and bridges are common), and slow down!
Grit

Learn about how grit can be used to make a road more easily driveable. Grit bins will often be found in rural Scotland by the side of the road on hills.
Shovel

It's advisable to pack a shovel if possible, just in case you need to clear snow from the undercarriage of your vehicle, or to shovel grit.
Alcohol
Scotland is the home of whisky, and the temptation will be mighty…but please don't drink and drive.
Scotland has a maximum blood alcohol level of 0.05 (ie. 50mg of alcohol in 100mL of blood) so it takes very little to put you over the limit. For more information click here.
Scotland's distilleries understand how important it is to keep their roads safe, with many offering a small sealed container in which you can store a wee nip, for tasting when you get back to your accommodation. How good is that?!
Emergency Contacts
It's the last thing you want on a holiday, but emergencies do happen and it's important that you're prepared.
Emergency Services – Dial 999
Local Police (non-emergencies) – Dial 101
Roadside Recovery – Major rental providers include this service in your fee, so make note of their phone number. If all else fails, call the RAC.
---
Part 7: Road rules and etiquette
As much as all roads appear to be the same old strip of bitumen painted down the middle, the rules and etiquette vary from country to country. Scotland's road rules share many similarities with other western nations, but of course it also has its own peculiarities. Particularly when it comes to the NC500!
UK Highway Code and vehicle rules
Regarding the road rules, the onus is on you to make yourself aware of Scotland's laws. A copper won't care where you're from if you've just endangered a member of the public, no matter how sorry you are.
Scotland's Highway Code and vehicle rules can be found here.
Key things to note:
Depending on where you're from, your current licence may not be recognised in Scotland. You can check this here.
They drive on the left side of the road in Scotland! Roundabouts are the trickiest obstacle you'll need to negotiate, so be prepared for both entry and exit.
Take the time to familiarise yourself with national speed limits, signage, and line markings.
The use of mobile phones (cell phones) is prohibited
NC500 driving etiquette
Part of the NC500's greatest charm is to wind your way along its narrow roads, mountains on one side and crashing waves on the other. However, these narrow roads can be the source of much frustration for locals and tourists alike when they encounter a visitor lacking an understanding of either the road rules or good etiquette.
Passing Places
Ever heard of a 'passing place'? If you've never been to Scotland there's a good chance it'll be the first time you come across one of these beasties. It won't be one time either, but more like dozens!
Here's what they look like…
As you'll find out very quickly, many of the roads that make up the NC500 are only wide enough for a single vehicle (or a very overweight coo!). So, every few hundred metres a slightly wider 'passing place' has been created to allow two vehicles to pass each other safely.
Sounds good in theory, but the potential for mayhem is real!
Just like a ballroom dance the key to passing place perfection is timing. While driving, you need to constantly scan the road for oncoming traffic, and when you spot someone ask yourself, "Is there a passing place between us both"?
If the answer is yes, then you both need to use that passing place to get past each other.
If the answer is no and there are no passing places between you both, then the one that is closest to a passing place is going to have to reverse back to that passing place and wait until the other vehicles passes by.
It might sound a little tricky, but you'll pick it up in no time.
A few points to remember:
Just because you might have the larger vehicle (eg. a motorhome) doesn't mean the other driver must give way to you. If you're the one closest to a passing place then you're the one that's going to have to reverse. So if it's your first time driving a motorhome, get some practice!
Passing places are not places for stopping and taking photos, particularly in peak and shoulder seasons. However, in winter there is barely anyone else on the roads and chances are you'll have plenty of time to pull over and take a quick snap or two. Do keep your wits about you though and don't destroy the vegetation on the shoulder. Some places are marked with signs prohibiting stopping altogether, in which case there are no questions, you can't stop.
Passing places can also be used to allow a faster moving vehicle to overtake you. Keep your eyes on your rear-vision mirror and make sure you pull over at the next opportunity. The locals will thank you for it.
When approaching a passing place in the dark, you'll often see the oncoming vehicle flash their lights at you. This is their friendly way of telling you that you can proceed and they'll wait for you at the next passing place.
If you're part of a convoy, don't bunch up and try and force your way through together. It won't work. Instead, group yourselves into pairs and allow at least the distance between two parking places between groups so that a logjam isn't created.
Narrow, winding roads
Some of the roads in rural Scotland are barely wide enough for a vehicle. Throw in a few hairpin bends, a bit of fog or a very sharp crest or two and you'll find yourself struggling to see more than 30 metres ahead.
The wisest advice we can give is to slow down!
Are you prepared to gamble on the road being clear around that bend? Are you sure there isn't a farmer in a 10 tonne tractor making his way between fields? Or perhaps a flock of sheep 50 metres deep?
Don't risk it, and be realistic in your expectation on daily distance traveled. You might normally average 60km/hr or more, but in some places, you're barely going to get above 40km/hr.
Animals
The danger of hitting an animal on Scotland's roads is very real. Deer, cows, sheep, horses…for whatever reason there's a good chance you'll encounter one or more at some point on your road trip.
Dusk is the worst time of day, when your eyes struggle to adjust to the bright sun on the horizon and the deep shadows cast by trees, crests and other objects.
Again, adjust your speed to the conditions, and don't just watch the road ahead…scan the shoulders as well for any movement.
---
Part 8: Where to stay on the North Coast 500 in winter
Is it easy to book NC500 accommodation in winter?
If there's one thing that might trip you up when planning your NC500 road trip, it's your accommodation. We've all been hearing the stories of how busy the route gets in summer, and so it would be natural to think that winter would be a piece of cake, right?
Wrong. But for a different reason.
In summer the problem is excessive demand. In winter the problem is under-supply. You see, before the NC500 became a 'thing', no one ever bothered visiting the north in winter. As a result, there's this historical preference for accommodation owners (many of whom are mums and dads trying to make a few quid on their unused bothy or spare room) to close their doors until the following spring. It simply made no economic sense to remain open.
Now? The popularity of the NC500 and dearth of accommodation in summer (particularly on the Isle of Skye, which while not an official part of the NC500, is an extremely popular 'add on' to the route) is pushing travelers deeper into the shoulder seasons, and even winter.
Demand is up, and those historical habits are taking a while to turn around.
How far ahead should I book my NC500 accommodation?
We started our NC500 road trip in the first week of January 2017, and booked all our NC500 accommodation in the month of December 2016. We found some great places at which to stay, but in some instances we also found ourselves having to settle for second best, or paying a little more than budget due to a lack of availability.
Ideally, we should have been booking our accommodation in November, two months prior to starting the NC500.
How can I book my accommodation?
There are four main ways to book your NC500 accommodation:
Big name booking sites (eg. Airbnb, Booking.com, etc.) – If you're booking your accommodation only weeks ahead then this is your best option, as they will only give you the option of accommodation that IS open in winter, and they will also show you their availability.
Private booking sites – Many individual accommodation owners have their own online booking systems accessed on their website. We found many to be vague at telling you whether they are open for winter. Sometimes the system would show availability, but when we went to make a booking it would tell us they were closed. And sometimes there would be a notice on the site telling us that they were closed for winter, but fail to specify the exact time period (many places stay closed into early spring as well). If you've got time up your sleeve then this wouldn't be such a problem, and you will often get a better rate than when using one of the big sites.
Email – Many, many B&Bs and other accommodation owners request that you email or phone them to check availability and arrange a booking. Rates are normally excellent, but it does mean you need a LOT of time to send emails back and forth. Again, this is fine if you're booking a month or more in advance.
Phone – Similar to email, but obviously you can check everything at the same time. However, it does rely on you having access to a phone, and being prepared to make numerous calls.
Remember, many places require minimum booking durations that are much longer than in summer. Many require a 2-night minimum stay, but we also found quite a few asking for 3 or more.
How do I know which places on the NC500 are closed for winter?
Good question! And it highlights one of the trickiest aspects of planning your NC500 road trip.
Large booking sites – Sites like Airbnb and Booking,com are great because they require the accommodation owners to list their available dates.
Private booking sites – These are very hit or miss. Some were good, others rubbish. You won't know which until you go to their website.
Direct contact – You can call or email a venue to find out if they close.
Facebook – There are a number of groups on Facebook that bring accommodation seekers and providers together. HighlandRooms is a good one.
Websites – We found the 'Late Availability' page on Undiscovered Scotland to be very useful. They often have specials as well!
Where did we stay?
It's always good to get a personal recommendation, so here is a quick overview of the places we stayed at on the NC500.
Inverness – Archview Guest House – 1 night
A 10-minute drive outside central Inverness and very close to historic Culloden Battlefield. If you're an Outlander fan, this is the place for you! The owners are super friendly and the room extremely comfortable.
We secured a rate of £50/night, including a delicious and very filling hot Scottish breakfast!
Thurso – Bed and Breakfast at 4 – 2 nights
Claire runs a tight ship at Bed and Breakfast at 4! Our room was immaculate and very comfortable, and we're still drooling over her amazing cooked breakfasts. Not only that but she is a wealth of local knowledge that she loves sharing with her guests. Located in central Thurso, this is the perfect place to base yourself for a night or more.
We secured a rate of £75/night, including breakfast.
Update – October 2018: Claire has confirmed that for winter 2018-19 this is still her rate for direct bookings (or you can book online here).
Durness – 'Holiday House' – 2 nights
Durness was probably our favourite town on the NC500, and it's a lot smaller than we expected! There's not a lot of accommodation in the area, but Philipp's Airbnb (with optional sauna!) was a good place to call home for a couple of nights. The clothes washing facilities were a little rustic, and the wifi signal only just reached the bedroom, but otherwise it suited us nicely.
We booked this Airbnb at a rate of £70/night.
Click here for more info on 'Holiday House'
Achiltibuie – Bothan na Tilleadh – 3 nights
Ian's bothy 'Bothan na Tilleadh' was the best place to spend a snowy couple of days! The heating worked a treat and the shower…wow…one of the best we've ever had the pleasure of soaking ourselves under! Its interior is a little rustic, but it has all the facilities you could possibly need and plenty of little nooks in which to curl up and read a book. There was no skimping on the mattress either. It was like sleeping on clouds!
We secured this Airbnb at the extremely good rate of only £55/night.
Click here for more info or to book 'Bothan na Tilleadh'
Lochcarron – Loch Dubh 'The Chalet' – 3 nights
'The Chalet' hadn't been open too long when we visited, and it was very nicely appointed. A log fire was very welcome and the cooking facilities were all modern and great for preparing meals. Unlike their other accommodation options, The Chalet is a standalone building so you have complete privacy. The hosts were very friendly, and are available next door if you need any advice on sights and attractions in the local area.
We booked The Chalet at a rate of £77/night on Airbnb.
Isle of Skye – Bealach Uige Bothy – 5 nights
While we are always trying to sniff out a bargain, on all our travels we select one destination where we like to splurge a little bit and indulge ourselves. It made a lot of sense to spend some time on the Isle of Skye at the tail end of our NC500 adventure, and Bealach Uige Bothy was our accommodation of choice. We couldn't have asked for better! Luxuriously soft bed, a decadent 'rain shower' in the bathroom, excellent cooking facilities, and interior design to die for! We've got such great memories, and its location near Staffin is perfect for anyone wanting to explore The Quiraing or Brother's Point.
At £90/night it's on the exxy side, but we thought it was well worth it!
Click here for more info or to make a booking at Bealach Uige Bothy
---
Part 9: Mobile phone / cell phone reception on the NC500
The hills are alive…with the sound of mooing…
It's strange, and even a little bit confronting in this connected day and age, but mobile (cell) phone coverage in northern Scotland is very poor. As Tasmanians this was par for the course, but if you call Japan, the USA, Korea or Europe home, then you're in for a rude shock!
Which company provides the best cell phone coverage on the NC500?
The major networks in Scotland are EE, Virgin, Three, and O2. These companies all offer a variety of services at 4G and 3G speeds, and you'll also find a host of smaller comms companies renting bandwidth from them and offering their own deals at a discounted rate. This page gives a great overview of your options and is the perfect place to start, but keep in mind it won't be as accurate as each provider's website.
User opinions seem to vary, with EE seeming to be the best of the bunch in terms of both speed and coverage. It was great to see that in 2017-18 EE installed an additional 90 phone towers across the Highlands making a big difference to those regions and communities. Whichever one you choose, if you're hoping for 4G, it ain't gonna happen on the NC500 😀
We were using a Three SIM and found it to be very disappointing. The east coast to Thurso wasn't bad, but it swiftly deteriorated from Thurso onward. In large towns it picked up again (mostly), but we could never rely on it to give us a good signal.
If coverage is so poor, will Google Maps work?
GPS location services are generally very good across the NC500, but the poor network coverage will mean you won't be able to rely on a signal for maps data.
To get around this, download a local copy to your phone! To cover the full extent of the NC500 you'll need to do this for each of the towns or regions along the route where you think a map would be handy.
Regardless, the best advice we can give is to go 'old skool' and take a paper map. Your rental provider will probably give you one when handing over the keys, but if not, ask.
---
Part 10: Useful online information
We've given you a LOT of info in this guide to driving the NC500 in winter, but it's only the tip of the whisky flavoured iceberg!
Here are some resources that specialise in either the NC500 or Scotland:
Maps

North Coast 500 Interactive Map – A map provided by the official NC500 organisation. It has a handy 'filter' tool that lets you find specific things that might interest you.
North Coast 500 PDF Map – A map provided by the official NC500 organisation that is designed to be downloaded and/or printed. It is extremely good, with lots of interesting information.
WalkHighlands – A website dedicated to hiking Scotland. It's designed with hikers in mind, and its maps are extensive and can be downloaded or printed. If you're a hiker you'll be pleased to know you can also download individual hikes as a series of waypoints, for use in Google Maps!
Roadworks and road closures
---
Part 11: Am I crazy?
So, what do you think? Is the idea of driving the NC500 in winter completely barmy?
Noooo!! <insert maniacal laugh> It's a great idea!
Less people to deal with on the roads. More time to enjoy your favourite attractions without having to elbow your way to the front. Log fires and mulled wine. Maybe even a white Christmas? You'll be sure to have a grand old time, returning to friends and family with plenty of great stories of your epic adventures…with a difference!
But again, we have to reiterate:
Check the weather forecast every day
Allow some flexibility in your itinerary
Be honest in assessing your own capabilities
And have a backup plan, just in case!
Happy travels, and please, if you've got any feedback at all, either now or after your trip, please let us know in the comments below. We'd love to hear from you, and by keeping this guide as up to date as possible you may well help out a fellow traveler 😊
---
So, what's next?
We're a little bit biased, but we think the Lap of Tasmania gives the NC500 a run for its money as the world's best road trip. The scenery is just as stunning as Scotland – if not more – and the compact size means you can easily enjoy the perfect loop around the island!
Or if you're looking for other things to do in the area then you really should consider a road trip extension to the Isle of Skye. These two incredible hikes give you a glimpse of this fairytale island:
Brothers Point (Never heard of it? Just wait until you see the photos!)
And if you're spending some time in Edinburgh and are looking for things to do, you've got to check out our EPIC guide. We spent 6 weeks in Edinburgh, eating, drinking and cavorting our way along its cobblestone roads and amazing gardens…so we know what we're talking about! You can find it here:
---
~ LIKE IT? PIN IT!! 😀 ~