EDIT: Sadly, Le Roze Thai is no longer with us…
"Order up!! One criticism sandwich!"
lol…wut?
It goes a little something like this:
"In mindfulness of your fragile sense of self worth and vacillating confidence, I won't come right out and tell you what I really think. Instead, I will couch my criticism in the kindest of compliments, to slip on that silky soft boxing glove before landing the first debilitating punch, and then afterwards, when you're at your lowest ebb, soothe your bruised ego with promises of self-improvement, personal growth and a new-and-improved 'You'."
Or more simply:
Praise. Criticism. Praise.
Kind of like this…I guess…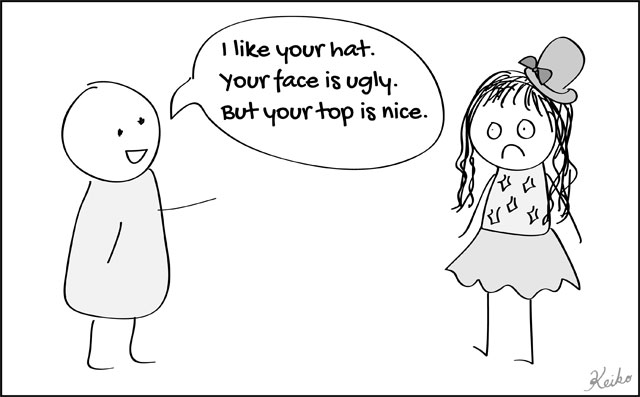 However, when it comes to Le Roze I'm going to do things a little differently. How about:
Criticism. Praise. Criticism.
But in the nicest way possible! I'm going to keep the criticism wafer thin, and the lay the praise on thick!!
Criticism #1 – Online presence, or lack thereof!
Seriously, how hard is it these days to put some effort into connecting with your customers and giving them the tools to make an informed decision? While this is important for all establishments in the food and service industry, it's even more important when you are the new kid on the block and you need to establish a toehold in the local culinary landscape.
Le Roze first opened its doors around six months ago, moving in to the premises at 322 Elizabeth Street that had been vacated by Mai Ake (now on the waterfront). Perhaps they were relying on Mai Ake's customers continuing to frequent the same location…? I'm not sure, but they haven't been exactly vocal in announcing their arrival, or in differentiating themselves from the vast number of other South East Asian and Middle Eastern eateries in the North Hobart strip.
The result? Poor patronage.
We were there at 8pm on a Saturday night and the place was almost empty! A couple by the window and a group of half a dozen in the other corner our only company for the evening. While shouting to hear yourself talk over the din of other patrons is not my idea of a good night out, a little bit of buzz goes a long way towards creating an inviting atmosphere, while also taking the edge of a slightly chilly room.
While I'm obviously not privy to the full picture, in researching this article it became very apparent that there is a dearth of information available online for Le Roze. On being seated and reading their menu it was clear that they are attempting to distinguish themselves from other Thai restaurants in their offering of a 'fine dining' experience. While that may be true, the fact that this piece of information was not available on their Facebook page, and they don't actually have a dedicated website, means that no one will ever know without taking a punt! For a 'fine dining' restaurant to fail to provide a copy of their menu online is a recipe for disaster. Gone are the days when there was only one Thai, one Chinese and one Italian restaurant in town. Consumers are spoilt for choice and restaurateurs need to respond in kind.
Enough of that, because we actually had an incredible meal!
Praise #1, 2, 3, 4…. – The food!
Fatboy Slim had it right…
Praise you indeed!
For entree I was tossing up between the satay chicken and the deep fried prawn cakes but again Karen came up with the obvious, yet overlooked suggestion that I go for the mixed entree instead, comprising both these dishes together with a deep fried fish cake, a curry puff and a vegetarian spring roll.
Fantastic presentation (a common theme as you'll see!) with the little touches like the prawn cake wrapped in pandan leaf not going unnoticed.
Of these five dishes my favourite was, surprisingly, the curry puff. Many promise 'puff', yet ultimately disappoint. In this case they delivered! Light and fluffy, smooth curry flavour, uplifted through judicious use of what I believe was some coriander in the mix.
The satay chicken was the other stand out on this platter, with the very moreish satay sauce going down a treat (even on a spoon after the chicken had been consumed)!
The other three dishes weren't bad, but didn't really excite me that much. The fish cake was a little on the rubbery side, the prawn was light and fresh but lacked any depth of flavour, and the spring roll was crisp but a little on the bland side as well.
For Karen it was the prawn skewers.
Again, immaculate presentation. I loved the precision in this dish, with the prawns cooked as well as I've had anywhere, bursting with flavour at the slightest pressure. The apple salad on which the skewers had been placed was an unusual touch, yet one that also worked surprisingly well. It's one flavour combination I don't think I've encountered previously!
For main course I couldn't say no to one of my all time favourite dishes…duck in red curry!
The twist with this dish was the incorporation of lychee. I had seen this flavour combination only a couple of times previously, but had never had the opportunity to try it myself. From the first mouthful you knew it was a red curry different to most others, with the sweetness of the lychee balancing the incredibly fresh basil, the well rounded flavours of the duck breast and the wonderful fattiness of the duck skin.
Was it better for the addition of the lychee? I wouldn't say better, just different.
All in all, a magnificent (albeit mild) duck curry, and one of the best I think I've had in Hobart.
Karen's dish was a bit of a disappointment in the end, partly due to a lack of information in the menu. Ordering the seafood stir fry in tamarind sauce, she was expecting to be served some wonderfully fresh seafood. Instead, it turned out that all the seafood had been battered and fried!
Karen wasn't impressed, but I didn't mind the dish. The batter was reasonably light, although I can imagine eating the whole dish would prove challenging for most!
How's that for a few well deserved compliments..?!
Now back to the final wafer-o-criticism…
Criticism #2 – The tables
Some may say I'm being a little picky, but if you have a skim through the four food photos above you'll notice that there is a predominant colour scheme thing happening…it's all a little on the yellowy-orange side isn't it?! Not a problem by any means, but when you pair that with a rather orange-ish wood grain in the tables, it detracts from what are some quite immaculately presented meals. I can just imagine how much better it would look with a black or dark brown surface contrasting with the various dishes…ah well, I guess even oompa-loompas need the occasional public recognition.
Overall?
We walked in hungry, and we left well satisfied, with smiles on our faces and an acknowledgement that this was indeed fine dining.
The service throughout the evening was timely, yet unobtrusive. I did get the feeling that they were wrapping up for the night just as we started pondering whether dessert was an option, and hence we decided to give it a miss.
Prices were at the upper end of the scale, considering the cuisine and who they are competing with in the local area. It's hard to recall but I think the entrees were around $15 and mains were $25-30.
It's interesting that they've shut down for unknown circumstances. I hope it's only temporary because Le Roze Thai produced some of the best Thai food I've eaten in Hobart in a long time! Unfortunately, my gut tells me that perhaps this may be the beginning of the end…
Taste – 3.5/5
Menu – 4/5
Atmosphere – 2.5/5
Service – 4.5/5
Value – 3.5/5
Overall – 3.5/5