They advertise hiking Mt Hallasan on Jeju Island as the perfect leisurely jaunt for honeymooning couples, so it couldn't possibly be all that bad could it?
Famous last words… 😀
Considering its huge popularity, we were a little surprised to find very little useful information online about hiking Mt Hallasan. Or perhaps we should say, very little English information! Through this guide we hope to turn that around, making it super easy for you to plan an awesome day of hiking.
We'd love to hear from you, so if it has helped, or if you can think of ways to improve it, let us know in the comments below!
What is Mt Hallasan, and what are your hiking options?
Mt Hallasan is an active volcano.
Don't worry though! The scientists have been arguing about this for a long time, with many thinking that its lack of activity for so long means it should be classified as dormant instead. It doesn't smoke, it doesn't belch fire, it doesn't do any of those dangerous things. What it does do is provide hikers with the best ever way of seeing ALL of Jeju Island from one place!
We didn't realise it at the time, but at almost 2000m Mt Hallasan is actually South Korea's tallest mountain. On the rare day that there isn't any cloud at the top or haze at the bottom, Mt Hallasan's distinctive volcanic crater peak can be seen no matter where you are on Jeju Island, and even from the South Korean mainland.
There are four hiking trails on the mountain (some also count the Donnaeko trail as a fifth, but it's unclear if it's open to the public), but only two of these will take you all the way up to the extinct volcano's crater lip; the Gwaneumsa trail, and the Seongpanak trail. If you'd like to know more about these trails (including a Google Map), and information on how to get there, we go into a lot more detail at the bottom of this post.
Despite it's extra 900m length, the Seongpanak trail is easily the most popular of the two, due to its milder incline. Regardless, all reports pointed towards the 8.7km Gwaneumsa trail as being the most picturesque, and for that reason alone we decided to give it a crack!
We were staying in the Jejueco Suites on the southern side of the island, so it was about a 30-40 minute drive to get to the trailhead (here). Considering how good the accommodation was, and the spectacular scenery along the way, we didn't mind the drive.
Leaving our hire car in the massive car park at the Gwaneumsa trail head (be prepared to pay a small fee of around W1000 for parking – but the hike itself is FREE!), we made use of the facilities before commencing what was to be one of the most epic 8hr treks we've ever attempted!
10:00am: Starting Out your Hallasan Hike
The signage at the start was great, giving us a really good taster for what was to come. We were expecting there to be a few more people, but as we were to find out later, most were approaching from the east on the Seongpanak trail. All the better for us, meaning less distractions and a quieter environment in which to soak up the atmosphere. Those we did pass were so colourful though!! I don't think we've ever seen so many different iridescent shades of parachute material 😀
The early section was beautiful. The stream was low, creating all these little rockpools that vividly reflected the green trees surrounding us. And the wildflowers…wow…so many shades of blue, mauve and purple. It was so tempting to go exploring down the river, but we knew we had to stay on track!
As the trail gently started to climb, we came across a narrow railway. At the time we couldn't work out what it was for… Supplies? Building materials? Lazy hikers? 😀 😀 😀
It turns out it's actually for emergency services, so they can get injured hikers down off Hallasan as soon as possible. Very clever!
11:00am: The Climb to Yongjingak Shelter
We knew the good times couldn't last forever. A staircase rising up into the mists announced the start of the climb to come. Up, and up, and up…
The trail is in good condition all the way, but those steps never seem to end! After a little over an hour, the appearance of Yongjingak Shelter was a welcome relief and the perfect place to stop for a bite to eat for lunch, a bathroom break, and rest our weary legs.
12:30pm to 1:15pm – Skirting the Mountain
With a belly full of kimbap (you did remember to pack some didn't you? 😀 ) you'll feel ready to tackle the next exciting section of the climb up Mt Hallasan.
Unlike the previous two hours, there's a lot more variation, with the trail rising and falling as it skirts the steep walls of the old volcano. As you turn your eyes up to the mountain and down into the valleys below, you can only imagine what it would have looked like thousands of years ago when the molten lava was pouring down the mountain side and into the sea!
While it isn't all uphill, when you do climb it is pretty steep! By the time you reach the viewing platform (or is it the collapsing platform?) your lungs and legs will be suggesting in the strongest terms possible that a short break is needed 😀
1:15pm to 2:00pm – The Final Ascent!
Those capricious mists decided to make a return on our final ascent. Swirling and smothering, and then disappearing again. Why couldn't they just make up their minds? 😀
The path wound its way up the last few hundred metres, around craggy cliffs and through narrow gouges in the volcanic rock. The closer we got to that elusive peak the thicker the crowds, as we began passing those slower walkers that had started the hike before us.
The way the mist (cloud?) kept getting thicker, we weren't sure if we were even going to see anything at the top!
At long last, four hours after we had started, the summit appeared. Weary hikers were strewn across the path in various states of fatigue; some were digging into a hearty late lunch, others swigging on soju with elated grins on their faces!
White Deer Lake, or Baengnokdam, was looking fantastic, but sadly we couldn't see any further beyond the crater's edge. A shame, but we were still so happy to have made it all the way to the top!
2:00pm to 6:00pm – Descending Hallasan Mountain
We won't give a blow by blow account of our descent (maybe you should try reading the last few sections backwards? 😀 ). What we will say though is that if you have any knee troubles then this is where you are going to suffer!
We thought we were in fantastic shape.
Nope!
About an hour in to the 4-hr descent both of us started feeling a twinge in our knees. If only we'd thought to bring some ibuprofen 🙁
By the time we reached the car park one of us was limping and the other wasn't much better. Regardless, the feeling of accomplishment was immense as we levered our tired bodies into our car and made the slow journey home. It had been a long, hard day of placing one foot ahead of the other, but it was all so worth it. The views, the happy faces on the dozens of South Korean hikers that we passed along the way (and that passed us at high speed!), the gorgeous flowers and vegetation…as we kicked back in our spa with a few beers at the fantastic Jejueco Suites we knew this was one day of hiking we would never forget!
Mt Hallasan was even cheeky enough to peak through the clouds and give us a wave as we drove past… 😀
4 Hallasan Trails (and which ones get you to the top of Hallasan Mountain)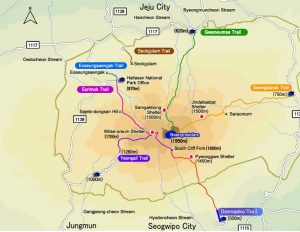 Gwaneumsa Trail (the best Hallasan trail in our opinion)
Length: 8.7km (one way)
Time: 8-10hrs return
Trailhead: The northern side of Mt Hallasan, from a large car park about 1km to the west of Gwaneusma Temple
Pros: Finishes at the top! Fantastic views along much of the trail.
Cons: Steeper, longer, and is closed more often than the Seongpanak trail. No public transport to the car park.
Trailhead access: Taking a taxi or your own rental vehicle is the easiest way. A taxi from Jeju Intercity Bus Terminal will cost around KRW 12,000 and take 25 minutes. One of our readers, Pia, recently visited Jeju and found that there is a way to get the bus to the Gwaneumsa trailhead, but it's difficult. Apparently if you take on of the hourly buses to Jeju National University you can then transfer to another bus – of which there are many – to get you to the Gwaneumsa trailhead. You can see Pia's feedback in the comments below 🙂
Seongpanak Trail
Length: 9.6km (one way)
Time: 7-9hrs return
Trailhead: Seongpanak Carpark
Pros: Finishes at the top! Shorter, and not as steep as the Gwaneumsa trail. Public transport is available to the trailhead.
Cons: The views from the trail aren't as scenic as those from the Gwaneumsa trail.
Trailhead access: Buses from either Seogwipo or Jeju City take a little over 30 minutes to get to the Seongpanak bus stop. From Seogwipo Intercity Bus Terminal look for the 782, 782-1, or 782-2 bus. Or from Jeju-si Intercity Bus Terminal look for the 781 or 781-1 bus.
Eorimok Trail
Length: 4.7km (one way)
Time: 2.5hrs return
Pros: Shorter hike, with lovely oak trees and shallow incline.
Cons: Doesn't take you to the summit of Mt Hallasan.
Yeongsil Trail
Length: 3.7km (one way)
Time: 2hrs return
Pros: Shortest hike, along a ridge and past a number of waterfalls.
Cons: Doesn't take you to the summit of Mt Hallasan.
Here are the Gwaneumsa Trail and Seongpanak Trail shown on Google Maps as well 🙂
Where to stay when hiking Mt Hallasan?
Seogwipo
Jejueco Suites – Good 'all rounder'
We found Seogwipo to be the perfect base to explore Jeju Island, and the Jejueco Suites provided a really quirky yet comfortable oasis away from the madness. They're close to all the attractions on Jeju's southern coast; Jeongbang Waterfall, Yakchunsa Temple, the Teddy Bear Museum, Cheonjiyeon Falls, Oedolgae, the list goes on…!
Check them out here on TripAdvisor and see if you like them as much as we did 🙂
Benikea Jungmun – Rated #1!!
Another great option in Seogwipo is the Benikea Jungmun Hotel. They're rated #1 in Seogwipo by fellow travellers on TripAdvisor, and if our excellent experience at the Benikea Hotel in Yeosu is anything to go by, you'll find yourself relaxing in a well appointed room representing fantastic value for money!
Click here for more information.
The Shilla Jeju – Pure luxury
If we'd had the cash we definitely would have splurged on The Shilla Jeju. This resort is luxury all the way, with indoor and outdoor pools, cabanas, spa facilities, and a casino exclusive to overseas guests!
Click here for more information on The Shilla Jeju.
Jeju City
If you're tight for time, or you don't have as much interest in the attractions of Jeju Island's southern coastline, Jeju City is an excellent place to base yourself. It's also closer to the Gwaneumsa trailhead, so you can save on a few extra minutes of precious sleep!
Lotte City Hotel – Voted the best in Jeju City
The Lotte City Hotel ticks all the right boxes. It's close to the airport and car rental agencies, has great views, is located on top of a mall, and to top it all off it's priced nicely.
Click here for more information on the Lotte City Hotel.
Yeha Guesthouse – Cheap and cheerful!
The Yeha Guesthouse is perfect for backpackers and those who love mixing with other travellers while keeping their costs down. They offer a free breakfast and by all accounts have some sensational happy hour drinks specials! Importantly, the location is handy to both the airport and bus terminal. Yeee-haaa!!
Click here for more information on Yeha Guesthouse.
Looking for South Korean inspiration?
Are you planning your South Korea holiday and looking for inspiration?
We spent a whole month travelling the length and breadth of South Korea and had an absolute ball. If you've got any questions whatsoever, feel free to ask in the comments below, or drop by our Facebook page and join in the conversation!
For more information on things to do and places to see, here are some other articles from our exciting time in South Korea.
Thinking of Visiting Australia?
Come to our home state of Tasmania and do the Lap of Tasmania road trip!
It's the best way of seeing this incredibly beautiful island.