Ask a Hobartian where to get the best dumplings in town, and no doubt you'll get variations on a familiar theme…
Me Wah? The Bund? Mama's Homemade Dumplings? Written on Tea? Dumpling Express?
I'll leave the pros and cons of each for another day, but instead I'd like to present to you another lesser known option that, for all it's quirks, is a worthy challenger to the title!
Ever heard of Castle Zayee?
I've grown used to the blank looks that normally accompany this recommendation. It's only on describing its location that you start to see the recognition slowly begin to dawn…
"Creek Road? There's nothing up there….oh, hang on…you don't mean that weird looking red brick castle place with the towers and busted up sign out the front do you?"
That's the one!
Castle Zayee is one of the worlds great mysteries. A melding of culture and architecture, within one of Hobart's most frigid gullies, that I would never have believed possible if I hadn't seen it with my own eyes!
Peaches and cream, steak and cab sav, bangers and mash, they are all a match made in heaven.
But dumplings and Olde England…??
Sounds more like a Frankenstein to me!

With countless shields hanging from the walls, and even the odd medieval weapon or two to watch over us, our group of 14 odd Transenders perused the yum cha menu with great enthusiasm, and just a little apprehension, unsure of what the meal would bring!
It was a pretty epic meal, with around 15 different dishes being shared amongst us all. I reckon we must have tried almost every item on the menu!
Chicken feet in black bean sauce
Fried wontons with minced pork and seafood stuffing
Minced pork stuffed Chinese mushroom
Yam dumplings with pork and prawn fillings
Vegetarian spring rolls
Fried calamari tentacles
Pork spare ribs in black bean sauce

Rice pastry wraps with beef, BBQ pork or prawns fillings

Pork buns
Chicken buns
Steamed dumplings with prawn fillings
Steamed chilli octopus

Steamed dim sim with pork and prawn fillings

Deep-fried glutinous dumplings with combination fillings

Steamed chicken, fish cake, BBQ pork and Chinese mushroom wrapped with beancurd pastry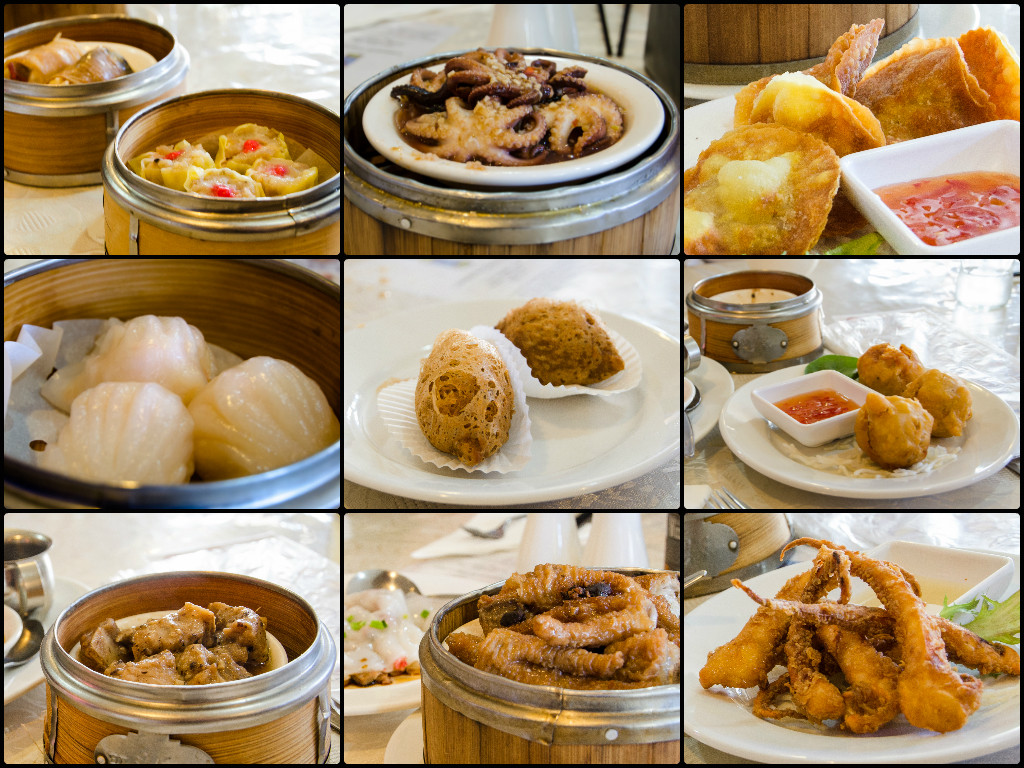 For me the stand out dish had to be the yam dumpling (that's the dish in the middle of the image above). Yam can be a really heavy, gluggy mess if cooked incorrectly, yet these dumplings were feather-light and full of earthy flavours. A shame we had to share…
Incredibly, after ordering more than 40 individual dishes (we ordered up to three of some dishes) the total bill came to a grand total of only $215, or $16pp!! An absolute bargain considering the volume and quality of the food we had just consumed.
The service was friendly and very efficient throughout the meal, with the waitress suggesting that we break up our meal into two flights. I'd estimate that we waited no more than 15 minutes after ordering before the first meals started arriving at the table. Considering how diverse our selections were I was very impressed at their ability to crank out so many meals so quickly. It would be easy to assume that they have dozens of these dishes just waiting out the back, ready to be popped in the microwave. Yet a quick peek through the doors at the rear of the building revealed numerous meats and vegetables, all freshly prepared and ready to be turned into delicious morsels of yum cha awesomeness!!
I have heard a few people complain about poor service at Zayee, however there seems to have been a common thread throughout all these tales of woe that I suspect plays a large part. You don't notice it so much at the more westernised Chinese restaurants, however I have noticed over the years that the more traditional restaurants seem to have a culture whereby the menu is set and if the customer isn't happy, then that's just tough luck. Suck it up princess! It's when requests are made to serve dishes in a particular order, or the chef is asked to add/remove an ingredient to a dish, that you notice the complaints beginning to emerge. I can totally understand the desire of a paying customer to ensure they are served a meal that they are comfortable with, particularly when dietary requirements are at play, yet this seems to be at great odds to the culture of these establishments.
For me the authenticity and the strangeness of it all is part of the excitement of eating at a place like Castle Zayee. If you do decide to give them a try, have a think about leaving your gastronomic peccadillos at home, and just enjoy the ride!
Overall?
Castle Zayee offers a meal of extremes. Extremely good food, in an extremely odd environment!
Personally, I think they should be making more of an effort to use the culture clash as a point of difference in their marketing efforts, but to date they seem to have been quite happy relying on word of mouth and a low profile Facebook page.
For me, Mama's Homemade Dumplings pip Zayee at the post in the 'Best dumpling' stakes (and I'm yet to try Me Wah or The Bund), but if its an incredible yum cha experience that you're looking for then Castle Zayee is the place for you!
EDIT: Mama's has shut down, so no competition there any more. Since then we've tried Me Wah and while Me Wah dumplings tasted better, I would still say that Zayee is the better value for money.
Taste – 4/5
Menu – 4/5
Atmosphere – 5/5 Service – 4/5
Value – 5/5
Overall – 4/5