Things to do in Cyprus? Places to visit in Cyprus? The best tourist attractions in Cyprus? Aaaargh…so many questions in planning the perfect Cyprus holiday 😀 You're going to love this tiny island, and after 3-months exploring it from end to end, we'll help you make the perfect start!
---
This article contains links to activities we think you'll love. Clicking through these links won't cost you a penny, but we receive a small commission on any bookings you make, helping us stay online. Thanks for your support!
---
We were already in Europe, and with super-popular countries like France, Spain and Italy on our doorstep, it might sound strange that we chose to make Cyprus one of our first European destinations. I mean, why would you?
If you're anything like us then keep reading, because we've got a HUGE surprise for you!
First of all, we had just spent two months in Scotland. In winter. In highly unattractive thermal pants. We were in desperate need of defrosting, and sunny Cyprus seemed one of the best European countries in which to get some sun at that time of year.
Second, the very fact that there is so little hype or buzz about Cyprus, and yet it had featured so strongly in our culture. We're definitely not history boffins, but there's something enticing about the stories of Aphrodite, St Lazarus 'I died and went to heaven and all I got was this lousy t-shirt and a one-way trip back to earth' of Bethany, and the Knights Templar.
It also features prominently on the boozy itineraries of D-grade ex-Big Brother UK contestants – in a similar attempt at a resurrection of sorts – so full points for cultural learnings right there 😀
And as a BIG bonus, after hours of research we were able to confirm that visiting Cyprus would not impact on our Schengen allowance. This was massive for us, as we had plans to be in Europe for the next 12 months and we didn't want to find ourselves getting caught out later in the year.
We love a good yiros/gyros/kebab/souvla, but was that going to be enough to keep us interested for 3 months in Cyprus?
You bet, and then some!
The landscapes are unforgettable. The cuisine so fresh, natural and full of flavour. The unforgettable contrast of cobalt water on white sand. The archaeological ruins alone could consume you for weeks if that's what you love. But what we remember most fondly are the friendly faces and warm, welcoming nature of the Cypriot people.
'Yasou' (greetings/welcome) will fast become your most popular Greek phrase 😀
It's a slow pace of life across much of Cyprus, and recent years have been economically harsh. Villages that are just a shell of their former selves, boarded-up shopfronts in the major cities, the post-war cultural scars both north and south of the 'Green Line'…
And yet there was such generosity of spirit. A genuine passion for their history, and culture – and slow-burning hope for a better, unified Cyprus. And language was no barrier. In some of the tiniest villages we made the most memorable connections with those that remained – in coffee shops, bakeries, and random encounters on their cobble-stoned and quiet streets.
You might be planning an all-inclusive option in Cyprus – and that's awesome, you'll have a blast! But it's worth considering the alternative. Not only will you be immersing yourself in a fascinating new culture, but you'll also be providing financial support to those Cypriots that have been doing it tough and who need it the most.
Oh, and if you love cats then you'll never leave! If you don't…well…tough luck because no matter where you are on Cyprus, there will always be a furry feline trying to give you a cheeky headbutt 😀
As always, if you've got any questions at all, please leave a comment or send us a message, we'd love to hear from you. Read on, and prepare yourself for the best holiday in Cyprus EVER!!
Want to skip ahead? Just click one of these links 🙂
~ LIKE IT? PIN IT!! 😀 ~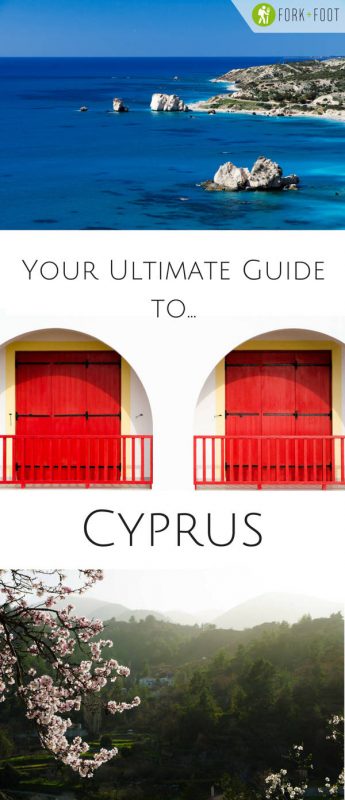 ---
Essential Cyprus
Language: Greek (English is common in tourist centres though)
Population: 1.1 million (850k in the Republic of Cyprus | 320k in Turkish-occupied Cyprus)
Currency: Euro
Is Cyprus in the EU? Yes, Cyprus IS in the European Union
Is Cyprus a Schengen country? As of January 2018, Cyprus had not yet joined the Schengen Area, and therefore visiting Cyprus will NOT affect your Schengen allowance.
Electricity: 240V, 50Hz (UK power plug)
Is Cyprus safe? Yes, very safe
Driving: Left side of the road
Water Quality: If there is only a single tap, don't drink the water. If there are two taps, one will be safe to drink. Which one? You'll probably need to ask 😀
Toilet Paper: Be prepared, it's often placed in bins and not flushed.
---
Where is Cyprus?
You might not know where Cyprus is exactly….but you could probably find the Mediterranean Sea, right?
Move your finger across the sea all the way to the right, just off the coast of Israel and Syria – and you've found it!
If you're an Aussie like us, at more than 14,000km from home it's a loooong way to go. But if Europe's your playground then Cyprus is in the perfect location because it's close to everything.
Cyprus is a small island. For the time poor traveller this is a HUGE plus, because it means you can cram a lot in very easily. To give you a sense of scale, from east to west the island is only 220km wide, and north to south it's only 100km.
When planning your holidays to Cyprus it makes sense to break it up into 8 regions…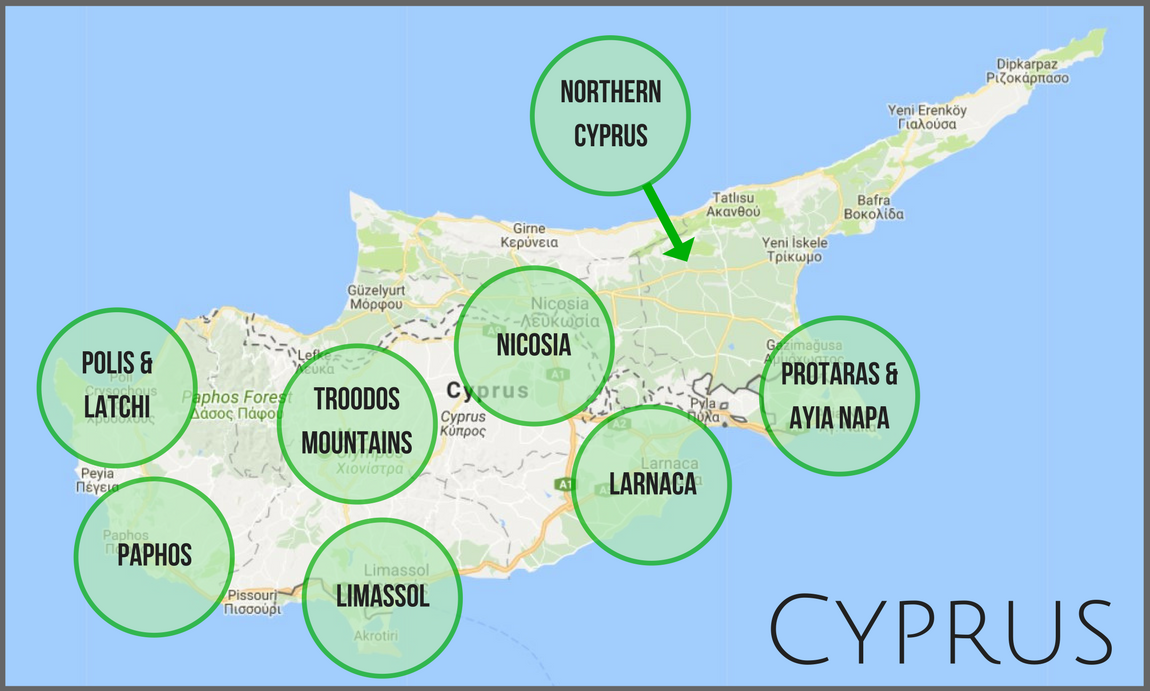 Each region on that Cyprus map is VERY different, and in many you'll barely see another tourist (yay!). Here's a brief overview of each region, with more detail provided in later sections…
Larnaca – A good mix of old and new historical sites. A great base for exploring Vavla, Lefkara, and Kato Drys. Click here for our 'Guide to Larnaca'.
Paphos – Ancient ruins. Wine. Closest city to Aphrodite's Rock.
Nicosia (Lefkosia) – Europe's last divided city. Venetian and Byzantine architecture. Markets.
Troodos Mountains – Snow and skiing in winter. Hiking trails. Waterfalls.
Protaras and Ayia Napa – Party time. Beach life. Hiking.
Akamas Peninsula – Hiking. Seafood. Beautiful landscapes.
Limassol (Lemesos) – Seaside promenade. Carnival. Bright lights.
Northern Cyprus – Turkish occupied. Ancient castles and archaeological ruins. Karpaz swamp donkeys. Click here for our 'Northern Cyprus Holiday Guide'.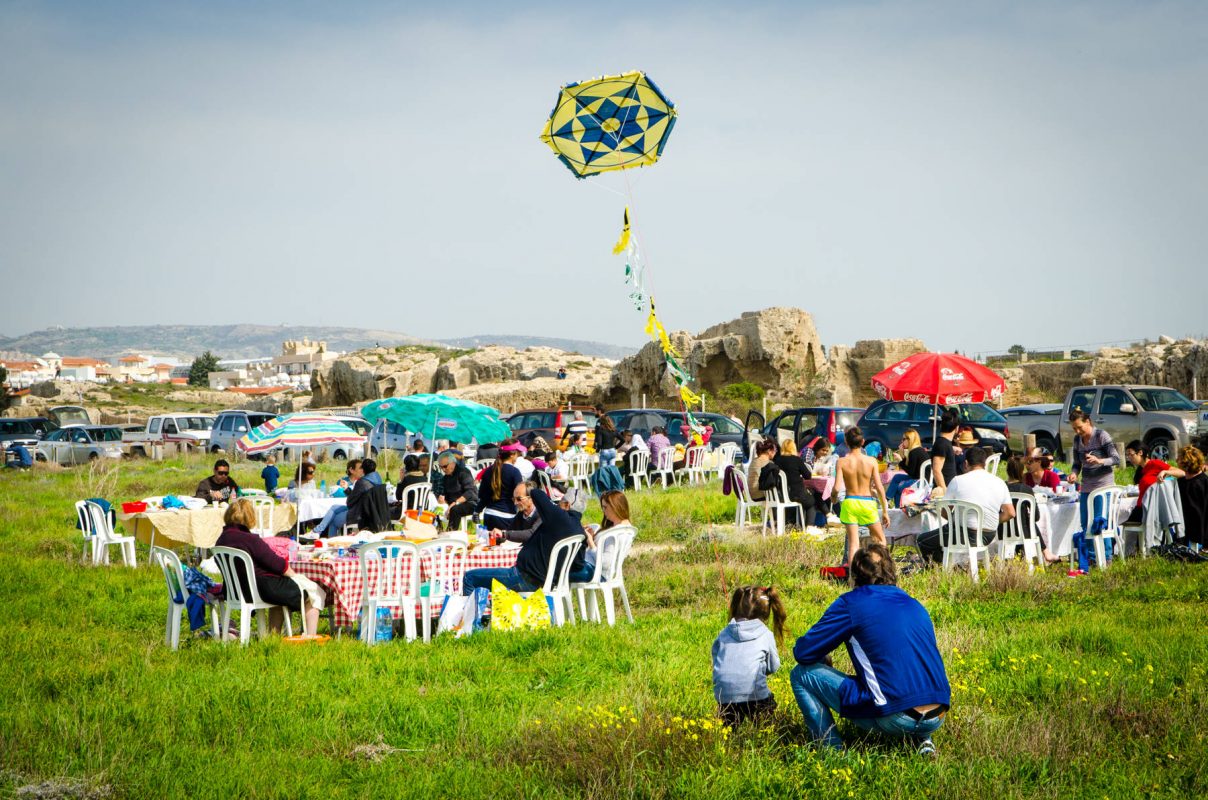 ---
What's the temperature in Cyprus? When to go? What to wear?
The temperature in Cyprus and when to go
The short version
Sun, sun, and more sun!!! Any time of year is good. But for a warm holiday with no rain, and water temperatures that are good for swimming, try to book your flights between May and September. If you also want to beat the worst of the crowds, try to be there in May/June or Sept/Oct.
The long version
Cyprus experiences a Mediterranean climate, making it a fantastic destination year-round.
Summers are warm to hot and very dry, with average maximum temperature in Cyprus reaching over 30°C (86°F), while winters are mild compared to much of Europe, with average minimums around 8°C (46°F) and maximums around 16°C (61°F). Keep in mind that heat waves can occur in summer, with temperatures pushing up into the 40s!
The alpine regions of the Troodos mountains are 5-10°C cooler than coastal Cyprus, and they get really good snow falls every winter, explaining why so many (including the locals) escape to its pine forests, taking the edge off the summer heat.
Our experience?
We visited Cyprus between January and March, and only in the early morning did we ever feel the need to put on our puffer jackets. Tourists are few and far between at that time of year as well, which may appeal 🙂
There was a little bit more rain at that time of year, but we found that to be wonderful at keeping the dust levels down and it also meant that flowers were blooming absolutely everywhere!
March was starting to see some gorgeously warm days, hinting at the intense summer heat that was yet to arrive.
Cyprus weather and what to wear
If you're wondering what to pack or what to wear on your holiday in Cyprus, don't stress, as it's pretty simple.
For much of the year Cyprus weather is warm/hot, sunny and dry. The dress code in all the tourist areas is very casual, meaning flip-flops, shorts, singlets etc. are all totally fine.
If there is one thing you must bring – or buy when you arrive – it's sunscreen. The Cyprus sun in summer can be brutal, and no one wants to return to work looking like a lobster, not to mention the risk of skin cancer. We also recommend taking a little day pack wherever you go, so you can keep a couple of bottles of water on you at all times. Trust us, you'll need it!
In winter it's surprising how cool it can get in the coastal cities, and up in the mountains it's freezing! Pack yourself a scarf, puffer jacket (they are lightweight and pack down very small) and a waterproof jacket and you'll be good to go. If you think you'll be spending some time in the snow you might also want to bring some ski pants.
---
Places to visit in Cyprus?
Whether you prefer to chill out on the beach, enjoy exploring ancient hiking trails or find yourself getting lost in old archaeological ruins, Cyprus has got something for everyone.
Every region is unique, so we've put together a highlights reel of the best attractions and things to do in each, so you can plan the BEST Cyprus holiday!
Larnaca
With its mix of old and new Larnaca is the perfect place to ease into your Cyprus holiday. The first thing that struck us as we drove into the city was the fruit trees lining the roads – there were oranges everywhere, and it was the perfect summery start to our Cyprus odyssey!
---
---
Some claim the city centre is actually the oldest in all of Cyprus, dating it back more than 6,000 years. And yet, around all this old architecture has sprung a modern, vibrant city making the most of its seaside location and wide, sandy beaches.
Larnaca's attractions can be covered easily in a couple of days, and even a single (long) day is enough if you don't mind missing out on a few sights outside the city centre.
If you only have one day in Larnaca, we recommend these highlights:
Byzantine Church of Saint Lazarus
Finikoudes Beach
Larnaca Castle
Buyuk Cami Mosque
Exploring the old Turkish Quarter
Kyriazis Medical Museum
Ancient Kition
Larnaca is also an excellent accommodation base if you're looking to explore the region by car. To the east is Cyprus' party capitals of Ayia Napa and Protaras, to the north-west are the gorgeous villages of Vavla, Lefkara and Kato Drys, and to the north is the imposing Stavrovouni Monastery.
The village of Vavla in particular is a real gem and one of the best places to visit in Cyprus. We spent a week there, staying in a recently renovated cottage (here) and exploring the surrounding area. You'll probably be the only tourist in the village as well 😀 For more info, have a look at these articles:
Protaras and Ayia Napa
Eastern Cyprus dances to its own VERY different tune. Electro? Pop? RnB?
When the sun goes down, ice cold Keo beer in hand, you'll be hearing that bass drop on repeat!
And the next morning? You'll be sprawled under an umbrella on one of the best beaches in the world, to not only nurse your throbbing head but to plan your next assault on Ayia Napa's club scene, or that party boat bobbing on the horizon 😀
A life of hedonism is popular in the east, but if you dig a little deeper you'll also find some amazing natural sights and rewarding hikes. We recommend hiring a vehicle – cars and open-top buggies are plentiful – and spending at least three days exploring the magnificent coastline.
Here are the places to visit in Ayia Napa and Protaras:
Nissi Beach
Cape Greco
Agioi Anargyroi
Fig Tree and Sunrise beaches
Agioi Saranta Cave Church
Agios Nikolaos (St Nicholas' Church)
Konnos Beach
Cyclops Cave
CyHerbia Garden and Maze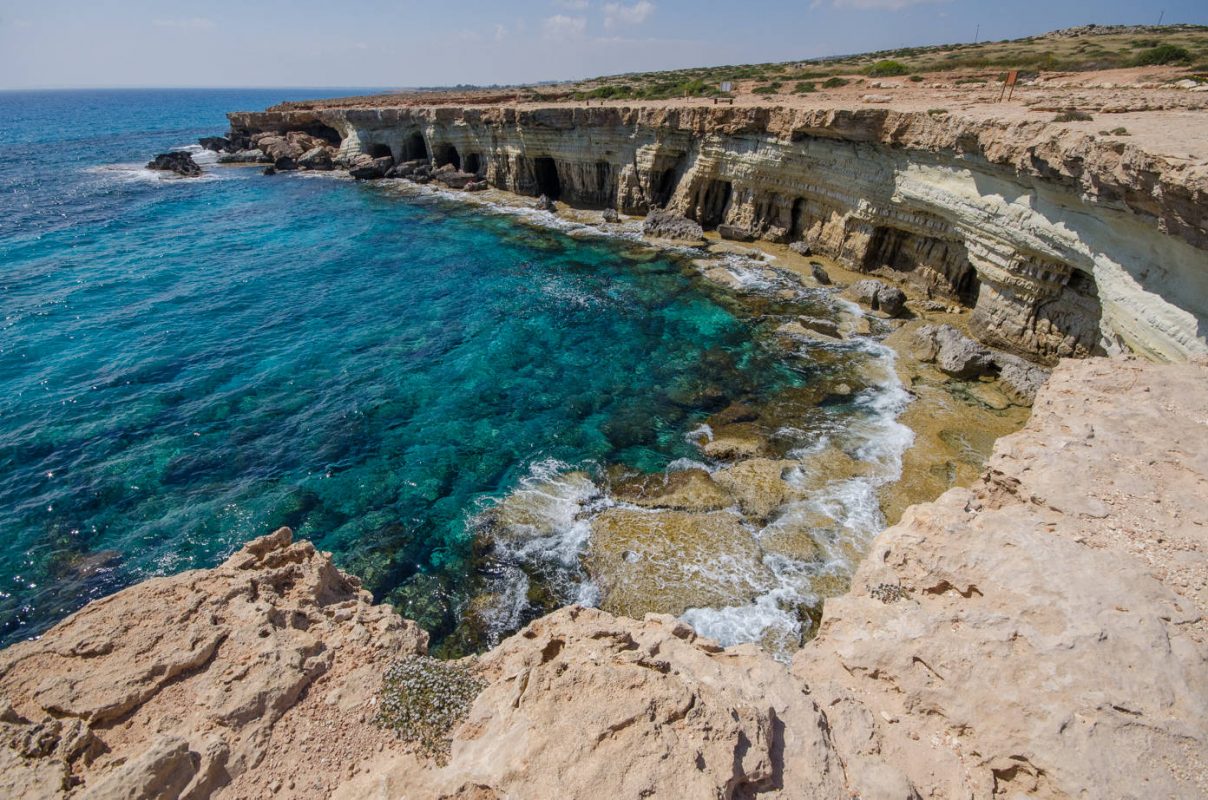 Paphos
If eastern Cyprus is the brash, young, party-starter of the family, then Paphos and western Cyprus is the bearded grandfather 😀
Smack bang in the middle of the Aphrodite Trail, Paphos is riddled with ancient ruins going back more than 2000 years. If that's your thing then you could easily spend days or weeks roaming the city and surrounding countryside.
Paphos has been a little neglected over the years – we prefer to think of it as having 'character' 🙂 Yet being named a European Capital of Culture in 2017 resulted in a LOT of redevelopment, and central Paphos has experienced a renaissance, with lots of funky, modern cafes, coffee shops and boutiques opening their doors.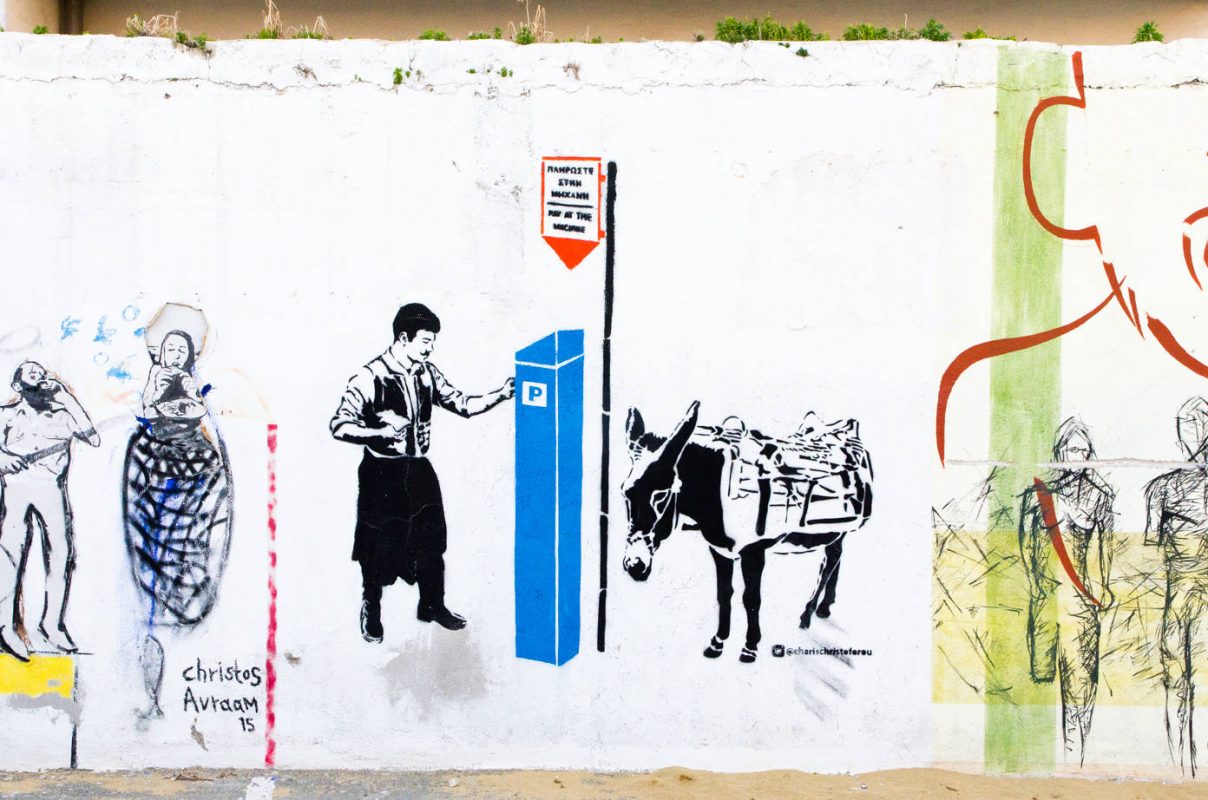 Even better, Paphos has plenty of wineries within easy driving distance. You might not have heard of Cypriot wines, but trust us, after rigorous and repeated testing we can verify that they are GREAT (and cheap)!
It is possible to get a taste of Paphos in a single day, but we recommend putting aside at least three days and renting a car, as this will open up a LOT of amazing sights within easy driving distance:
Tombs of the Kings
Paphos Archaeological Park
Ayia Kyriaki Chrysopolitissa
Fabrica Hill
Petra tou Romiou (Aphrodite's Rock)
Palaipaphos (Aphrodite's Sanctuary)
Saint Neophytos Monastery
Sea Caves
Avakas Gorge
Lara Beach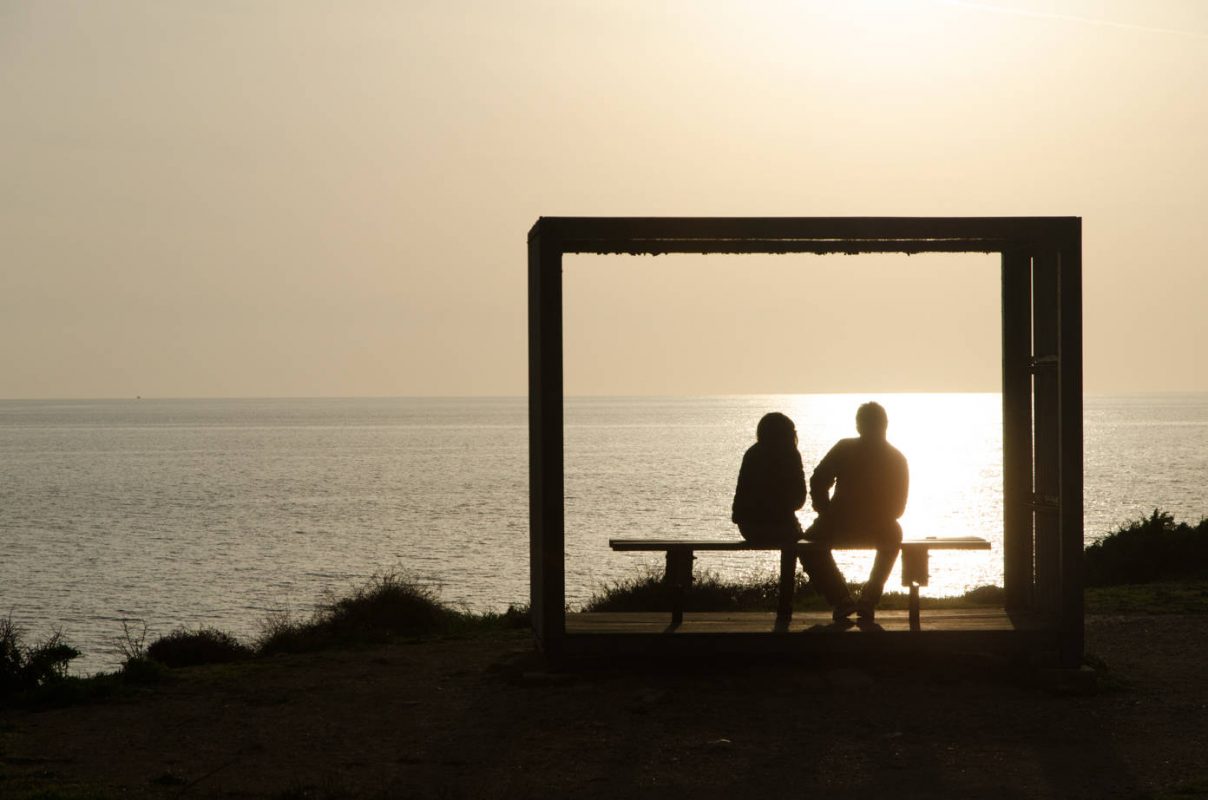 Nicosia
The capital city of Cyprus, Nicosia (or Lefkosia) is the last divided city in Europe – The Republic of Cyprus on one side, Turkish occupied Cyprus on the other, and UN peace-keeping forces patrolling the Green Line buffer zone.
Nicosia is Cyprus' economic and commercial centre, and you might have heard others recommending that you treat Nicosia as a day trip option from Larnaca?
You could, but we recommend at least a couple of days if possible, because there is far too much to see and do in only a few short hours. The story of Nicosia is fascinating, and it's a unique opportunity to understand and see with your own eyes how Cyprus is still, even now, caught in a reluctant and frustrating game of piggy-in-the-middle between Turkey, Greece and the UK.
Even if politics isn't of interest, to find a sunny table at one of its many cafes and sip on a strong Cyprus coffee while watching the world go by is an unforgettable and quintessentially Cypriot experience.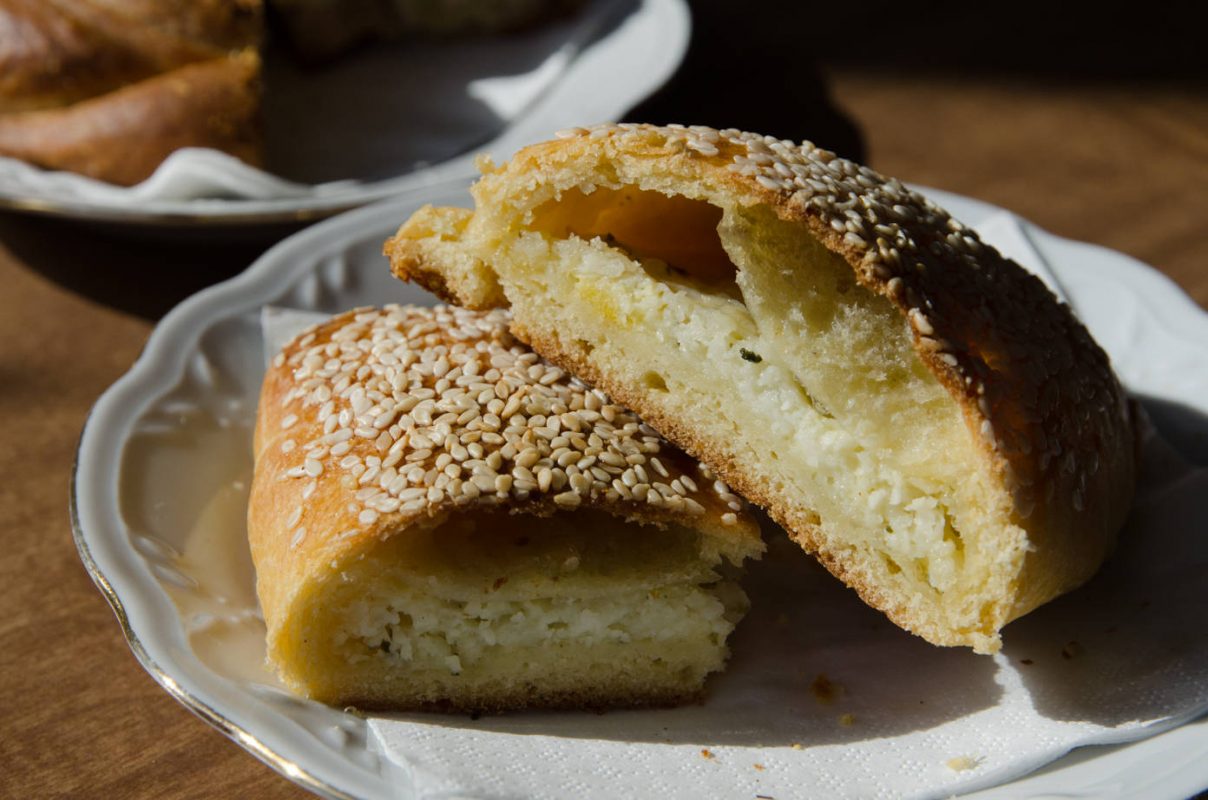 With two days in Nicosia, these are some of the highlights you should include in your itinerary:
The Green Line
The Paphos Gate
Leventis Museum
Ochi 'Open Air' Markets
Home for Cooperation (inside the UN buffer zone!)
Phaneromenis Church
Pancyprian Museum
Troodos Mountains
If you're suffering through the brutal heat of a Cyprus summer, the Troodos Mountains offer a cool escape.
Nestled in its craggy folds and foothills are dozens of old villages – hardly changed in centuries – many with cobbled town squares, Byzantine monasteries, waterfalls and hiking trails. There's even a chocolate making workshop hidden among the pine forests!
And in winter? They may not get the same buzz as Chamonix, but if you're a snow-bunny then you'll be relishing the chance to carve up the snowy slopes of Mt Olympus.
There really is something for everyone in the Troodos Mountains, and these are some of the highlights:
Platres Chocolate Workshop
Omodos Village
The Mill Hotel
Kykkos Monastery
Kakopetria Village
Mount Olympus Ski Field
Oh…and it's pronounced 'Trod-oss', not 'True-doss' 😀
Poli Crysochous and the Akamas Peninsula
Probably the biggest surprise packet for us while traveling through Cyprus, the Akamas Peninsula took our breath away.
Akamas is all about nature – the coastline, the hills, the gorges – and the legend of Aphrodite.
You can easily drive up to the Akamas Peninsula from Paphos, making it a very good day trip option. But if you love the outdoors then you're going to want at least two or three days to explore the region, with Poli Crysochous (Polis) or Latsi (Latchi) being excellent places to find accommodation.
There are three nature trails, all very close to each other, with some of the most spectacular views we have ever seen (seriously) – Adonis, Aphrodite and Smigies are their names.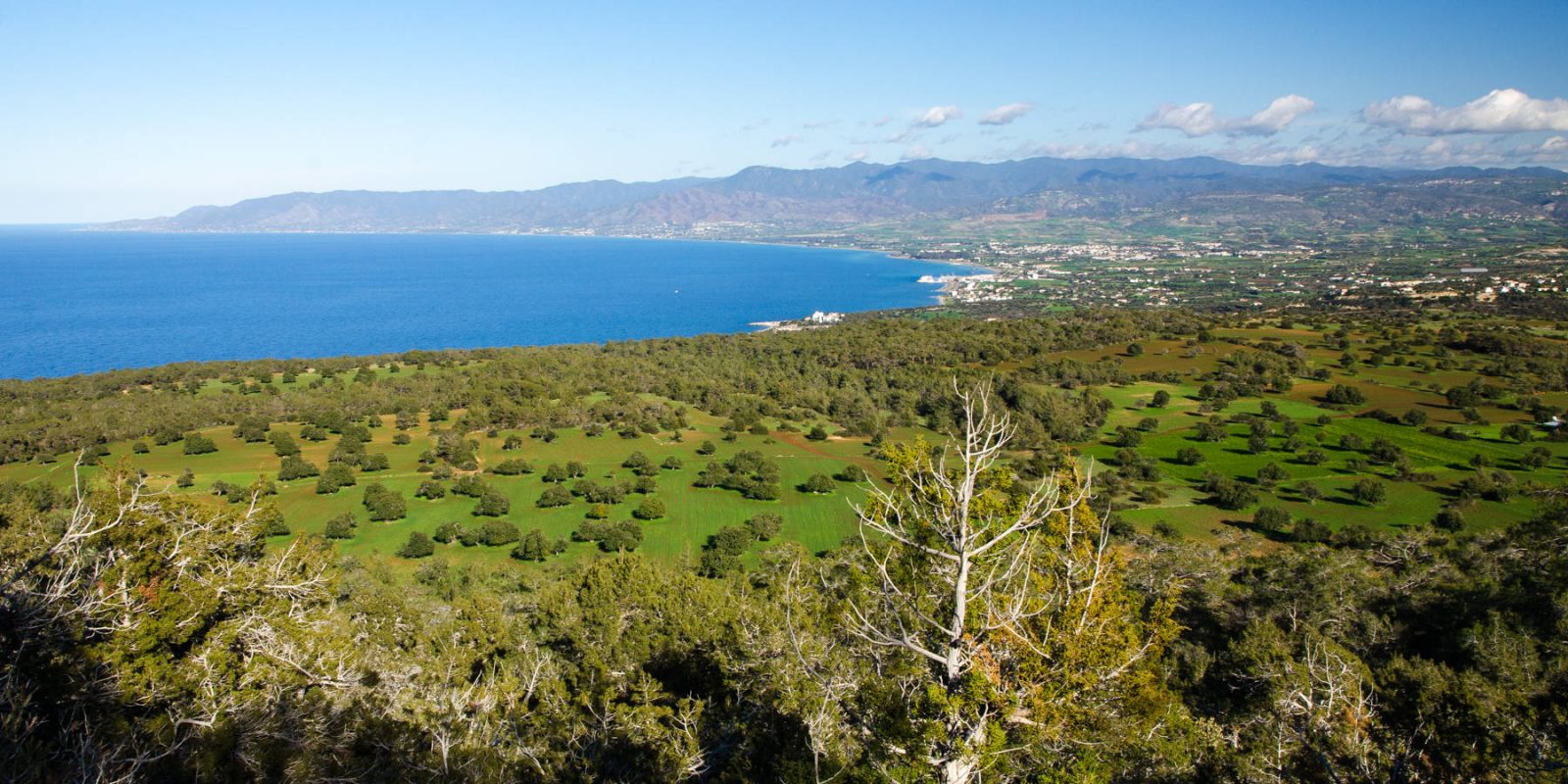 If hiking in the Cyprus heat is pushing things, then you can take a boat or 4WD to the azure waters of the Blue Lagoon, or simply walk past the botanical gardens to the Baths of Aphrodite.
And at the end of the day, the waterfront restaurants of Latchi serve up the BEST seafood you'll find anywhere on the island. Freshly grilled octopus at sunset cannot be beaten!
Here are the highlights of the Polis and Akamas region:
Aphrodite Nature Trail
Baths of Aphrodite
Adonis Nature Trail
Polis Herb Garden
Blue Lagoon
Smigies Nature Trail
Latchi Wharves
Steni Markets
Limni Jetty
Limassol
You'll find Limassol (Lemesos) on the southern coast of Cyprus, roughly halfway between Larnaca and Paphos. Behind Nicosia, it's the island's second largest city and it is growing FAST.
It's funny…we drove through Limassol on our way to Paphos and were completely uninspired – maybe it's because we were hangry? 😀 But on our return for the Easter Carnival it was like it was a different city – vibrant, modern, and very cosmopolitan.
There's a little bit of history inside the city, but we feel it's far more exciting to use Limassol as a base for excursions out into the surrounding areas where there is plenty to see and do.
Did you know that Richard the Lionheart was married in Limassol? True story! He later sold the island to the Knights Templar who decided they liked the local wine – called Commandaria – so much that they started exporting it back to mainland Europe in copious quantities. This makes it the world's oldest named wine still in production and you have got to taste it!
If you've got two days in Limassol, here are some sights to get you started:
Limassol Castle
Limassol Carnival
The Promenade
Cyprus Wine Museum
Amathus
Kolossi Castle
The Sanctuary of Apollo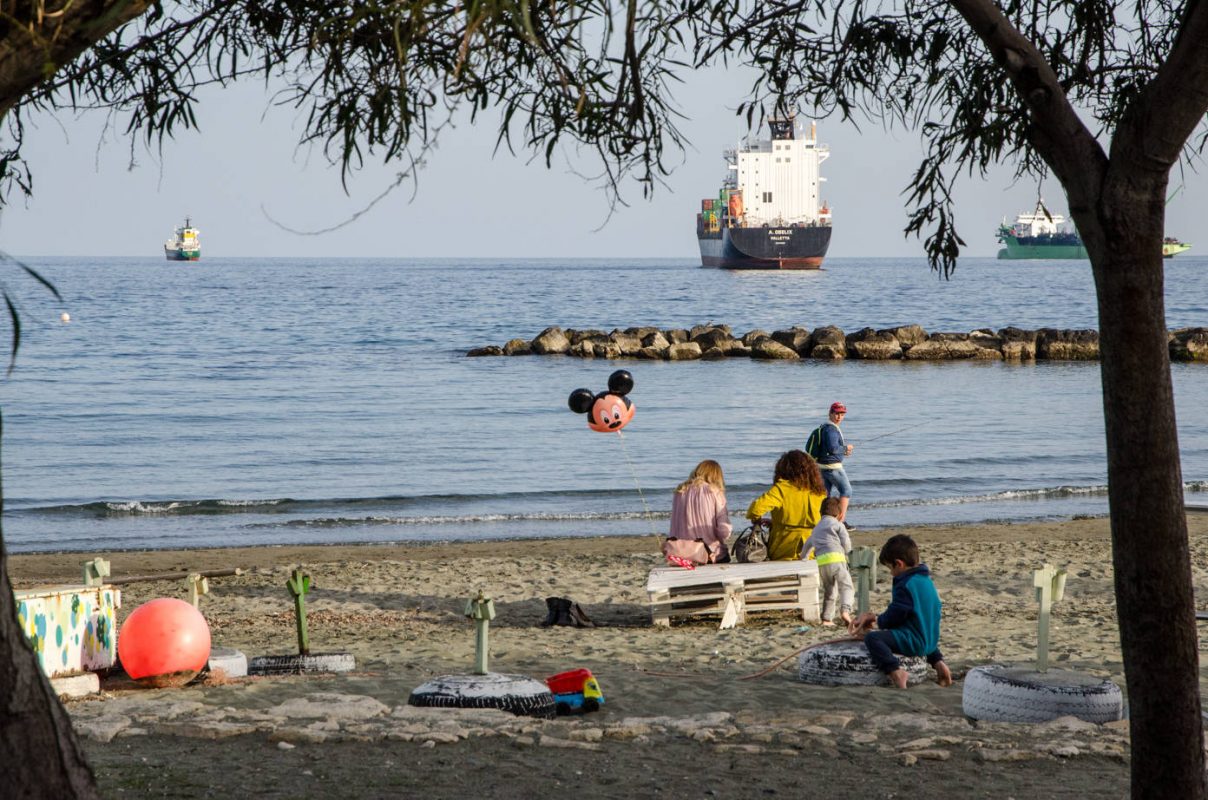 Northern Cyprus
Here's where things get tricky…
We won't bore you with all the politics, but essentially, Northern Cyprus is currently occupied by Turkey and has been since 1974. But here's the thing – not one single country in the world, other than Turkey, recognises the occupation as being legal under international law.
It's sad, because prior to the war in the 1970s both Greek Cypriots and Turkish Cypriots coexisted peacefully on the island. Post-war, after the many atrocities that were committed on both sides there is now an entrenched animosity that makes any discussion regarding tourism in Northern Cyprus a very touchy subject indeed (and there's every chance we'll cop flak for even publishing this section in this guide!).
---
---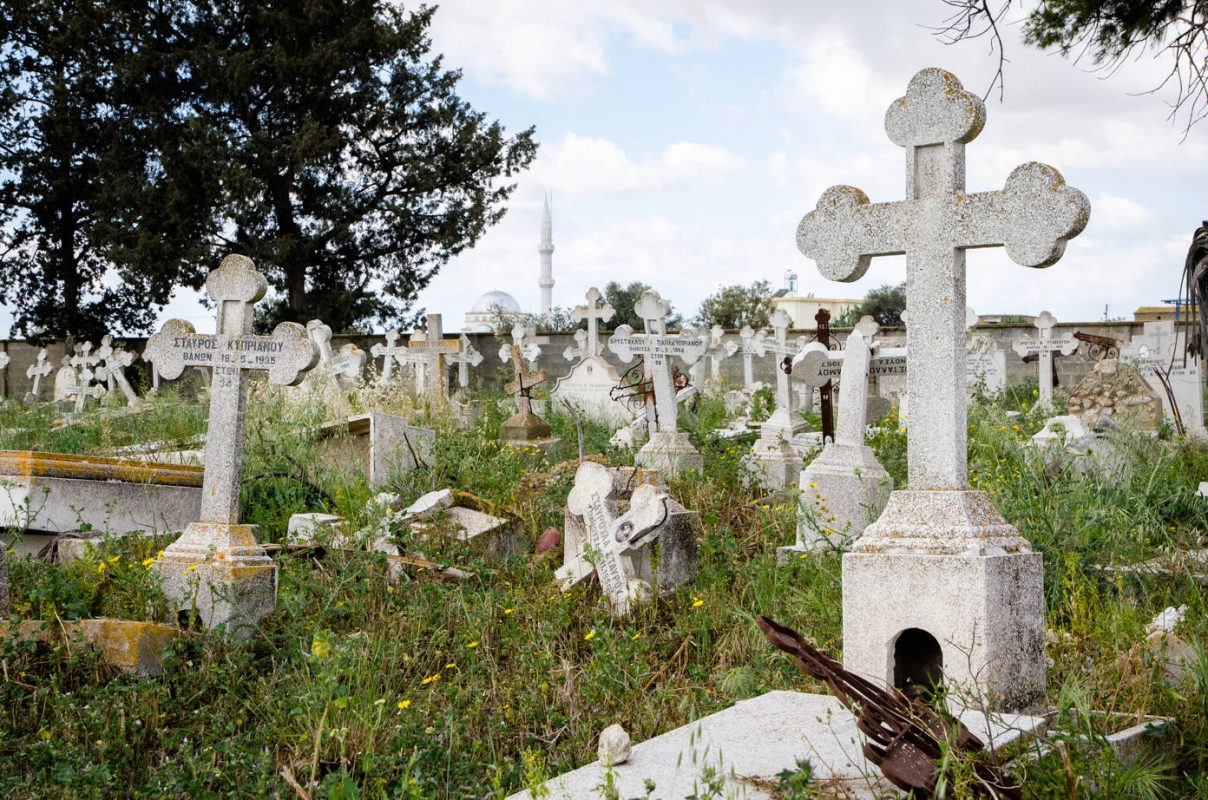 The situation is completely understandable. Imagine if your family was split, with half stranded on one side of the 'Green Line' and half on the other? Or if family members lost their lives in the conflict? Or if your family home and lands have been appropriated by strangers for the last 50 years? It's inevitable that rational, constructive dialogue becomes a challenge.
So please, keep this in mind when making your decision on whether to cross the Green Line or not.
Ethical decision making is not black and white – it is always shades of grey. And for that reason there will be some, like us, that feel compelled to explore Northern Cyprus so we can try to understand the situation and to also see the 'other' perspective. And there will be those that feel that crossing the Green Line and spending money in Northern Cyprus is to provide implicit legitimisation of the Turkish occupation.
We spent 3 weeks in Northern Cyprus and found it to be astonishing, conflicting, inspiring and frustrating. But shining through all these impressions was one unshakable reality – Northern Cyprus is simply beautiful.
These are just a few of the many sights that await you…
Kyrenia Castle
Bellapais Abbey
St Hilarion Castle
Ermeni Monastery
Buffavento Castle
Famagusta
Karpaz Peninsula
Kantara Castle
Varosha
Ancient Salamis
---
Things to do in Cyprus
You are totally spoilt for choice when looking for things to do in Cyprus! Here are some of our favourites…
Relax
Does lifting mojitos sound like hard work?
If all you want to do is chill out and soak up the sun, then you are spoilt for choice in Cyprus.
What style of beach do you prefer? Popular, with drinks and your hotel room just a shout away? Remote, so you can enjoy your beach towel in relative peace? Or do you want a beach all to yourself? Check these out!
Popular beaches in Cyprus – Sunrise Beach (Protaras), Nissi Beach (Ayia Napa), Konnos Bay (Protaras), Makronissos Beach (Ayia Napa), Fig Tree/Sunrise Beach (Protaras), Mackenzie Beach (Larnaca), Coral Bay (Paphos)
Quiet beaches in Cyprus – Latchi Beach (Polis), Serena Bay (Protaras), Governor's Beach (Limassol), Aphrodites Rock (Paphos – the rock itself is VERY busy, but head south for peace and quiet)
Remote beaches in Cyprus – Lara Bay (Paphos – 4WD or extremely careful 2WD required), Pomos Beach (Polis)
Ancient and Modern History
From the largest cities to the smallest villages, wherever you go in Cyprus, you're going to feel like you're walking through a museum! Coming from Australia, this was so surreal for us, but it also made for some really exciting and, dare we say it, educational <gasp!!> exploration.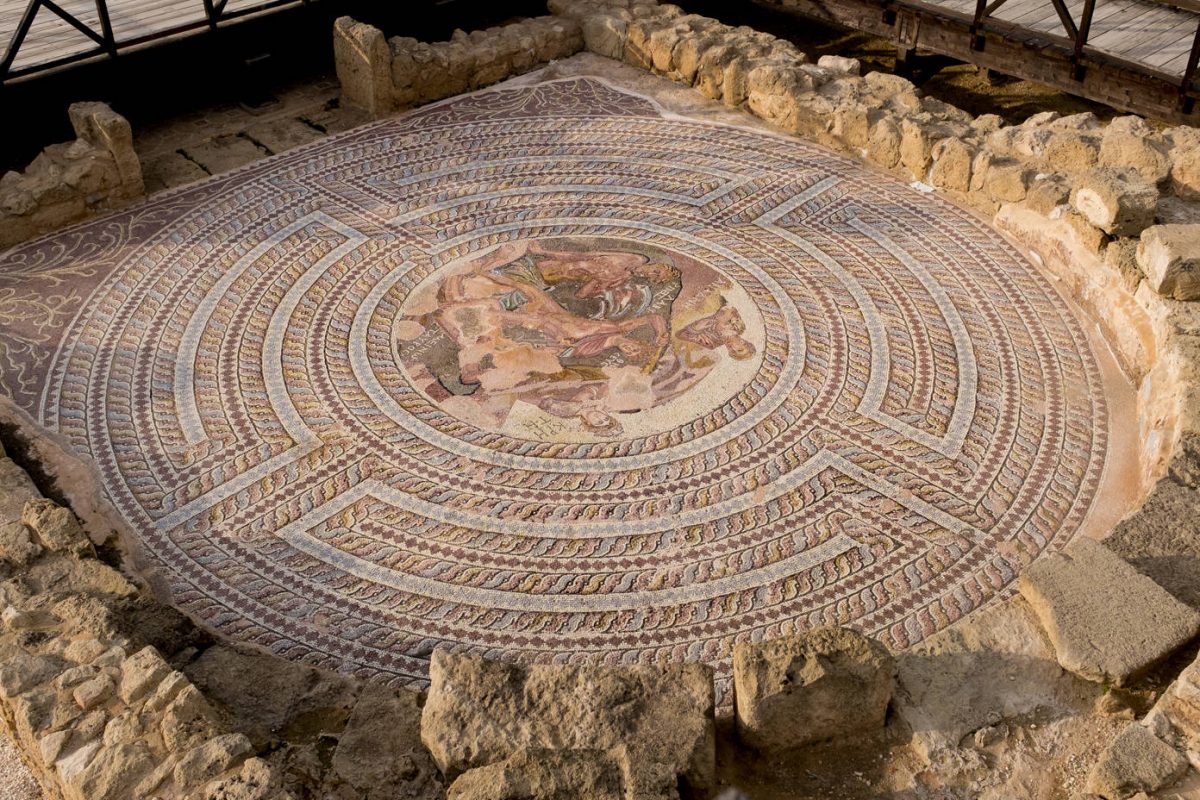 One of the best things to do in Cyprus is to follow the Aphrodite Cultural Route. Aphrodite was the ancient Greek Goddess of Love and Beauty, and legend has it that she was born in Cyprus. To find out more, you can follow in her footsteps by tracing this fascinating route from Akamas in Cyprus' far north west, all the way to Cape Greco in the east. You can find a map of the route and a lot more information in this brochure – Aphrodite Cultural Route Brochure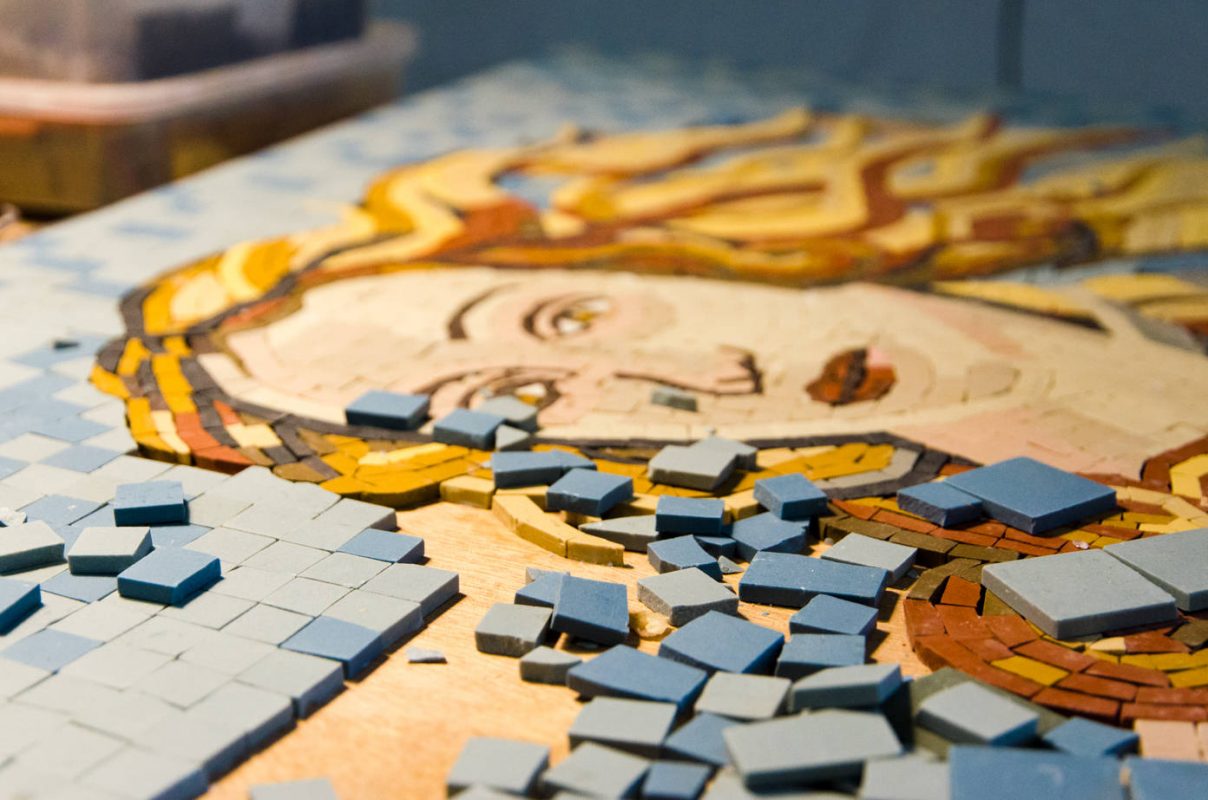 And that's just the start! It simply isn't possible to list all the historical sites, but here are a few that we highly recommend…
Tombs of the Kings (Paphos)
Choirokoitia Archaeological Site (Larnaca)
Paphos Archaeological Park (Paphos)
Aphrodite's Sanctuary (Paphos)
The Three Venetian Bridges (Troodos)
Leventis Museum (Nicosia)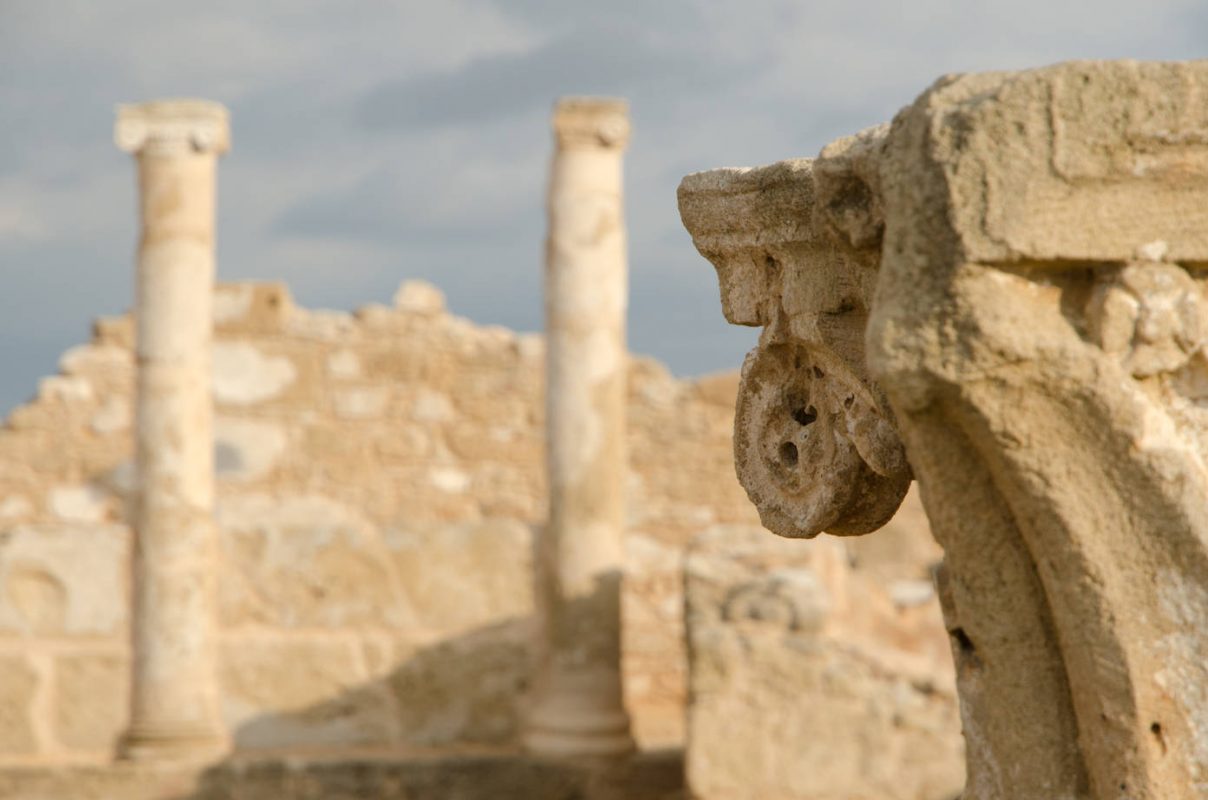 Churches, mosques and temples
Cyprus is a deeply religious nation. But don't worry, attending the Sunday service isn't mandatory 😀
You'll see signs of the Greek Orthodox church everywhere, but what many visitors don't realise is how many other religions are also represented across the island – Ancient Greek, Islam, Catholicism and more. And with these different religions come monasteries, temples and shrines…some intact, others in ruins…some in regular use, others abandoned to the ravages of time. No matter where you go, there's plenty of opportunity to go exploring.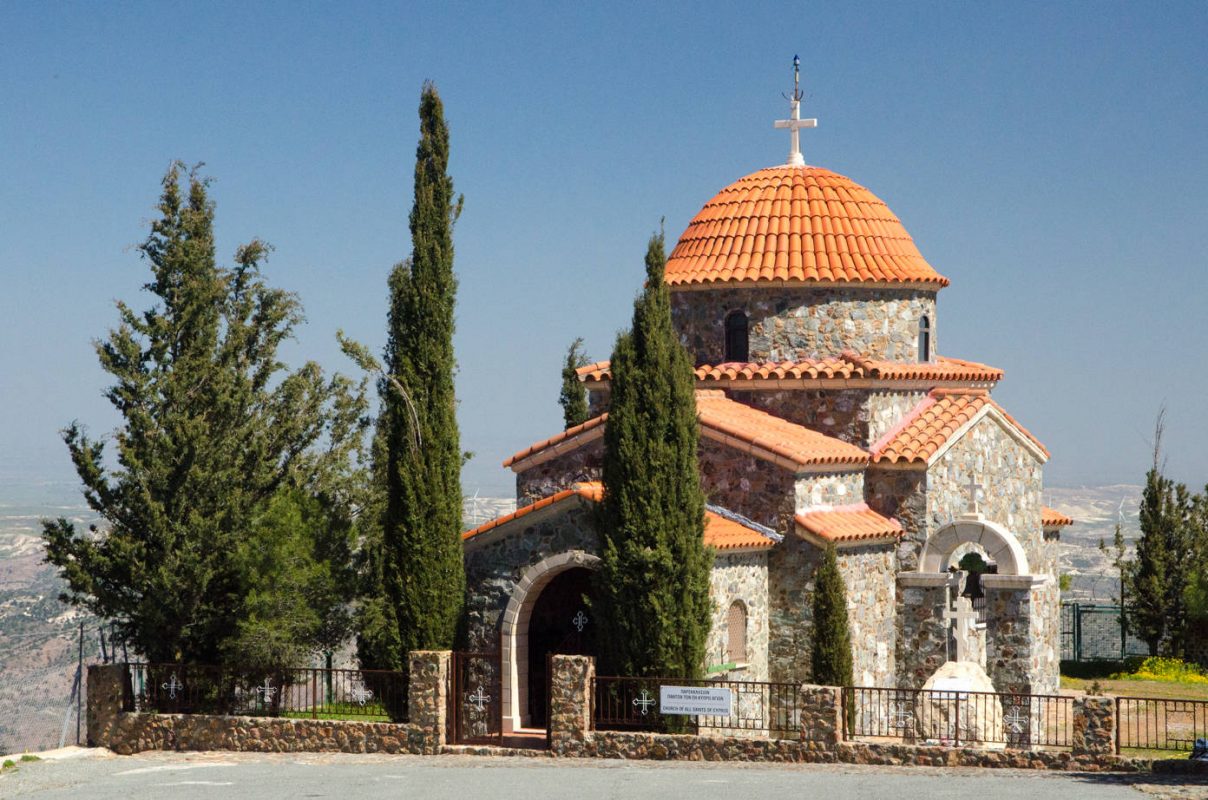 A church, is a church, is a church, right?
Not in Cyprus. For us it's normally a case of, "Move on folks, there's nothing to see here", but so often we found ourselves hiking or driving to some weird, out-of-the-way church that ended up being a highlight of the region.
If there's one church you can't miss, it's Agios Saranta. It took us hours to cross-reference the very few internet articles we could find and pinpoint its exact location – here. Only a few minutes drive from Protaras – or a 30 minute hike up dusty roads if you're keen – this church is unique.
Why? Behind its rickety blue door is a cave, in which you'll find a tiny, yet fully functioning church. Icons perch on rocky ledges, where the feeble light from a few stubby votive candles competes futilely with the broad beams streaming down from the skylight above.
This is just one example that we liked, and there are plenty of others across the island…
Agios Saranta Cave Church (Protaras)
St Neophytos Monastery (Paphos)
Panagia tis Agapis (Vavla)
Hala Sultan Tekke (Larnaca)
Ayia Kyriaki Chrysopolitissa (Paphos)
Kykkos Monastery (Troodos)
Stavrovouni Monastery (Larnaca)
Agios Nikolaos (Protaras)
Büyük Cami Mosque (Larnaca)
Hiking
So much has been said of Cyprus' beaches and history. As you've probably seen, it's all the tourism companies ever talk about. But you know what? Some of our best memories of Cyprus are of its magnificent hikes.
The temperate conditions of winter and spring are the perfect time to rack up a few kilometres in the outdoors, but with sunscreen and plenty of water, even summer is an option.
---
---
If you're like us, your first impressions of Cyprus' landscape may be underwhelming – bone dry, dusty, eye-searingly white, a few scrubby or thorny bushes, the occasional snake… The thing is, finding and appreciating the natural beauty of Cyprus demands an effort.
Access to Avakas Gorge, hidden in a tear of the earth, is so rough you nearly need a 4WD to get there. And yet within minutes of starting the hike you'll transition from dirt and rock to an oasis of green, following the cool blue ribbon of bubbling water up through the narrow rock walls, over boulders and around waterfalls.
And then there's the trio of hiking trails on the Akamas Peninsula, alternating between moonscapes, fields of multi-hued spring flowers and mossy caverns, with only the occasional goat for company. But if you can make it to the top, the unfolding tapestry of the Akamas Peninsula – limestone white and Mediterranean blue – will sear your mind forever.
As you can probably tell, hiking was one of our favourite things to do in Cyprus 🙂 Click here for our epic Cyprus hiking guide!
If you're tight for time, have a look at Cape Greco and the Troodos Mountains, as they offer excellent and easily accessible hikes.
Adventure
As many of you will already know, adventure tours aren't at the top of our list when we travel.
In saying that, we can still tell you that there are plenty of action-packed things to do all over Cyprus. Scuba diving, off-road touring (jeep, buggy, or 4WD), sea cruises, speed boat hire, motorbike tours, and of course all the inflatable shallow-water shenanigans that you'll find at any busy beach these days.
When it comes to adventure activities TripAdvisor's crowdsourced approach is effective, so give them a try to find out what's available in your region – TripAdvisor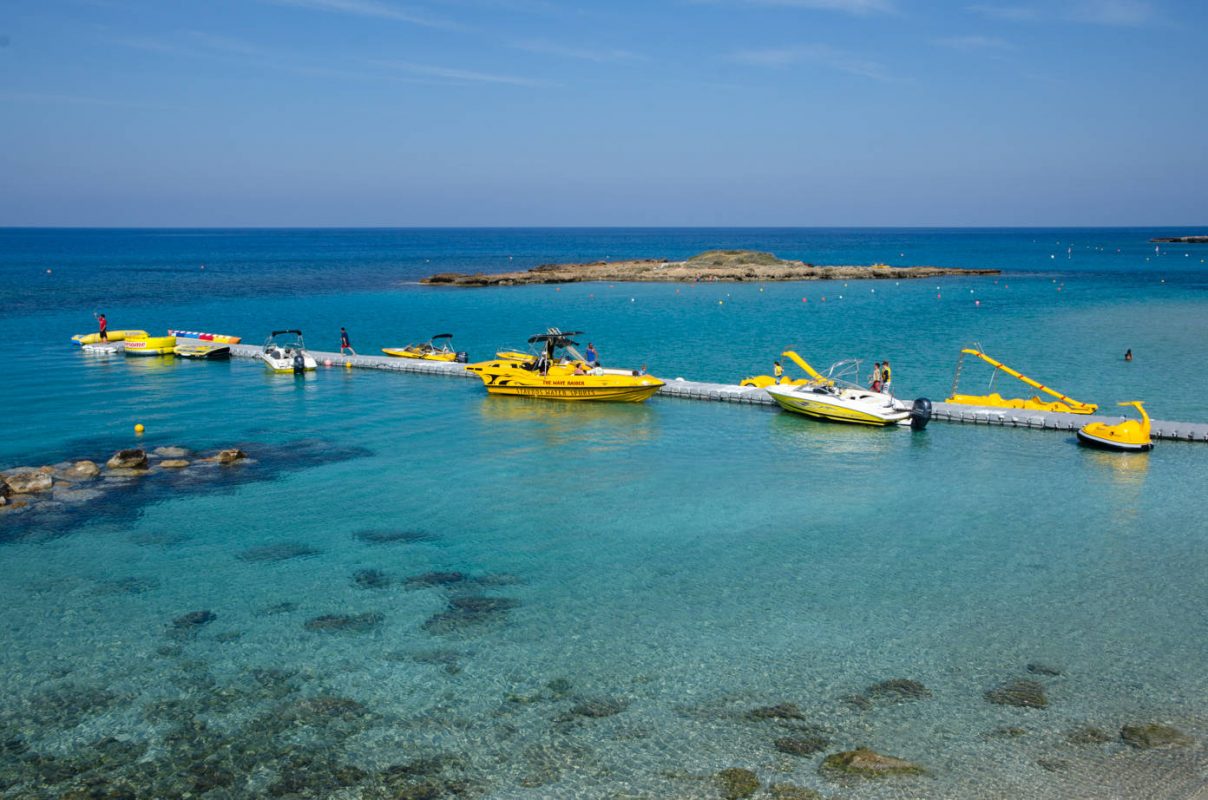 Partying
There's plenty! Ayia Napa, Protaras, Kato (lower) Paphos, Mackenzie Beach in Larnaca, Limassol waterfront…in summer they'll be awash with music and heaving with tourists, locals, and even the odd celebrity having a great time.
---
What to eat in Cyprus?
As good as a gyros is, early Sunday morning after a BIG night out, there is so much more to the cuisine of Cyprus – and we're here to help you find it.
Cyprus life revolves around family, and the local community. Even those in the big cities will still return to their village in the mountains on a regular basis. And you know what it is that binds these small communities together? You guessed it – food!
We both grew up on old stories that talked of the middle-East being a "land of milk and honey". It sounds a bit weird, but it's the truth. Despite how dry it is, Cyprus is awash with delicious produce – vegetables, cheese (halloumi!), wine, olives, herbs – and you can see this quality shining through in many of their dishes. Often rustic, using recipes that are centuries old, but always delicious and prepared with passion.
In fact, they've got this whole 'let's eat ALL the food' thing down to such an art that they've given it a name – 'meze' (μεζές).
It's a word that pops up all over the Mediterranean, middle-East and Balkans –  translating to 'small delicacies' – and in most countries you'll find it describing a number of small dishes brought out as an appetiser before the main meal.
But, in Cyprus they take a different approach, and their meze is so epic, so varied, so filling…that it's a meal in itself.
If it's traditional Cypriot food that you'd like to try, then you're spoiled for choice. Here are a few that we highly recommend…
Meze – Every self-respecting taverna will have a traditional 'meat meze' on the menu, and many now also offer a 'fish meze'. The dishes will often vary with the seasons, but typically include dips with bread (taramosalata, tzatziki, hummus etc.), char-grilled vegetables, a tomato and cucumber salad, fried halloumi, sheftalies (grilled spiced meat), sausage (loukaniko), souva, stewed meat (often kleftiko or stifado) and if you're lucky a clay pot full of tavas!
Halloumi cheese – Our eyes still glaze over at the memory of Cypriot halloumi cheese. Lightly fried, it is a heavenly dish of salty, cheesy simplicity. Be on the lookout for halloumi with a tiny sprinkle of mint – it's next level!
Lamb kleftiko – 'Robber's' lamb (we'll tell you the full story in our upcoming guide to Cyprus food!) is a lamb stew baked in a clay pot, with heaps of vegetables and spice, and cooked low and slow until the meat falls off the bone.
Loukoumi – We've all heard of Turkish delight. First of all, with the current political situation DON'T let anyone hear you calling it that in Cyprus! It may be very similar to what you've tried at home, but we found the Cypriot version to have a subtle complexity of flavours that was unique – the bergamot flavour with thinly sliced almonds is particularly good!
Stifado – Another stew, this time beef or rabbit, cooked for hours until the spiced sauce becomes a thick, delicious gravy to accompany the tender meat.
Trachanas soup – A polarising dish – you'll either love it or refuse to go anywhere near it! This is one of the most authentic, traditional dishes you'll find in Cyprus, with recipes handed down from mother to daughter over the centuries. It's a porridgey-soup unlike any other, made from cracked wheat and goat's mik that has been allowed to ferment and turn slightly sour. Are you brave enough?
The concept of 'modern' Cypriot cuisine is still very new, but in recent years a handful of innovative restaurants have emerged. It's exciting to see, and it's not often that you can say you were there, right at the very beginning!
These are your best options for an exciting, modern twist on food from Cyprus:
It's debatable whether Taverna to Patrikon and 7 St. Georges can be classed as truly 'modern' – they themselves call their food 'traditional'. But the way in which they take old recipes, unusual Cypriot ingredients, and a 'grow your own' ethos make their food so unique that for us it's essentially 'modern', and very different to anything else you'll find in Cyprus.
Supermarkets in Cyprus
Are you staying in an Airbnb and doing the self-catering thing like we did? In that case you'll need to know about the local supermarkets.
In short, there are plenty. From basic to the most comprehensive, you've got:
Local corner store – You'll find these shops catering to your basic needs. Essentials will be priced reasonably but you'll pay a lot more for luxuries (eg. cereal).
Metro – A good range of products, balanced nicely between local and international. Pricing is reasonable, and their meats and fresh produce are a lot better quality than Carrefour and Lidl.
Papantoniou – Similar to Metro, but a little smaller and many stores in smaller towns.
Lidl – Very large, and stocking a reasonable range of international products, although most are from the budget end of the spectrum. Pricing is good.
Carrefour – Very large, and stocking a good range of international products but with higher quality than Lidl. Pricing is good, but expect to pay a bit more than Lidl.
AlphaMega – Huge, very modern, and an excellent range of products both local and international. You'll pay more though.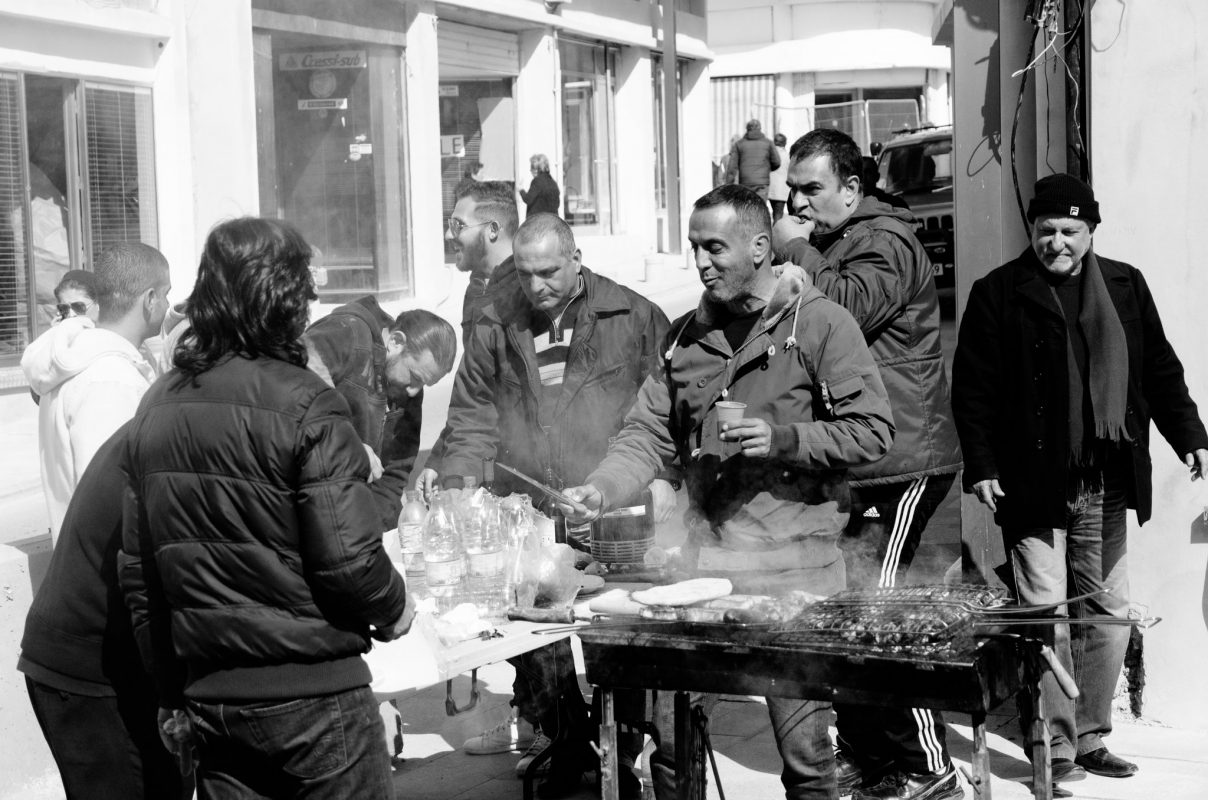 ---
What to drink in Cyprus?
Beer and cocktails. Reclining in your banana lounge and soaking up the sun – that's all you need, right?
Maybe 😀 But we're here to show you that Cyprus has a surprising number of options for those that love a quality beer, wine or spirit, and that you don't have to travel far to find them.
And we can't forget their coffee either. It's an experience you'll never forget.
Cyprus Beer
Keo is the local brew. It's cheap, it's nice enough on a stinking hot day, it's not heavy.
Oh? You want flavour as well? Nope 😀
The microbrewery scene in Cyprus has really picked up in recent years with many young Cypriots taking up the craft and producing some very high quality brews.
If you're in Paphos we recommend that you spend a half day at Aphrodite's Rock Brewery. One of Cyprus' first microbreweries, they've got a tempting range of beers on tap at their brewery up in the hills – try the tasting paddle if you're unsure where to start. The views are great, and their wood-fired pizzas even better!
On the other side of the island in Sotira (just a short drive from Ayia Napa, Protaras and Larnaca) is the family-run Prime Brewery. They too have a half dozen beers available, and it's nice to know that they're helping out the local shepherds in a very clever 'spent grain for halloumi' trade 😀 Bookings are necessary, so phone ahead.
In Nicosia we recommend you try Pivo Brewery. Pivo is located in the heart of Nicosia, just a few steps away from the barbed wire and armed guards of the infamous 'Green Line'. Their cozy beer garden is the perfect place to end your walking tour of the old city.
Keep your eyes open for Hula Hops Brewing. As we write this, the exceptional beers being produced by these self-proclaimed 'Gypsy Brewers' are only available from a few bars in Cyprus, including Brewfellas in Nicosia, Barrel House in Larnaca and Satellite in Limassol – but we suspect this may evolve as their popularity grows.
Cyprus Wine
We could write pages and pages about Cyprus' amazing, and relatively unknown wine scene – and we probably will 😀
We had never tried a Cypriot wine before visiting the island – the closest we got was a bottle of Greek wine that was more like vinegar!
So it was a huge surprise to find an established wine industry with centuries of history, and a range of unique varietals that tasted delicious. There are three types of wine that we strongly recommend you try:
Xynisteri – Sharing similarities to the more commonly known sauvignon blanc, xynisteri is a white varietal that favours the higher altitudes of the Troodos mountains – visit Vouni Panayia winery for one of the best. A little minerally, fruity and not too sweet, it's the perfect match to a plate of seafood.
Maratheftiko – It's hard work growing quality maratheftiko, and for that reason it is typically produced in very small batches. Find yourself a good one though – we loved the maratheftiko from Ktima Christoudia winery – and the flavours are incredible. Not too heavy, a hint of tannins, floral notes, it's perfect with a rabbit stifado or lamb kleftiko.
Commandaria – A blend of xynisteri and mavro grapes, this sweet wine is best drunk as an aperitif or with dessert. It is the world's oldest named wine, and there are centuries of Cypriot and Crusader history tied up in every glass. It is a protected wine, meaning it can only be made in the Limassol region, but given its popularity you'll find it in restaurants and bottle shops all over the island.
Cyprus Spirits
One word – zivania.
This distilled spirit – made from the stems, skins and seeds of grapes left over from the wine making process – is pure rocket fuel!
Considering it starts at 40% alcohol content, and backyard versions would no doubt go a LOT higher, it's not surprising it used to be used for medicinal purposes back in the days of the Venetians.
Some versions will be a rusty red colour – these have had a dash of cinnamon added for flavour.
Your best bet is to pick up a bottle from your local supermarket. It is dirt cheap, and even if you don't like it straight you can always add your favourite mixer and a squeeze of lemon juice 🙂
Give me my Cyprus coffee!!
Got a hangover? Or maybe want to start the day with a bang? Get yourself a Cyprus coffee.
Thick, dark, rich, and with a kick like a Karpaz donkey – you'll be bright eyed and bushy tailed for days after just one sip 😀
You'll find this coffee everywhere in Cyprus – ask for it 'sketto' style – but the best option is to trundle down to your local village shop/cafe, find a seat in the morning sun, and watch village life unfold. Mind your last sip though, you don't want to be drinking the 'mud'!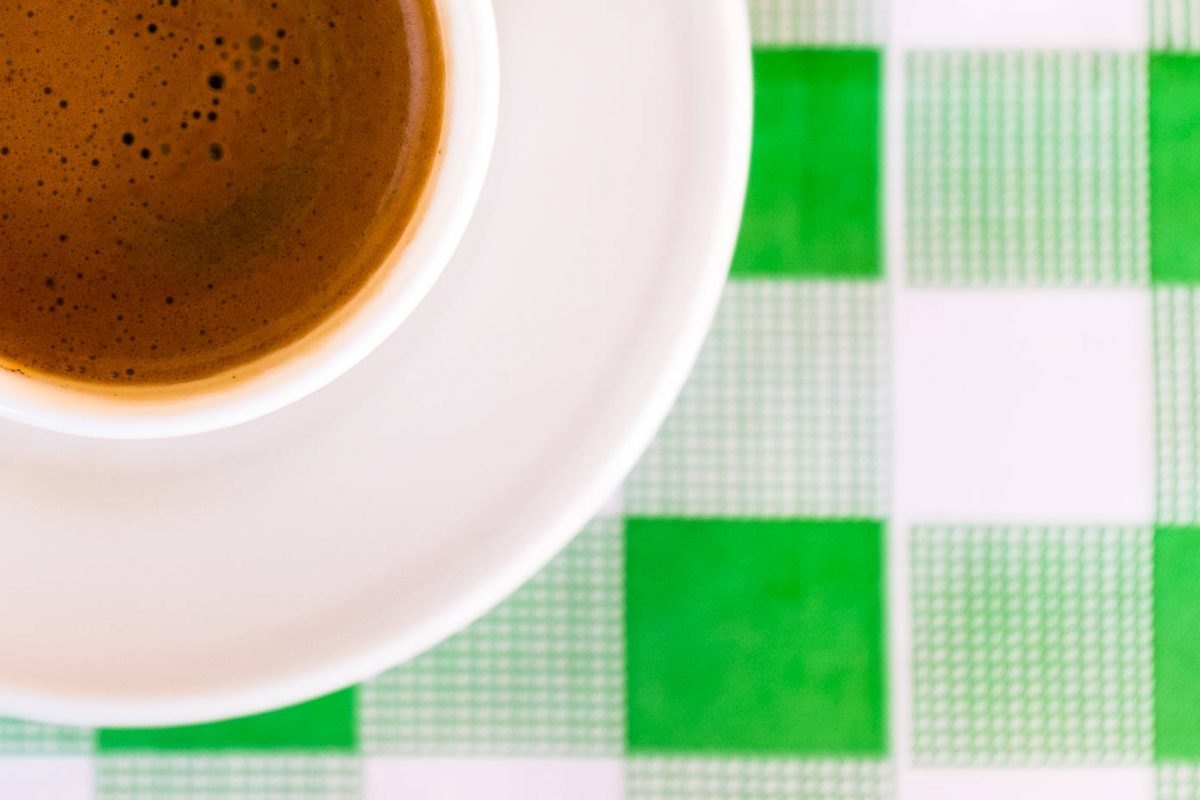 ---
Where to stay in Cyprus?
There's a huge range of accommodation options across Cyprus, and no matter what your budget or style of travel you're bound to find something that tickles your fancy.
If it's a hotel you're after, then the big booking sites will be your friend – TripAdvisor, Booking.com and Expedia.
If you're thinking of staying longer than a week or two then you might want to think about using Airbnb, VRBO, or HomeAway – they all offer short term vacation rentals at good rates.
This is all pretty standard…but are you looking for something a little different? Something out of the ordinary? Something that gives back to the village communities of Cyprus?
Cyprus has this amazing initiative that kicked off in the mid-90s called 'Agrotourism'. It's a simple concept, but such a good idea. The tough economic times were forcing people out of the villages and into the cities, and so the government started providing financial support to these villagers to renovate their old cottages and rent them to tourists.
This has the double benefit of keeping the local communities together while also giving visitors a chance to see a very different side to Cyprus that you don't always see in the glossy brochures.
We spent a week staying at Vavla Rustic Retreat in the gorgeous little village of Vavla, and it was easily one of our most memorable travel experiences EVER! Our hosts, Kelley and Anastasios were gracious, generous in spirit, and so helpful in giving us tips on things to do in the local area. And the accommodation itself was sensational – combining rustic heritage and modern comfort in style.
Check them out – they're located all across the island – and see if there's an Agrotourism cottage with your name on it!
---
How to get to Cyprus?
Flights to Cyprus
Getting to Cyprus is a piece of cake. It's such a popular destination, particularly for the Brits and Russians, that there are many flights to Cyprus arriving on a daily basis in both Larnaca and Paphos international airports.
Larnaca is the larger and more modern of the two airports, whereas Paphos caters to the smaller, budget carriers.
Flights from the UK will take 4-5 hours.
British Airways
Flights to Cyprus on British Airways depart from Heathrow and Gatwick regularly throughout the year. Most flights arrive in Larnaca, but during the summer they also include additional flights direct to Paphos, which can be very handy at eliminating a half day drive from one end of the island to the other.
We used BA to fly from Glasgow (via Heathrow) as they offered a little extra legroom and a larger luggage allowance than other airlines. Considering our whole life was packed in our bags this mattered a lot to us 🙂
Cyprus Airways
Cyprus Airways hadn't yet restarted operations when we flew to Cyprus, but they are now a fantastic option for anyone wanting to fly to Cyprus (Larnaca) from Russia, Israel, Greece, Germany or Switzerland.
EasyJet – Ryanair – Jet2 – Thomson
Budget carriers fly to Cyprus from Liverpool, Edinburgh, Manchester, Leeds and other smaller airports in the UK. Most flights arrive in Paphos, although there are some that will take you to Larnaca.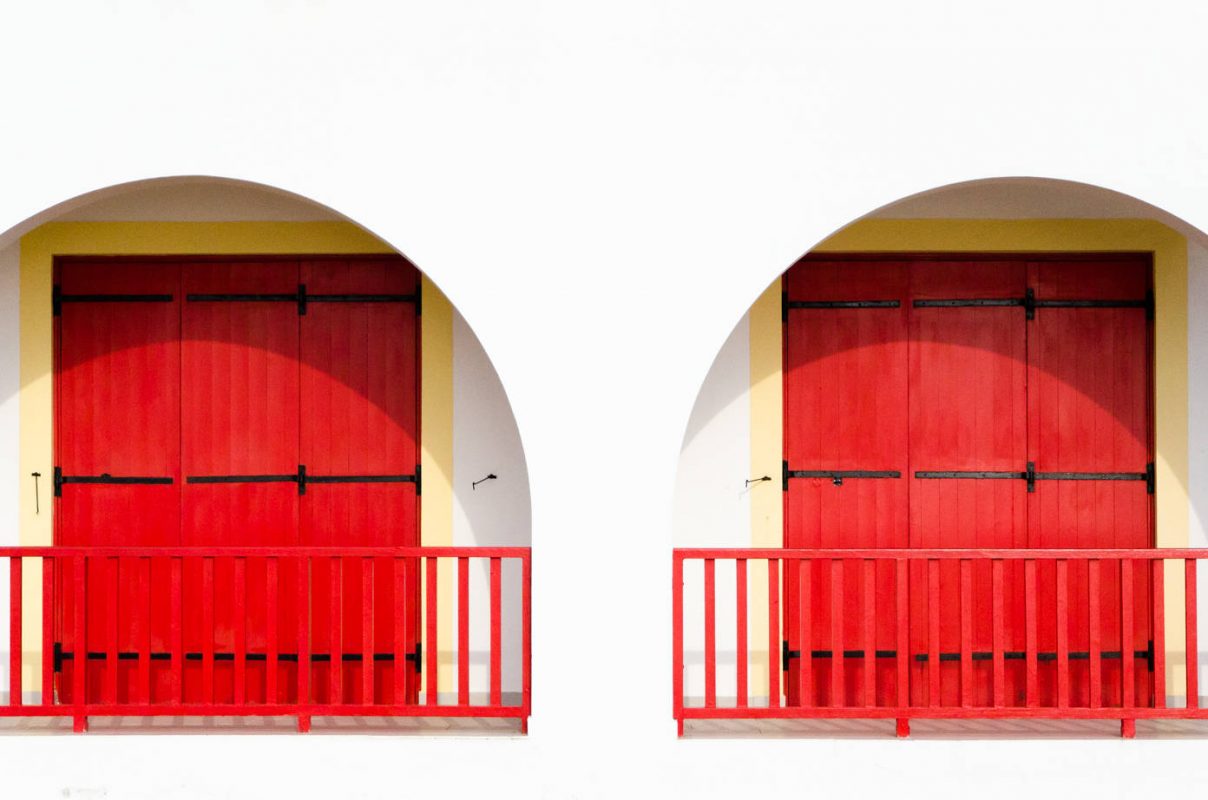 Ferry
There used to be occasional ferries to Cyprus (Limassol) from ports in Greece, but unfortunately it doesn't seem that any of these services are operational any more.
Arrival via Northern Cyprus
It's very important you get this right, or you could find yourself in trouble with the authorities. For all the important details, please read our 'Northern Cyprus Holiday Guide' where we discuss the different ways of getting to Northern Cyprus, and the pros and cons of each.
In summary though…
There are regular flights from Turkey to Ercan Airport, just outside Nicosia.
Ferries also ply the waters between Turkey and Kyrenia (Girne) in Northern Cyprus. Have a look at Akgunler for more information.
BUT, arrivals directly into Northern Cyprus can create issues. If you're planning on staying in Northern Cyprus this won't be a problem, but if you want to cross the Green Line into the Republic of Cyprus then non-EU citizens may find themselves being turned back. As a rule, rental vehicles from Northern Cyprus are not permitted to cross the green Line at all.
---
---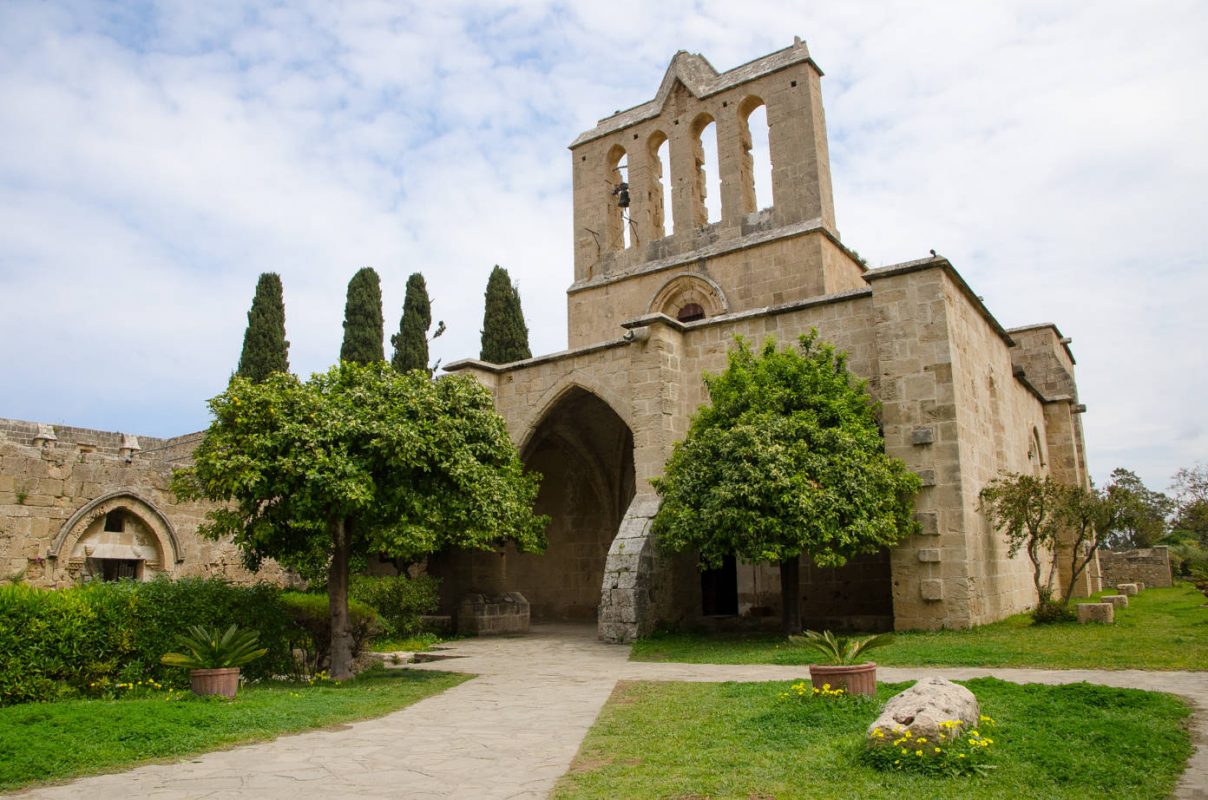 Bellapais Abbey | Northern Cyprus
---
How to get around Cyprus?
Getting around the island of Cyprus isn't difficult – between the large cities at least. The highways are in excellent condition and speed limits high enough to make it possible to travel from Paphos to Larnaca in around 1.5hrs.
Cyprus Car Hire
A car hire is a great idea if you'd like the independence of being able to go where you want, when you want. Larnaca, Paphos, Limassol and Nicosia all have pick-up locations for most of the reputable rental agents.
Interestingly, the big car hire agencies like Hertz, Europcar, Budget and Sixt have very poor reputations in Cyprus. High prices and poor customer service are common complaints.
We were hiring a car for two months, so we did a LOT of research and found that two companies kept getting great reviews; Stevens Car Rentals and Regency Car Hire (affiliated with Kyprexxo). We used both, and looking back we don't regret that decision at all. Stevens was the best of the two – providing practical advice after we suffered a puncture.
If you want to cover ALL the things to do in Cyprus, then hiring a car is the way to go.
This was our little beast from Steven's – a Hyundai i10 that cost us €710 for two months (60 days) in the low season. That's less than €12 per day!!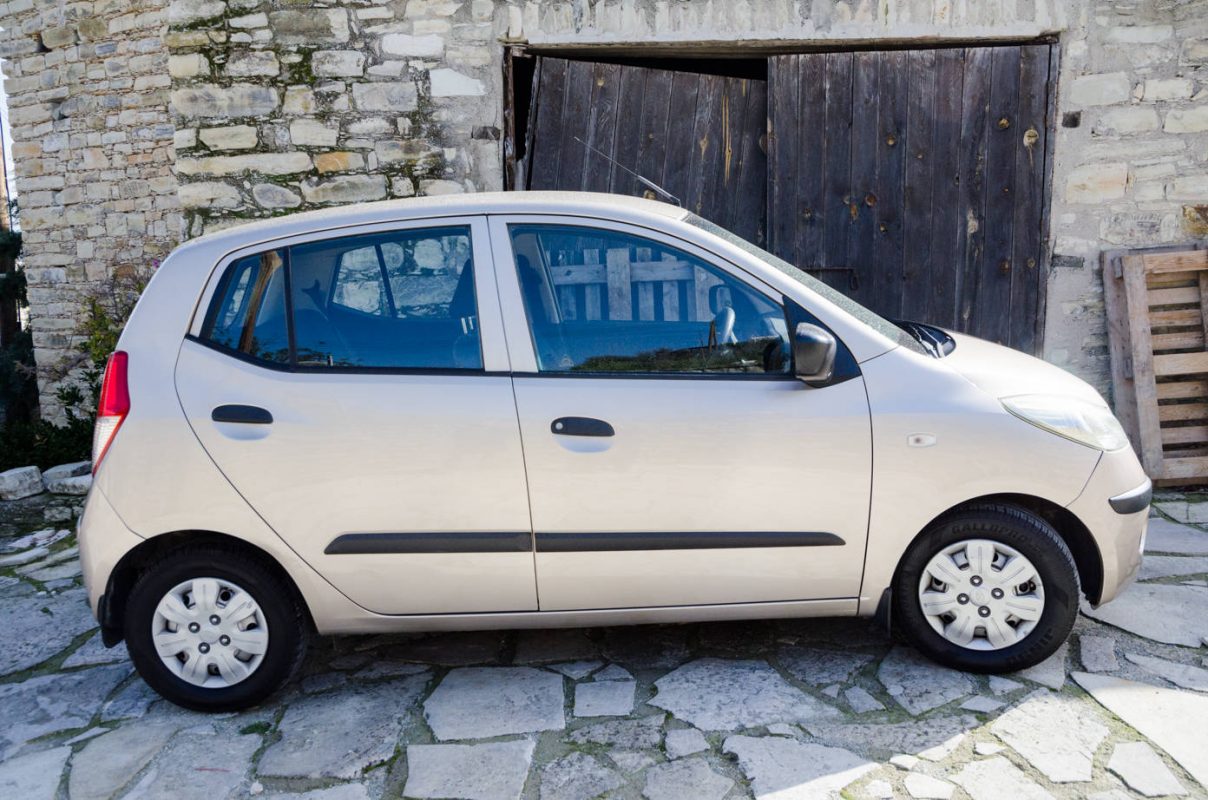 Cyprus Buses
Because we had a rental vehicle, using buses wasn't necessary much of the time. However, the blood alcohol limit in Cyprus is only 0.05mg/L and on a couple of occasions we knew it wouldn't be sensible to drive – so we decided to get a bus instead.
It all worked out very well – they were clean, safe, and the driver spoke enough English to understand where we needed to get off. The intercity buses were on time every time, but we did find the local bus from Tala to Kato Paphos to race through its stops very quickly – so assume nothing and be early!
Your one stop shop for ALL the buses across the island is Cyprus by Bus. This website will let you choose your city or region, and then see all the bus routes on a map together with schedules. They also have links to ticket pricing and other useful information. Bookmark it!
Airport Shuttle Buses
If you want to know how to get from the airport to your accommodation in Cyprus you can also use 'Cyprus by Bus'. All the airport shuttle bus details can be found here (Paphos) and here (Larnaca/Nicosia).
---
So, that's Cyprus in a nutshell 🙂
The tiniest of nutshells, because there is so much more of Cyprus that we're itching to show you. We're currently writing more than half a dozen articles that cover each of the chapters in this guide in a LOT more detail, so check back regularly to see if we can help you even more in planning your Cyprus holiday.
Next?
Maybe you're considering the UK as potential holiday destination?
We spent more than 2 months between London, Edinburgh, a North Coast 500 road trip, and the Isle of Skye. It is such a beautiful part of the world and if you'd like to know more then these guides will make your planning a breeze…
Happy travels!!
Andrew and Karen.
---
~ LIKE IT? PIN IT!! 😀 ~