"Devonport remains a sedentary, mildly menacing place: speeding rednecks in muscle cars hurl abuse at unsuspecting pedestrians before lining up at the McDonald's drive-thru." – Lonely Planet, 2010
Sound appealing? Fortunately for us, it turned out that Devonport did indeed offer more to the hungry traveller than a couple of Big Macs!
Knowing we would be passing through around lunch time on our way to Wynyard, I hit a few of my favourite websites to try and track down a decent cafe or restaurant on Tasmania's northern coast. Urbanspoon, Trip Advisor, Yelp…you wouldn't believe how hard it was!
Yet finally amongst the dross my eyes lit upon an alluring glint, hinting at the promise of modernity, fine food and good company. Fools gold? Or a diamond in the rough? Thankfully, Laneway Cafe proved to be the latter!
Located in the heart of Devonport, at first glance we were a little worried that we had the address wrong. The GPS was telling us we were in the right place, directly opposite 2/38 Steele Street, yet before us lay Cafe S'Il Vous Plait…??
On the verge of giving up, I was struck by a moment of blinding genius!!
It's called Laneway Cafe, so perhaps it's actually located…you know, in a laneway? Well, wouldn't you know it, a few steps down the hill and a turn to the left and there it was! In a laneway. After much mutual back slapping, profusely complimenting ourselves on our inventiveness and capability for lateral thinking, we made our way down the slightly dodgy looking alley and in through the brightly decorated front door.
I looked at Karen, she looked at me. I silently mouthed, "There's no flannels!!"
If I'd realised how busy this joint was going to be then I would have booked a table. The whole time we were there they were doing a roaring trade, with dozens of people walking in off the street for a takeaway coffee, and almost as many looking for a table at which to enjoy a sunny mid-week lunch. Luckily for us we were able to grab one of the last tables upstairs. Great location in the end, with views of the kitchen up top and overlooking the main part of the cafe below us.
The menu looked pretty good, with some dishes on offer that I would never have expected within a city about which I had only ever heard negative remarks, and through which I was fast revising my rather ill-informed opinion!
The all-day breakfast options were fantastic; house-made waffles, Spanish beans, smashed avocado and fetta on sourdough…but we were more in the mood for lunch.
For Karen it was the Malaysian Black Pepper Calamari (calamari coated in Malaysian black pepper paste served with Asian 'slaw, fresh herbs and sweet soy dressing) at $19, while I ordered off the Specials board, choosing the good old beer battered fish (King George whiting) and chips with garlic aioli (can't remember the price unfortunately).
An unusual dish, and one comprising both good and bad points. The good? The black pepper paste that coated the calamari under the batter and the tangy 'slaw. Some really interesting flavours that I don't think I've ever encountered in Tasmania previously. The bad? The batter was on the rubbery side, resulting in a rather unpleasant mouth feel to the dish.
Quite simply, a beautiful dish. I'm not a fisherman, but having grown up in Adelaide I do know that King George whiting is a very South Australian fish, so I was interested in finding out from whence they had sourced their whiting. After a brief chat with the chef it turns out it was sourced from the frozen foods section!
He could have told me it was from the wheelie bin out in Rooke Lane for all I cared, because this piece of fish was delicious! Light and crispy batter, locking in the juices and offering some crunch to offset the soft flesh of the delicate whiting. Paired with the zesty greens on the side and this was a simple, yet special meal!
Sadly, we had an appointment to make, so we had to leave a little earlier than we probably would have preferred.
On the way out though I made a quick stop at the bathroom, to be greeted by one of the most incredible murals I've ever seen! Surrounding me on all four walls it was a little bit quirky, with equal dashes of madness and happiness to send us on our way.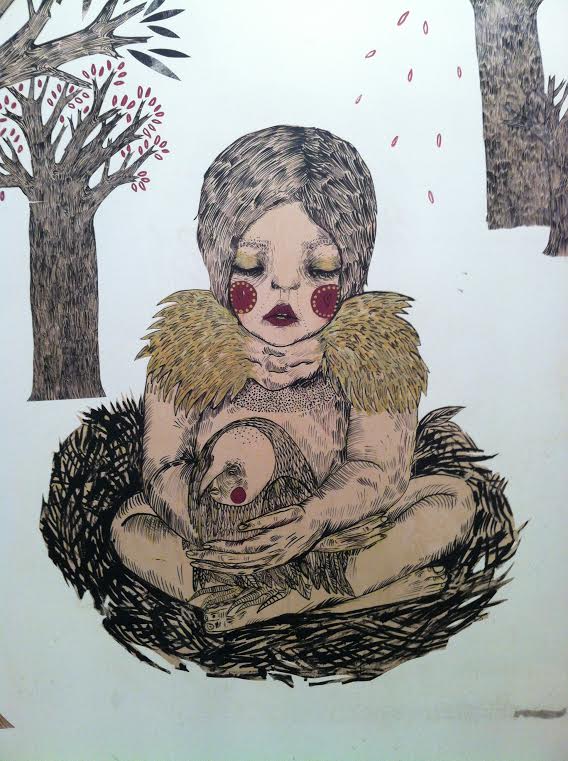 Overall?
I'll admit it, I was wrong about Devonport. Sure, it isn't the cosmopolitan capital of Tasmania, but you could say the same thing about Hobart in comparison to Melbourne or Sydney. I sense that the Lonely Planet review actually contributed in some small way to the town galvanising itself into action, in an effort to change public perceptions.
It's important that they succeed, because Devonport is the gateway to Tasmania for so many thousands of people that visit Tasmania via the ferry  from the mainland.
As we all know, first impressions last. Let's hope the evolution continues!
Taste – 4/5
Menu – 4/5
Atmosphere – 5/5
Service – 4/5
Value – 4/5
Overall – 4/5