If you're planning a Northern Cyprus holiday you've probably got a 1001 questions. How to get there? Things to do in Kyrenia? Is a Famagusta day trip worth it? Where to eat..? 
To help you have the best time, we put together this epic Northern Cyprus holiday guide to answer ALL your questions!
---
This article contains links to activities we think you'll love. Clicking through these links won't cost you a penny, but we receive a small commission on any bookings you make, helping us stay online. Thanks for your support!
---
With rose skies caressing our bleary eyes, we woke to the voice of an angel.
A Muslim angel.
Soaring and swooping, proclaiming the greatness of his God in minor tones, urging his brothers and sisters to worship.
"Prayer is better than sleep."
Yeah…we're not so sure about that – but thanks for the welcome 🙂
Northern Cyprus is an oddity. Or maybe anachronism is more accurate – 'a thing or person belonging to an earlier time'.
When the guns fell silent in 1974 everything changed for those on the the northern side of the island. Everything, and nothing.
The 'Turkification' of Northern Cyprus began immediately, with Greek-Cypriot street names replaced by Turkish, houses and land gifted to newly arrived Turkish settlers, and cathedrals and churches transformed into mosques like it was the first ever episode of Renovation Rescue.
And yet, despite this cultural transformation, much is purely cosmetic. A way of 'keeping up appearances'.
It doesn't take long to see through the strong military presence and realise it's only lip-service. That the time and money being invested in Northern Cyprus by Turkey are barely enough to keep the place running. The bare minimum to keep its paws on that shiny toy it captured all those years ago.
Northern Cyprus is 99% Muslim. So you can imagine our surprise to find a fistful of 'night clubs' – ie. brothels – crouched on the western edge of town. For the playboys and salary men of Turkey, Northern Cyprus is an illicit escape from traditional constraint.
As for real investment, its lack is in the state of the streets, the number of abandoned houses and businesses, and the haphazard tourism industry.
It's such a shame, because Northern Cyprus is one of the most beautiful corners of the earth we have ever seen.
The rugged ridges and soaring castles of the Kyrenia mountain range. The sweeping plains of rippling green wheat. The fields of crimson poppies, exclaiming the start of a new season. The dancing blue waters on mustard sands. The architectural clash of competing civilisations, both new and old…
Northern Cyprus is like a garden of Eden, hiding in plain sight. Desperate to reveal itself to the world and yet held back by politics and pain.
Choosing to step foot in Northern Cyprus shouldn't be an easy decision. The pain for those evicted from their ancestral homes, and those – on both sides of the conflict – who lost family members and friends, is still raw.
We feel that empathy is the tool for reconciliation, and to truly empathise we needed to see both sides. But we know others are equally as passionate in shunning any form of support for the Turkish government illegally occupying Cyprus.
We hope that through this Northern Cyprus holiday guide we help you arrive at your own decision – showing you both the good side, and the bad, of this fascinating corner of the world!
---
---
Want to skip ahead? Just click one of these links…
---
~ LIKE IT? PIN IT! ~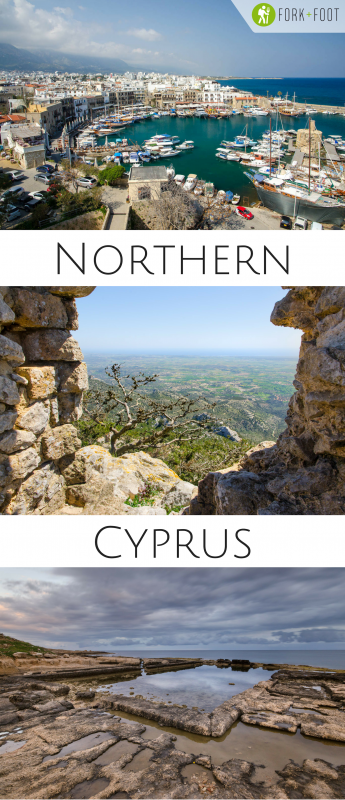 ---
Northern Cyprus Holiday Guide
We spent 3 months living on the island of Cyprus, with nearly 3 weeks dedicated to Northern Cyprus and a couple of weeks in Nicosia on the border between Northern Cyprus and the Republic of Cyprus – so we've got plenty of stories and experiences to share with you in this Northern Cyprus holiday guide!
But first of all, a quick geography lesson 😀
A map of  Northern Cyprus – in English!
Italy is famous for being the shape of a football boot and ball.
Cyprus…? We're thinking it's closer to a Christmas ham, hoof to the sky 😀
Not so appropriate when you realise that Northern Cyprus is very Muslim!
As you may have heard, the island is split in two. On the southern side and covering roughly two-thirds of the island is the Republic of Cyprus, while on the northern side is the Turkish-occupied Northern Cyprus.
In the middle? A 180km long UN-patrolled buffer zone that snakes its way from coast to coast.
Northern Cyprus isn't large, stretching 180km from east to west and 35km from north to south. To give you an idea of driving times, you're looking at:
Lefkoşa (Nicosia) to Kyrenia – 40 minutes
Lefkoşa to Famagusta – 1hr 10mins
Kyrenia to Famagusta – 1hr 30mins
There are 4 districts in Northern Cyprus that we recommend visiting…
Kyrenia (Girne) – From its cute-as-a-button harbour to the fabled stone towers of St Hilarion Castle, Kyrenia is a city steeped in both history and a strange mix of Cypriot and Turkish cultures.
There is plenty to see and do both in and around Kyrenia, and unlike Famagusta the accommodation options are plentiful. We recommend spending at least a few nights, or a week or two if you plan on making it your base of exploration for Northern Cyprus.
Famagusta (Gazimagusa) – We left Famagusta with mixed feelings. It's a super popular day-trip destination from the Republic of Cyprus due to its proximity to the border, and we can understand the attraction of its huge city walls, ancient streets and tumbled-down churches. But at the same time it felt like we were walking around a sterile and lifeless tomb. It's very photogenic, but you probably won't want to spend more than a day inside the city.
Karpaz Peninsula – Where you'll see more tractors than cars! Stretching its way towards Syria is the narrow Karpaz Peninsula, and for us this was the biggest surprise packet of Northern Cyprus. We were expecting a dry, sandy wilderness, but were instead seduced by green rolling hills and golden beaches – and the odd naughty donkey or three!
The peninsula is absolutely riddled with the remains of various civilisations from across the ages, some recent and some lost in the fog of time. We only spent a day on the peninsula but we wish we had put aside two or even three days.
Nicosia (Lefkoşa) – Ahhh Nicosia, our schizophrenic best friend… Known as Lefkoşa in the Turkish-occupied northern half, crossing the UN-patrolled Green Line from the south is like diving into a wormhole and emerging in a second-rate parallel dimension.
There are both Turkish and Venetian gems hidden in the muck, but you won't need much more than a day to ferret them out. And when you're done, either cross back to the southern side as fast as you can and relax amid the cosmopolitan vibes of the far more pleasant Nicosia, or drive on to the delightful Kyrenia.
---
Things to do in Kyrenia (Girne) district
There are soo many things to do in the Kyrenia district of Northern Cyprus. Here are some of our favourites!
Kyrenia Harbour
The jewel in Northern Cyprus' crown – Kyrenia Harbour could not be any more perfect.
Curling seductively around Kyrenia Castle, its old waterfront is lined with stately restaurants, cafes and bars. Colourful boats bob and sway in the calm waters, with the Kyrenian mountains and St Hilarion's stone parapets a fairy tale backdrop.
Nab yourself a table at one of the many balconies overlooking the harbour and soak up the sun with a cool drink and a plate of grilled octopus. And when you're finished, take a walk and explore the narrow cobblestone laneways of Kyrenia's ancient city centre.
Bellapais Abbey
Churches aren't really our 'thing' and it's rare that we will go out of our way to find one.
But when it comes to Bellapais Abbey, be prepared to be amazed!
What do you call a group of Augustinian friars – a skillet? 😀
Whatever it is, that's who built Bellapais Abbey – 'Abbey of the Beautiful Place' – back in the 13th century after war forced them from their home in Jerusalem.
It's such a shame that so much of the abbey's original glory has been damaged over time. But if you look closely you can still see fresco fragments adorning doorways, and of course the grand pillars, arches and stairways throughout.
Best of all though? Sitting in the courtyard with a Mediterranean salad and a glass of Turkish wine, looking across Kyrenia to the bright blue waters beyond.
Cost: 9 lira
Hours: June to September, 9am-7pm | September to May, 9am-5pm
Access: Just a 10-15 minute drive from central Kyrenia, in the foothills of the Kyrenia mountain range. It should cost around 5 lira to park in the car park right next door.
The Castles of Kyrenia
Can you believe that Northern Cyprus has four medieval castles for you to explore?!
Back in the first millennium AD there was conflict in the Middle East. Who would've thought?
The Byzantines had been in power for some time but were under threat from the many Arrrggghhh-abian pirates that roamed the Mediterranean!
To protect themselves, they built one castle on the waterfront and three along the razor-sharp ridge of the Kyrenia Mountains, with each offering not only protection but early warning of any approaching raiders. As you'll see, each is cleverly positioned so that they can see the next castle along the ridge, making for a very fast chain of smoke-signal communication. Cool, hey?
Each castle has its own story, and if there's one thing you must do in Northern Cyprus then it has to be a visit to at least one of these fascinating castles.
Kyrenia Castle
Nestled between the city and the sea, Kyrenia Castle is the most accessible of the four castles and makes for an excellent day-trip option from Nicosia when combined with a walk around the old town of Kyrenia and a visit to Bellapais Abbey.
Over the centuries it has been called home by the Greeks, Byzantines, Knights Templar, Lusignons and Ottomans – and with this mix of cultures come some really interesting things to see in this huge castle.
Deep in its bowels is the old church of St George, alongside an ancient Ottoman tomb and Latin temple. Of course, no castle is complete without a dungeon, and there are plenty you can explore at Kyrenia Castle.
The shipwreck display is interesting, although like us you may find some of the displays to be in poor condition. Regardless, to walk its massive ramparts for the views of Kyrenia harbour alone make Kyrenia Castle a 'must visit' destination in Northern Cyprus.
Cost: 12 lira
Hours: June to September, 9am-7pm | September to May, 9am-5pm
Access: Park your car at Ücretli Otopark, just a 5 minute walk from the harbour. Head downhill toward the great big castle – you can't miss it!
St Hilarion Castle
Driving from Nicosia to Kyrenia it is impossible to miss St Hilarion castle, sprouting from the cliffs and peaks of the mountain pass. English author, Rose Macauley, describes St Hilarion Castle as, "A picture-book castle for elf-kings" – and rightly so!
Legends tell us that St Hilarion was a hermit who, as most hermits seem to do, lived in a cave on the mountain top. For anyone who could put up with his unwashed body there were miracles to be had – and over time a monastery was founded on the same site.
Holding a position of such strategic importance it was inevitable that the monastery evolved into a fort, and then a full blown fairy castle under the eyes of the Lusignons in the 13th century. Some even say its soaring towers were inspiration for Walt Disney's 'Magic Kingdom'!
It's a large castle, with lower, middle and upper sections. Of course, you'll get the best views from the upper section where the royal chambers are located. A little bit of a climb is involved but if mobility is an issue for you there is still plenty to see in the lower and middle sections.
The cafe provides a spectacular panorama of Kyrenia and the coastline, and we recommend allowing at least a few hours to do St Hilarion Castle justice.
Cost: 9 lira
Hours: June to September, 9am-6pm | September to May, 9am-4:30pm (last entry is one hour before closing time)
Access: It's well sign posted. Take the main road between Kyrenia and Nicosia, and when you get to the saddle at the top of the mountain range turn right (if you're coming from Kyrenia) and follow the road up the hill. The carpark is only small, so in peak times be prepared to have to park on the shoulder down the hill, and to walk up to the ticket office.
Buffavento Castle
Our favourite of the four castles, at nearly 1,000m above sea level Buffavento is also the hardest to reach – but that means a lot less other tourists!
The trail from the car park is short but steep, taking around an hour to climb up to the ridgeline that gives the castle a perfect line of sight to both St Hilarion Castle to the west, and Kantara Castle to the east.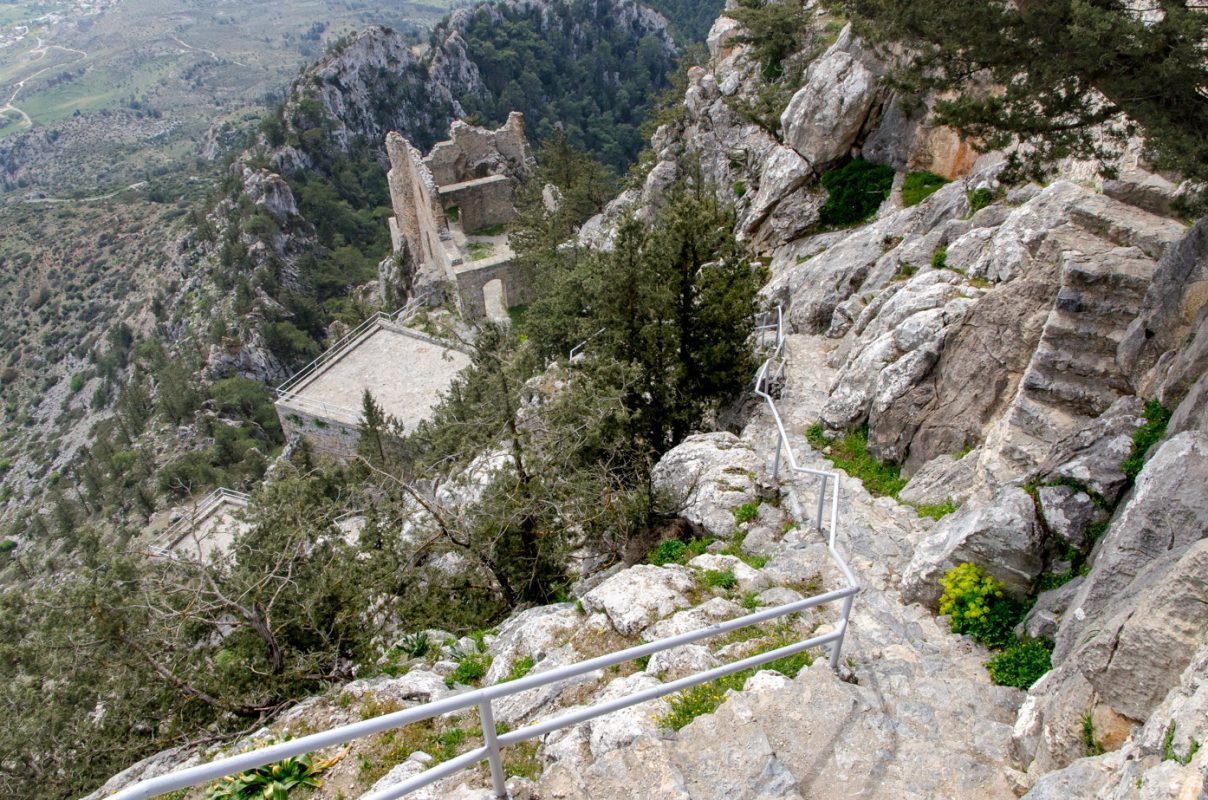 By the time you get to the top – huffing and puffing – you'll totally understand why its name translates to 'Defier of the Winds'!! Like a shag on a rock, this castle is exposed to the elements, and has crazy-steep drop-offs on either side. But of course, the views are jaw-dropping and well worth the effort.
Cost: Only a bucket load of sweat – it's totally free!!
Hours: Whenever you like.
Access: You'll find the carpark here. From there simply follow the path up the mountain.
Kantara Castle
If you're looking for the best view of the Karpaz Peninsula – the 'panhandle' of Cyprus – Kantara Castle is where you'll find it.
The early-warning beacon fire used to sit at the very top of this castle, and while much of the upper level is in ruins the remaining walls and arched windows give you a perspective on what it was like for the soldiers on duty.
To the east the mountain range drops away in a series of sawtooth escarpments, with golden beaches lining both sides of the peninsula all the way to Cape Apostolos Andreas. On a good day you can even see Turkey!
Access to this castle is super-easy. It's a slightly longer drive from both Kyrenia and Nicosia, but unlike St Hilarion and Buffavento castles there's no need for strenuous climbing.
Cost: 7 lira
Hours: November to March, 8am-3:30pm | April to October, 8am to 5pm (to be sure, aim to be there after 9am, as the opening times seem to vary)
Access: A 1.5hr drive from Kyrenia. The last section is particularly beautiful as it rises up to the top of the mountains and then winds its way up to the castle.
Lapta Coastal Walkway
Now, here's something you won't find in many guide-books or blogs.
We spent a week living in Alsancak on the outskirts of Girne and every evening we found ourselves strolling along the Lapta Coastal Walkway under the setting sun.
The 4km coastline has a rugged beauty, and the wide, flat walkway that links the dozens of tiny bays and cliffs makes for a fantastic couple of hours.
Keen for a drink or a bite to eat? Ziggy's Coastal Cafe at the western end of the walkway is the place to be. There are plenty of chairs available on the clifftop where you can enjoy a coffee and relax, listening to the Mediterranean surge and swell on the rocks below.
Cost: Free!
Hours: Any time of the day, but sunrise and sunset are gorgeous.
Access: It isn't signposted very well, but if you take the main road (Fevzi Cakmak) out of Kyrenia for around 12km you'll pass the Silver Rock Hotel. Take any road to your right and you'll find yourself at the waterfront here where the pathway is clear to see.
St Fanourios Cliff Church (and secret shrine!)
The church of St Fanourios 'the revealer' is one of the few Orthodox churches still in use in Northern Cyprus and is named after a Roman soldier who left the service for his faith.
Its a beautiful place of worship that gives you a feel for what Northern Cyprus must have looked like in many other locations across the island before so many churches were torn down. Unfortunately it was closed the day we visited, but apparently this isn't normally the case.
If that wasn't enough, in the cliffs below the church is a tiny cave chapel. Icons hang from the walls and perch on rocky shelves, and it's a rare day that there isn't a candle burning or a fresh fanouropita cake has been offered to the saint in thanks for 'revealing' a lost object or some other happy event.
Cost: Free!
Hours: Any time
Access: You'll find St Fanourios church here. It isn't accessible by car, so you'll need to park near the football stadium and then walk in.
Lambousa Roman Fish Ponds and Tombs
When you haven't got a freezer, how do you keep your fish fresh?
The Romans decided they'd build these fish ponds by the water's edge, where a series of clever channels carved into the rock kept the tanks full during the day. Every day they would transfer their fresh fish into the tanks, where they would stay until needed for either the market or the dinner table.
It was a thriving town back in the 12th century, but all that is left of Lambousa now are these ponds and a field full of tombs next door.
Cost: Free!
Hours: Any time
Access: Getting there isn't difficult, but first of all you'll need to know exactly where it is, and then you'll need to take a walk across an empty field (don't worry, there are no houses and no one will mind). You'll find Lambousa Fish Ponds here.
The Flag on the Mountain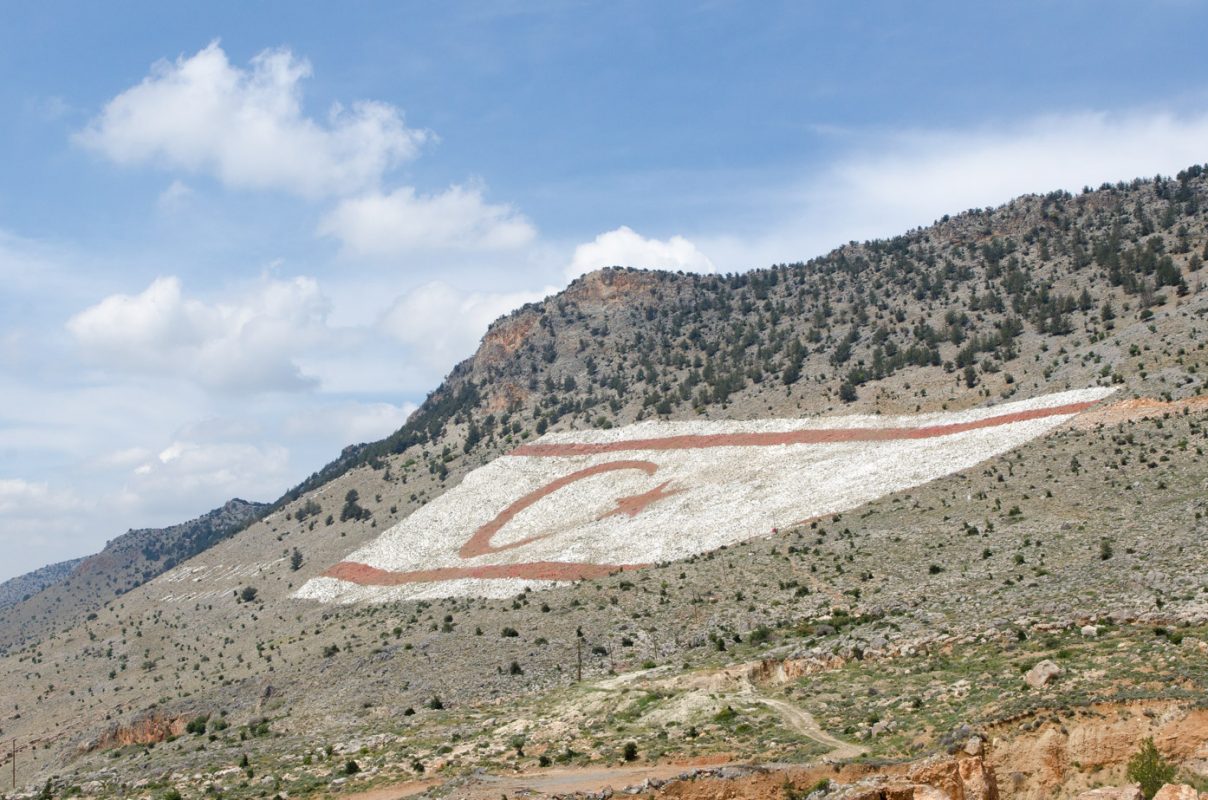 If you ever visit Nicosia we can guarantee you'll do a double-take when you see the mountains in the distance.
After the invasion by Turkey in the 70s, Cyprus was split in two. And 10 years later a group of loyalists decided it was high time they manifested this pride in the form of a massive freaking flag, made of painted rocks and covering more than 50 acres across its slopes. Some say you can even see it from space!
It's a huge poke in the eye for the millions of Greek Cypriots living in Nicosia, but what can they do but grit their teeth and bear it while the politicians talk?
We hadn't planned on getting up close and personal with the flag, but while driving from Kyrenia to the Buffavento Castle car park we found ourselves right alongside. The views of the flag are better from Shacolas Tower in Nicosia, but if you're in the area it's worth a detour.
Cost: Free!
Hours: Any time
Access: We took this photo here.
Sourp Magar – Deserted Armenian Monastery
Have you ever wanted to explore a deserted monastery that is more than 1,000 years old?
Sourp Magar is a sprawling complex, built and rebuilt over the centuries. As you follow the winding road down into the ravine it's the sounds of nature that quickly replace those of the cars and trucks above. It's easy to see why this was such a popular place of spiritual rejuvenation all those years ago.
Some parts are dangerous and best avoided – hanging beams and crumbling floors threatening to collapse at any moment – but when you step inside the old chapel it's hard not to stop and stare.
Arched roof overhead. Vibrant tiles underfoot. An eggshell basin elegantly recessed into the old cracked walls, and light streaming down from a single circular window. What a sight it must have been!
This is a very left-field option, but you're virtually guaranteed to have the place to yourself. These places are so rare nowadays, so make the most of it while you can.
Cost: Free!
Hours: Any time, but for safety reasons we highly recommend avoiding dawn and dusk.
Access: Leave your car at the picnic ground here, and then under the watchful gaze of a dozen wild cats follow the sealed road on foot past the boom gate and down the hill. The walk is an easy 20-30 mins to get down, but a little longer on the return as it's up hill.
Day Trip from Kyrenia – Pighades | Toumba tou Skourou | Soli | Vouni Palace
If you've got a car and a spare day in your itinerary, take a road trip to the ancient palace of Vouni Sarayi, while visiting Pighades (no, it's not purgatory for naughty swine!), Toumba tou Skourou and Soli on the way.
Pighades – You think the ruins around Kyrenia are old? These ancient ruins at Pighades were built by the biblical Philistines more than 1,500 years before Christ! At the centre of the complex is an altar to the 'Horned God' (a reproduction), and if you visit in spring you'll find yourself surrounded by a carpet of blood red poppies and lush fields of wheat.
You'll find it here, down a gravel road lined with pine trees, about 100m off the main road.
Toumba tou Skourou – In the middle of a flourishing orchard are the remains of a Bronze Age potter's town. There isn't a lot left of the town, but as is often the case its tombs are in good condition. You can't miss them, with their gaping black entrances gouged out of the dry soil and lizards skittering between the rocks. It's not as visually impressive as other places in Northern Cyprus, but it has a rich history worth exploring.
You'll find it here. Park your car on the side of the road here and follow the signs around the large gate and through the orange orchard.
Soli – We ran out of time to visit this site, but we've heard it's an excellent example of Roman architecture from the 6th century BC. There's a large amphiteatre carved into the side of the hill, and under cover are a number of excellent mosaics.
You'll find it here. Opening hours are 9am-7pm in summer, and 9am-4:45pm in winter (with a lunch break between 1-2pm). It isn't easy to spot from the road, but it's on your left hand side as you drive into Gemikonağı from Kyrenia. Look for the big white tent.
Vouni Sarayi (Vouni Palace) – Persian? Greek? Both? Only a few kilometres from the UN-patrolled Green Line, this palace has been occupied by all sorts over the years. At its peak is a temple dedicated to Athena, Goddess of Wisdom. On the other side of the ruins? A fine example of the world's earliest stone toilet 😀 It doesn't take too long to explore, but you'll definitely want to linger by the cliff edge and take in the sweeping views up and down the Cyprus coastline.
You'll find it here, a 1.5hr drive from both Kyrenia and Nicosia. Opening hours are 10am-5pm in summer, and 9am-4:45pm in winter (with a lunch break between 1-2pm). If you'd like a meal by the waterfront, stop at either Aspava Beach Restaurant or the Soli Swan in Gemikonagi.
---
Things to do in Famagusta district
It is a little bit more laid back than Kyrenia, but there are still plenty of things to do in Famagusta and the surrounding area.
Famagusta (Gazimağusa)
At the heart of the Famagusta district is Famagusta itself. It is very close to one of the border road crossings into the Republic of Cyprus, making it an extremely popular day trip option for anyone staying in Larnaca, Ayia Napa or Protaras.
If it was the only 'old city' that you saw in Cyprus (north or south) then you might walk away very happy. There's the old Cathedral of St Nicholas – now converted to the Lala Mustafa Pasha Mosque – Othello Castle, St Barnabas Monastery, and the huge walls and bastions that still surround this ancient city (climb on top for some awesome views!).
And yet, Famagusta felt to us like it had been both sterilised and lobotomised. It is a highly manicured city, existing purely for tourism and lacking the soul we enjoyed so much in Nicosia and Kyrenia.
It's very pretty though. The streets are clean, the ruins picturesque, and its tree-lined plazas photogenic.
The real question is, can you can escape the clutches of the dozens of touts spruiking for your lunchtime lira?
Cost: Free!
Hours: Summer – 10am-5pm | Winter – 9am-1pm and 2pm-4:45pm
Access: Day tours are very popular. If you have your own car you can drive in via Erdoğan Acar Cd on the northern side of the old city. If you're on foot we recommend walking in through the 'Land' (Ravelin) Gate in the southwestern corner of the old city.
Varosha – the Famagusta Ghost Town
It would be easy to spend a day walking the Green Line in Nicosia and think that you've seen enough about the conflict between Cyprus and Turkey.
It's a moving experience, but to truly appreciate the scale and brutality of the conflict and its lasting influence on modern Cyprus, you need to visit Varosha, the Famagusta ghost town.
Varosha is an urban graveyard of division, contrast, and strangely…hope.
Its golden sands stretch for miles – a border of its own in some ways. Warm turquoise waters on one side…bullet-riddled devastation and concrete skeletons on the other.
Not even 50 years ago this was the jewel in Cyprus' crown. A luxurious playground for the rich and famous.
But then came war.
Varosha's evacuated streets, beaches and soaring condos became a 'No Mans Land' and bargaining chip in the ongoing conflict between north and south. Still in stasis, this wasteland is both a stark reminder of the consequences of war, and a sputtering beacon of hope.
The UN proclaimed that Varosha could only ever be resettled by the Cypriots who were forced from their homes, and while that decision fades into the annals of history still the city stands silent, waiting with hope for that day to arrive.
Cost: Free!
Hours: Any time
Access: Due to the ongoing conflict it isn't possible to enter the heart of Varosha – you'll be shot if you try. But what you can do is drive 5 mins south of the old city of Famagusta to Palm Beach and then walk down the beach to the barbed wire fence here. Photos are prohibited at this location (the armed soldiers keep a very close eye on tourists), so we took ours from further up the beach here where there were no such restrictions.
Ancient Salamis
Those with Christian heritage will recognise the names Paul and Barnabas. After their inordinations as apostles they embarked on a missionary journey around the Mediterranean, with Salamis being their first destination (and Barnabas' last…he was stoned to death there in 61AD!).
At that time the city of Salamis was a Roman city at the peak of its prosperity. But look back through the centuries and you'll find that it was ruled by the Persians, Greeks and Assyrians – with each leaving its own mark on the architecture of this sprawling ruined city.
We recommend allowing at least half a day to explore Salamis. There are paths criss-crossing the site, and to see all its highlights will take some time. Close to the carpark we recommend visiting the old Roman gymnasium, public baths and semi-circular theatre. Further afield are the remains of the Kampanopetra Basilica and its beautiful mosaic, peeking through the coastal scrub.
Keep in mind that there isn't a lot of shade at Salamis, so take your hat, sunscreen and plenty of water.
Cost: Free!!
Hours: Summer – 9am-7pm | Winter – 9am-1pm and 2pm-4:45pm
Access: Take the main road north from Famagusta along the coast, and after the road splits into a dual-carriageway turn right at the fourth roundabout – it is well sign-posted so don't worry 🙂 At the end of the access road here you'll find a car park (and restaurant) by the sea side.
Incirli Cave
Incirli Cave is one Northern Cyprus attraction that flies waaaay under the radar but is a lot of fun!
It's the largest cave in Cyprus and legend tells us that goat thieves used to stash their bleating booty in its dark depths 😀
In more recent years some say that the EOKA resistance fighters also based themselves in the cave.
Stalagmites and stalactites are everywhere, and while it isn't huge, at more than 100m length you'll have a lot of fun exploring its nooks and crannies.
Cost: 5 lira
Hours: Mon, Tue, Thu, Fri – 8am to 3pm | Sun – 9am to 5pm (closed Wednesday and Saturday)
Access: You'll find Incirli Cave here. It's around a 1 hour drive from either Kyrenia, Famagusta, or Lefkosa (Nicosia). Get yourself to the village of Cinarli first, then take the eastern road out the other side before turning right here on this unsealed road that will take you to the ticket office.
East Coast Beaches
Are you a beach bum?
Among all the ancient ruins across the island, what many don't realise is how freaking amazing the beaches of Northern Cyprus are!
From Famagusta in the south to the tip of the Karpaz Peninsula, there are dozens of them, and if you're visiting outside the high season there's a good chance you'll have them to yourself.
Facilities are very limited, so unless you're near Bogaz or one of the resorts dotted along the coastline we recommend packing your own lunch and a few beverages.
Bogaz has some great beaches and plenty of restaurants. They also have an amazing playground that the kids will love – so this could be a great place to start your beachside adventures.
Alternatively, Silver, Golden Bay, and Glapsides beaches near Famagusta are other good options, with more privacy than Bogaz.
Other Famagusta Attractions
Hopefully this has given you some good ideas for your Northern Cyprus holiday itinerary. But if you're looking for even more things to do in Famagusta, there's also the Royal Tombs, St Barnabas Monastery (where old mate was buried), and the ancient Enkomi city ruins.
---
Things to do on the Karpaz Peninsula
Ayios Philon (Oasis Monastery)
In the middle of nowhere, on a rocky promontory overlooking the Mediterranean sit the ruins of Ayios Philon. It's a beautiful place to visit at sunset – keep an eye out for the shrine inside the ruined church – and apparently the old Roman harbour is a lot of fun to explore with a snorkel and flippers!
Cost: Free!
Hours: Any time
Access: From Dipkarpaz – the largest town on the peninsula – take the road to the north and you'll find Ayios Philon at the end of the road here.
Golden Beach
We had heard and read many stories of Golden Beach, and how its pristine beauty would take our breath away.
As you can see from what greeted us…yeah…not so much 😀
But look beyond the buried banana lounges and you'll see what makes this beach so iconic. We recommend walking to the headland at the bottom end of the beach where you'll find a second beach waiting for you to plonk yourself down in the soft sand, or to go for a dip in the bracing waters.
If you don't have time to enjoy the beach, it's well worth continuing along the main road and stopping on the cliff top to take a photo of the beach below.
Cost: Free!
Hours: Any time
Access: After you turn off the main road here there are plenty of ways to get to the beach. Just follow the road to one of the accommodation providers or restaurants/cafes and walk through to the beach.
Apostolos Andreas Monastery
Unlike Ayios Philon, the Cypriot-Orthodox Apostolos Andreas Monastery is still in use today and is an excellent pitstop on your way to the tip of the Karpaz Peninsula.
Cyprus is full of fascinating legends, and in this case they tell of St Andrew the Apostle (namesake of the monastery) being shipwrecked on the rugged coast and striking his staff on the rocks causing a spring to burst forth.
But not just any old spring. They say the water cured the ship's captain of blindness! Ever since it has been held as a place of power, and many make the pilgrimage to the monastery every year to visit this very same spring.
Unfortunately it is undergoing renovations at the moment (2018) meaning some sections are under wraps or obscured, but don't let that stop you, as there is still plenty to see.
Cape Apostolos Andreas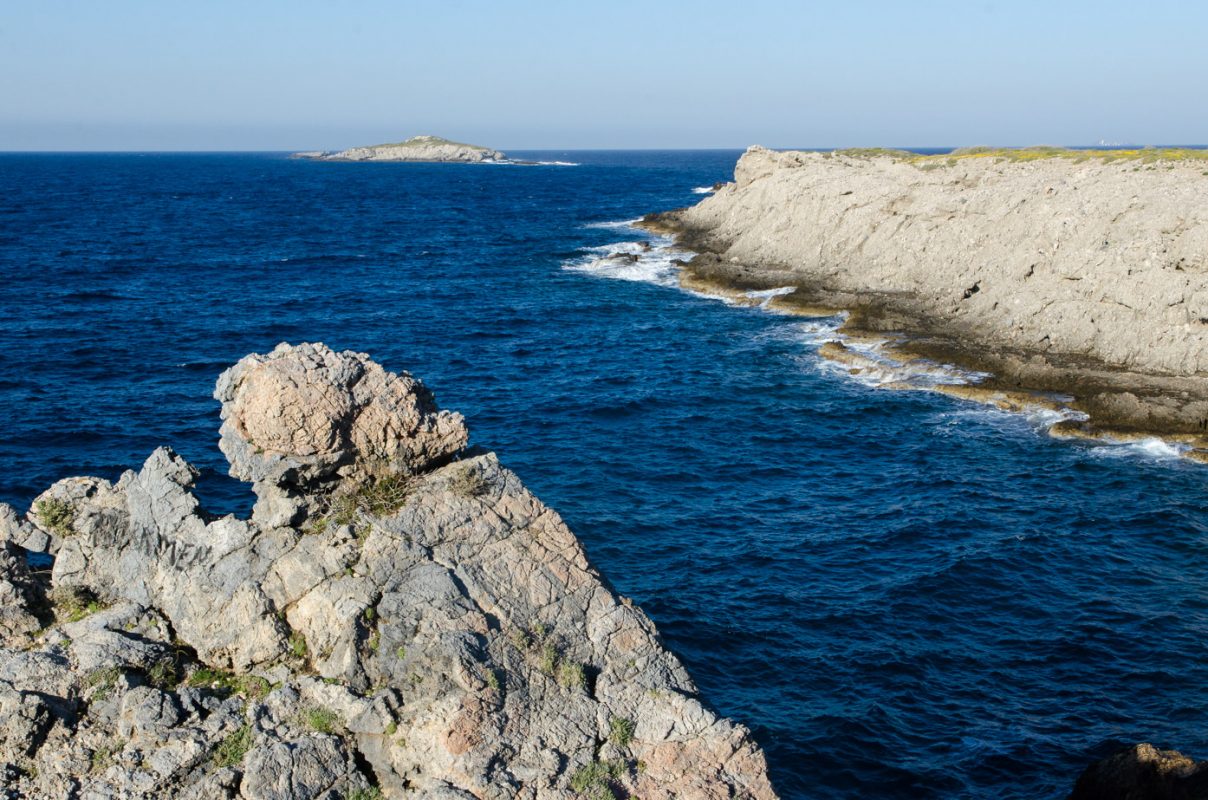 Like a finger pointed in accusation, Cape Apostolos Andreas is the 'pan handle' of Cyprus and a great destination for anyone exploring the peninsula.
It was so surreal for us to be clambering over its jumbled boulders, surging waves dashing themselves against the huge rocks, knowing that only 100km to the east were the US warships that had fired tomahawk missiles at Syria only days earlier!
Cost: Free!
Hours: Any time
Access: Just follow the main road up the peninsula until you can't drive any further. The road from Apostolos Andreas Monastery to the Cape isn't in good condition, but despite its bumps and craters it is still passable by a 2WD vehicle.
Other Karpaz Peninsula Attractions
The Karpaz Peninsula is riddled with the remains of old cities, tombs and churches. The only difficulty is getting good directions to some of the more remote sites.
The beautiful mosaics and basilica of Ayias Trias, the haunting desolation of the Aphendrika ruins, the castle of Nitovikla, and the fallen statues of Ayia Marina – they are all worthy of a visit if you've got the time.
---
Things to do in Lefkoşa (Nicosia)
In our huge article of Things to Do in Cyprus, we recommend that visitors spend more than just a day exploring Cyprus' capital city Nicosia/Lefkoşa.
Let's be clear. This advice applies to the Greek-Cypriot side of the city only!
After the war Nicosia was split down the middle and UN troops now patrol the 'Green Line' that extends across the city like a desolate scar between Turkish-occupied Northern Cyprus and the Republic of Cyprus.
On the southern side, development in Nicosia has continued unabated, with modernity mixing seamlessly with the ancient heritage of this city.
On the Turkish side, Lefkoşa is a very different city, with a very different vibe. Crumbling buildings, unkempt parks, and a seeping miasma of neglect infusing every street.
At the most you might want to spend a night in Lefkoşa, but we recommend staying in Nicosia instead (ie. the southern side of the city) and putting a day aside to walk across the Green Line to explore Lefkoşa.
We aren't doing a great job of selling Lefkoşa here! But that isn't to say that there aren't some great things to do in this strange city, and these are some of the best…
Ledra Street Shopping
Until conflict broke out in the 1950s and 60s Ledra Street was the boutique heart of Nicosia. For the next half a century this iconic thoroughfare was completely shut down and barricaded, the only pedestrians being armed UN patrols.
Thankfully, in 2008 both sides agreed that it was in their mutual interest to reopen Ledra Street, and ever since it has blossomed into a vibrant, bustling hub of tourism.
The section of Ledra Street on the northern side of the Green Line is only short, but you'll still go close to drowning in the sea of souvenirs, Turkish delight and kebabs.
Cost: As much or as little as your wallet can afford 😀
Hours: Any time (the border is open 24hrs), however the shops are closed by around 6pm. Restaurants, cafes and bars may stay open later.
Büyük Han
Images of Lawrence of Arabia and desert sands first come to mind when you see the sprawling plaza and arched colonnades of Büyük Han .
This two-story architectural wonder is what is known by the Turkish as a caravanserai, or in modern day terms…a Holiday Inn for weary travellers. It was built in the mid-1500s by the Ottomans after they had seized the city from the Venetians, but more recently it's been restored and converted into a fantastic centre for the arts. Give yourself an hour or so to explore Büyük Han .
Cost: Free!
Hours: Any time, although the shops are generally closed by 6pm. Restaurants, cafes and bars may stay open later.
Selimiye Mosque
If Ledra Street is the commercial centre of Nicosia, then Selimiye Mosque is its religious heart…but not in its current incarnation.
Until 1570 the mosque didn't exist. Instead, in its place for more than 300 years had been a huge Gothic cathedral – the largest and most important on the island of Cyprus!
But with the Ottoman conquest of Cyprus came great change to the cathedral of St Sophia. The beautiful stained glass windows, the statues of the saints, anything depicting Christianity were torn down and removed. 6 days later, after a thorough wash-down of the interior, the cathedral had become a mosque.
This Frankenstein-like mosque is still used to this day as a place of Muslim worship, but visitors are welcome anytime outside of the hours of prayer which occur 5 times per day at dawn, midday, afternoon, sunset and evening.
Remember to dress modestly. For men that means long pants and no singlet tops. Women should wear either slacks or a dress that falls below the knees, a blouse or shirt covering your shoulders and upper arms, and a headscarf.
Cost: Free!
Hours: Dawn til dusk, outside prayer times.
Yiğitler Burcu Park
We discovered this fantastic little park completely by chance.
Our lunch at Home for Cooperation was delicious, and as we were only metres from the Ledra Palace checkpoint it made sense for us to enter into Northern Cyprus that way, rather than walk all the way back into central Nicosia to the Ledra Street pedestrian crossing.
From the checkpoint, turn right onto Sarayönü Sk, and then right again onto Tanzimat Sk. You'll find yourself strolling the old city wall, looking down onto the UN-patrolled zone – a very unique perspective on Nicosia!
Keep walking and eventually the streets will give way to Yiğitler Burcu Park, or as it was known back in the days of the Venetians, the Roccas Bastion.
There is plenty of grass, play equipment for the kids, and even a cafe on the edge of the wall where you can watch the people of Nicosia go about their daily business in the street below, or the Turkish Cypriots taking selfies in front of the UN guard tower 😀
Cost: Free!
Hours: Any time
Access: You'll find it here
---
Where to eat in Northern Cyprus?
Wherever we travel, we are always on the lookout for delicious food, putting the 'Fork' into Fork and Foot 😀 So, where to eat in Northern Cyprus?
Strangely, Northern Cyprus is one of the very few places we've visited in the world where we found ourselves really disappointed.
In hindsight, there are a couple of reasons why we think this is the case.
Firstly, before visiting Northern Cyprus we had already spent 2 months traveling through the Republic of Cyprus tasting so many traditional Cypriot dishes that made our taste buds sing. If we had started in Northern Cyprus then there's every chance we would have raved about all the Cypriot dishes on offer, but in our experience they simply couldn't compare to what the Greek-Cypriots were creating on the other side of the Green Line (and our palates were probably a little jaded as well after 2 months in the Republic of Cyprus).
And secondly, we feel that the mix of Greek Cypriot and Turkish Cypriot cultures has diluted both cuisines, rendering neither as particularly memorable. Throw in a large British/Russian expat community and you get a lot of restaurants catering to their tastes while throwing in the occasional 'Best of' Cypriot menu.
This isn't to say that you won't find some great restaurants or cafes, because you will – and these are some of the best!
Kyrenia Restaurants
Bellapais Gardens Restaurant – This is one of Northern Cyprus' high end options, and it's worth every lira. The view alone is worth making a booking – and due to popularity you really should – but it's the food that everyone really loves. A member of the Slow Food Association, head chef Selim Abit creates international dishes that you'll remember for a long time. They've also got an extensive wine collection – a rarity in Northern Cyprus. Definitely one of the best Kyrenia restaurants!
Ikimiz – Ikimiz is a tiny, family-run restaurant set back a few streets from Kyrenia Harbour. The cottage and courtyard are a great place to escape the hustle and bustle, and whether it's lunch or dinner you'll love the ever-changing menu of Turkish-Cypriot dishes.
Kibris Evi – Perched up above Kyrenia Harbour, Kibris Evi is the place to go at sunset for a drink and to soak up the amazing view across the harbour. The food is average, but have enough to drink and you'll probably decide to stay anyway 😀
The Soulist Coffee and Music House – We only discovered this little gem because our AirBnB in Alsancak was 5 minutes away. We went there for a proper espresso coffee (our first in weeks!) and they didn't disappoint. But what we also discovered was a vibrant home for anyone that loves their music. Trumpets and other paraphernalia literally hang from the rafters, and local bands are always playing to packed crowds deep into the early hours of the morning. It's a 15 minute drive from central Kyrenia, but definitely worth checking out!
Manti Sofrasi – Traditional dishes from the Anatolian region of Turkey. It's not fancy, but it's guaranteed to satisfy.
Sweety – Got a sweet tooth? Sweety is where you need to be! It's the perfect place to pick up a souvenir of your time on Northern Cyprus, offering Turkish sweets, spices, tea and all sorts of other Turkish products.
Famagusta Restaurants
Petek Pastanesi – No visit to Northern Cyprus is complete without spending a couple of hours in Petek Pastanesi! The Petek story began way back in 1916 when Turkish father and son, Hasan and Tevfik Usta established their first bakery in Tehran. Since then, Petek has grown throughout Turkey and into Northern Cyprus, with the fourth generation of the family now overseeing their two cafes – their flagship cafe in Famagusta and a smaller (and quieter!) cafe a half hour up the road near Bogaz.
Cakes, pastries, and Turkish delight by the bucketful…Petek Pastanesi is a den of saccharine iniquity, and it would be easy to lose yourself for hours drooling over the huge range of sweet treats.
Rouge 21 – One of the few quality restaurants in Famagusta, Rouge 21 is gorgeously decorated and backs this up with a wide-ranging menu of delicious food. Whether its traditional or modern, there's something for everyone at Rouge 21.
Sweet Mama – Homemade lemonade on a scorching hot summer's day? Yes, please! This mother/daughter team are geniuses in the kitchen, producing delightful little cakes and Turkish coffees every single day. Don't leave it too late though, or they might have sold out 🙂
Ravelin Cafe – A great little all-rounder near Famagusta's 'Land Gate', with all dishes made completely from scratch. They even offer wine matchings for their many dishes – a nice touch that we didn't encounter anywhere else in Northern Cyprus.
Where to eat in Bogaz and the Karpaz Peninsula
Iskele Balik Evi (Iskele Fish House) – Only 30 minutes north of Famagusta, Iskele Balik Evi is by far the best restaurant we tried in Northern Cyprus. With the sparkling waters of the Mediterranean only metres from their large deck, this is the perfect place to chat with the locals (if you can find someone that speaks English!), and relax with a cold beer and a plate of perfectly cooked seafood. The service is excellent and prices extremely reasonable.
Komi Kebir (Büyükkonuk) Slow Food Market – Now this is something that caught us completely by surprise. We were driving through Komi Kebir on our way up the Karpaz Peninsula when we saw this shed by the side of the main road with 'Komi Kebir Slow Food' emblazoned across the front.
Huh? 'Slow Food' in Northern Cyprus…?
We approached tentatively to see what it was all about and soon found ourselves tasting all sorts of delicious homemade biscuits, sweets, pastries, freshly squeezed pomegranate juice, and even liquor! From what we could gather it's open every day from 2-5pm and is a popular stop for the many tourist buses that ply their way up and down the Karpaz.
Unexpected, but a fantastic experience for any foodie!
---
Supermarkets in Northern Cyprus
Are you thinking of self-catering your way through Northern Cyprus?
The Lemar supermarket chain is your best option for all your weekly shopping needs, so long as you don't need pork 😀 They've got everything else you can possibly need – even jars of bee pollen!
We found their quality to be very reasonable and the prices aren't too bad at all, so long as you're happy to forego some of your luxuries from home, otherwise it's going to cost you a small fortune.
If you're the ambitious type and you don't mind getting out of your comfort zone, consider doing your fruit, veg, dairy and legume shopping at the local markets in either Kyrenia (here) or Famagusta (here). The food is super fresh and ridiculously cheap. The vendors all seemed really friendly as well, making communication that little bit easier when most don't speak English.
---
How to get to Northern Cyprus?
As you've probably gathered, getting to Northern Cyprus isn't as straightforward as most other places. The only country in the world that officially recognises Turkey's occupation of Northern Cyprus is…you guessed it, Turkey!
So what does this mean?
Firstly, it means that getting to Northern Cyprus needs some extra planning.
Second, once you're there, if you're planning on crossing the Green Line then there are somethings you really need to know, or you could find yourself in all sorts of trouble.
Third, renting a car isn't as simple as you might think.
We don't want to frighten you – we managed to spend two weeks in Northern Cyprus with a rental car without any problems at all – but it pays to be careful and we want to help you to make the best decision on how to get to Northern Cyprus, and how to get around once you're there.
Flights to Ercan Airport in Northern Cyprus
Ercan Airport in Northern Cyprus is a 30 minute drive from central Lefkoşa, 50 minutes from Kyrenia, or 1 hour from Famagusta.
But, just because they have an international airport doesn't mean you can book any old flight to Northern Cyprus.
The illegal occupation means that any flights to Northern Cyprus must pass through Turkey first. This means using Turkish Airlines, Pegasus Airlines, or Atlas Global.
Airports in the UK that are serviced by these airlines include Birmingham, Edinburgh, Gatwick, Heathrow, Manchester, and Stansted.
The Pros 🙂
You're there! There's no need to worry about the logistics of getting a flight to the Republic of Cyprus and then organising transport across the Green Line.
The Cons 🙁
The government of the Republic of Cyprus deems that anyone who has flown directly to Northern Cyprus via Ercan Airport to have entered Cyprus via an illegal port of entry.
This means that on crossing the Green Line from north to south they may not permit your entry, or worse still they may let you in but on trying to leave the Republic of Cyprus you may be fined and/or prevented from leaving the country.
We've heard some say that this may not occur if you are an EU citizen (as the EU treats the entire country as being under its jurisdiction) or from a country with a 'visa free' agreement with Cyprus, but we wouldn't take the risk of flying to Ercan Airport if you also plan on crossing the Green Line.
If you don't plan on crossing the border – ie. spending your whole time in Northern Cyprus – then flying into Ercan airport shouldn't be a problem.
Ferry to Northern Cyprus
Ferries ply the waters between Turkey and Kyrenia in Northern Cyprus. Have a look at Akgünler Denizcilik for more information.
Keep in mind that the same warnings apply as for airlines if you're thinking of crossing the Green Line into the Republic of Cyprus. ie. it's very risky.
Walking into Northern Cyprus across the Green Line
If you're in Nicosia (the south side of the city) and thinking of spending a day in Lefkoşa (the Turkish-occupied northern side of the city) then the best way to get there is by foot.
There are three border crossing options in Nicosia. The pedestrian-only Ledra Street crossing is the easiest and most convenient, but the Ledra Palace crossing isn't much further away and is also a good option, especially if you're keen to eat at Home for Cooperation in the middle of the UN buffer zone.
The Ayios Dhometios/Metehan crossing is the third option, but it is quite a distance from the city centre and there's little need to cross there by foot.
When making the crossing don't forget to bring your passport or EU ID card with you.
Because the Cyprus government treats the entire island as being under its jurisdiction, it allows anyone who crosses from south to north to return without challenge (ie. as if the border doesn't exist) so long as you also have a valid entry stamp in your passport for the Republic of Cyprus.
Driving into Northern Cyprus across the Green Line
Everything we've written about accessing Northern Cyprus by foot applies equally if you're entering by vehicle.
By car you can cross the Green Line at five locations; Astromerits/Zodhia, Agios Dometios/Metehan, Pergamos/Beyarmudu, and Strovilia.
BUT!!!! Many rental companies based in the south will not allow you to take a car across the border because their vehicles are not insured on the other side. Your insurance documents will be checked for validity at the border, so remember to ask when booking otherwise you risk being refused entry.
We've heard that you can purchase insurance at some checkpoints, but we would only treat this as a last resort.
Honestly, when we found all this out we decided it would be so much easier to simply book a car through an agency based in the north, and pick it up in Lefkoşa. This worked perfectly for us, and we've written about it more in the next section.
---
Northern Cyprus car hire
If you're like us then you'll be wanting to not only explore Kyrenia and Famagusta, but to also roam across the island. The best way of doing this is by organising a Northern Cyprus car hire. A Google search will throw up plenty of options, but if you'd like to use the same Northern Cyprus car hire company that we did then get in touch with Sun Renta A Car.
We had some initial troubles creating an online account, but after emailing them directly (as we had heard extremely good reports of their service) it was all arranged very quickly and easily.
What we booked: A Hyundai i10 with manual transmission and a full tank of petrol. Including insurance this cost us £308 for 18 days ie. £17/day. Not bad at all!
After booking online and agreeing on where/when to meet in Lefkoşa, this was the process we followed on our first day of the rental:
We walked across the Green Line in Nicosia with all our luggage, using the Ledra Palace crossing.
After registering at the Turkish checkpoint we waited around 20 minutes for our agent to meet with us.
He then drove us and our bags a few blocks to the Sun office.
We gave the car a thorough check, making sure we took photos of everything, inside and out, to prevent any arguments later on.
We paid the agreed amount (they offer the option of either cash or card).
Off we went!
The car was in reasonable condition and didn't give us any trouble. The brakes were a little on the soft side, and it didn't like hard acceleration, but it did the job and we never felt unsafe.
Other companies you might want to consider are Pacific Car Hire, Kyrenia Castle Rent a Car, or British Rent a Car. Make sure you confirm your pickup location, as some companies only service Kyrenia.
The roads across Northern Cyprus are generally good. Some highway sections are excellent, but you'll also find some of the smaller back roads to be in poor condition or unsealed. Don't worry about running out of petrol on the main highways, as you'll find petrol stations scattered everywhere.
One thing to be wary of is speeding. Speed cameras are everywhere in Northern Cyprus on the highways and at major intersections. From the numerous reports we've read online they aren't there for show either, with fines more than €50 depending on your speed.
---
---
Looking for more help with your travel planning?
So there you have it, your guide to Northern Cyprus in all its weird and wonderful glory!
Most travelers that visit Northern Cyprus also spend some time in the Republic of Cyprus (in the south).
We stayed in Cyprus for nearly 3 months and if you like this guide to Northern Cyprus then you are going to love our 'Ultimate Guide of Things to Do in Cyprus'.
Whether it's ancient ruins, food, hiking or relaxing across the entire island, we've got you covered!
---
---
Other articles on Cyprus that will help with your planning include:
If you've got any feedback or questions, feel free to leave us a comment below – we'd love to help 🙂
Happy travels!
Andrew and Karen.
---
~ LIKE IT? PIN IT! ~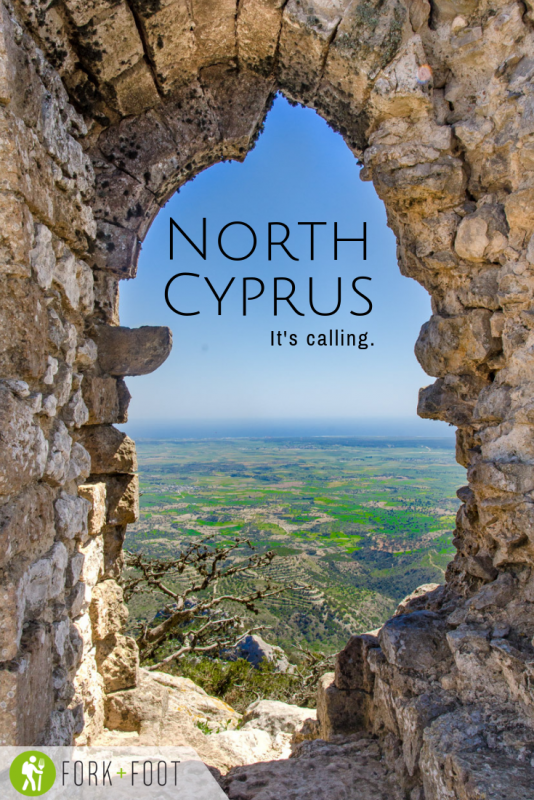 ---
Oh, you're still here?
Wondering about donkeys and unicorns?
The answer is always yes.