Are you planning your perfect Cyprus holiday and looking for things to do in Larnaca? Or is Larnaca just one of the many places to visit in Cyprus that are on your bucket list?
Larnaca | Larnaka | Λάρνακα  – however you spell it, it's one of Cyprus' best cities and this guide is the perfect place to start!
---
Paris, London, Berlin, Madrid…Larnaca?
Let's face it, Cyprus isn't at the top of most people's ultimate holiday destinations. And that's one of the many reasons why we loved it so much!
Larnaca isn't the capital. It isn't even the largest city in Cyprus. But it IS the city in which you're most likely to arrive in this fascinating country.
We spent a little over a week in Larnaca (often spelt Larnaka) as part of our 3 month Cyprus odyssey. It was winter, and yet the Larnaca weather was simply superb – much like the rest of Cyprus as we were to find out!
One of our lasting memories of this endearingly schizophrenic city were the rows of brightly coloured orange trees lining its streets. The other? Its hordes of cats.
Many treat Larnaca simply as a port of entry to Cyprus – a fleeting pit-stop before moving on to the bright lights of Ayia Napa and Protaras, the antiquities of Paphos, or the secluded heights of the Troodos Mountains. Don't do it! We recommend spending at least a day, or even a weekend in Larnaca if possible.
There are so many fascinating things to do in Larnaca, that will satisfy the whole family. Ancient ruins, sandy beaches, fantastic food – even relics in the art of female pleasure! Take your time, relax, and use this guide to plan your perfect holiday in Larnaca.
As always, if you've got any questions please leave us a comment, or send us a message on Facebook – we'd love to hear from you 🙂
---
---
Want to skip ahead? Just click one of these links…
~ LIKE IT? PIN IT!! 🙂 ~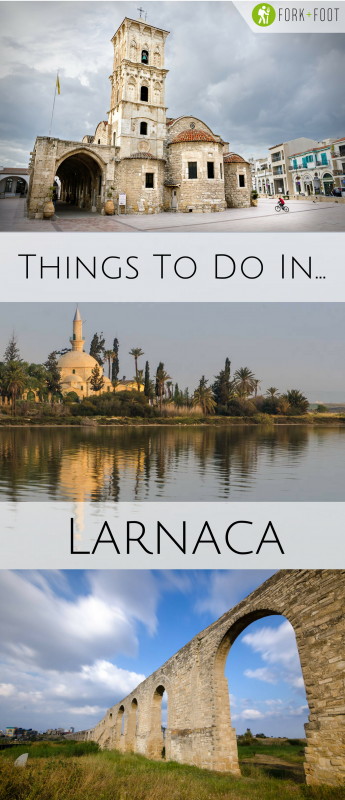 ---
Where is Larnaca?
It's a fair question, because if you're anything like us we knew it was in Cyprus but we couldn't have found it on a map. Larnaca Airport is the most popular point of arrival to the island nation of Cyprus, so a really quick geography lesson is in order 🙂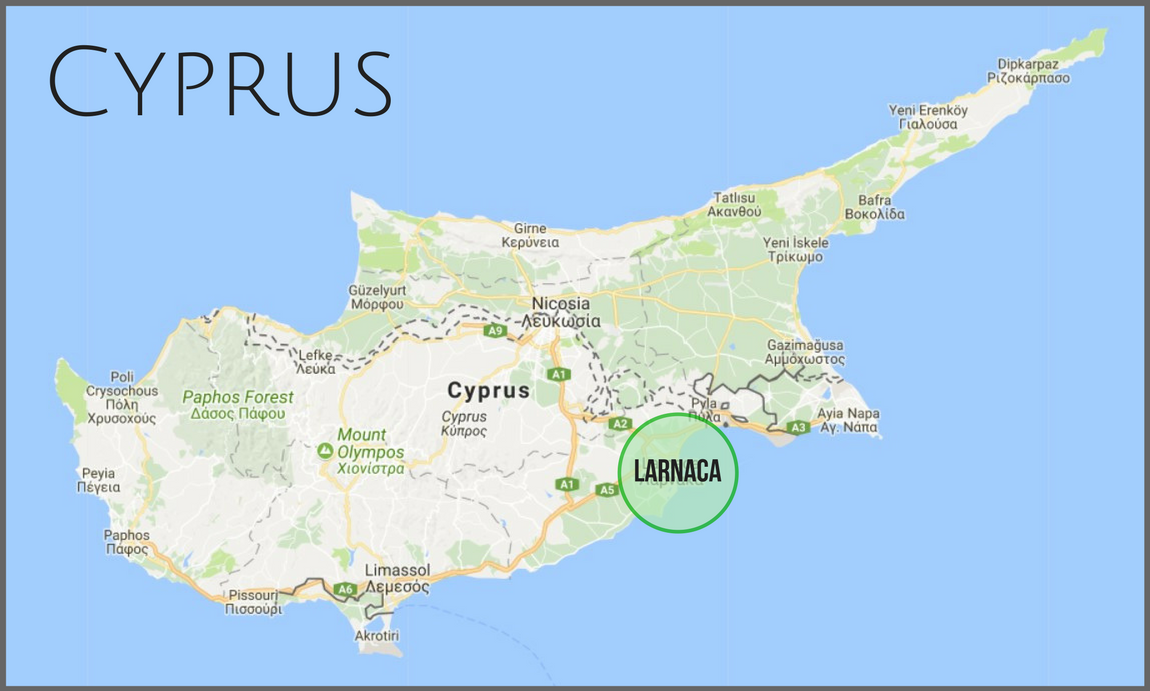 There are four major cities in Cyprus, and with a population of more than 140,000 Larnaca is the third largest. As you can see on the map it is located on the southern coastline, towards the eastern end of the island.
Larnaca is only a 45 minute drive from the beachside party towns of Ayia Napa and Protaras, or 30 minutes from gorgeously sleepy Vavla and Lefkara. Nicosia and Limassol are easy day trips, and it isn't hard to take a tour across the 'Green Line' into Turkish occupied Cyprus to visit Famagusta and the eerie deserted city of Varosha.
To be honest, Cyprus is so small you could even use Larnaca as a base for the entire island.
Because Larnaca isn't too big, it's one of those unique cities that straddles the line between old and new. One minute you can be strolling the sidewalk weighed down by all your shopping bags, and the next you'll find yourself walking under the arches of an ancient Byzantine aqueduct or through the ruins of an ancient Mycenaean city. Very surreal.
You'll be pleasantly surprised at all the things to do in Larnaca – we had such a relaxing week there, and we're sure you will too!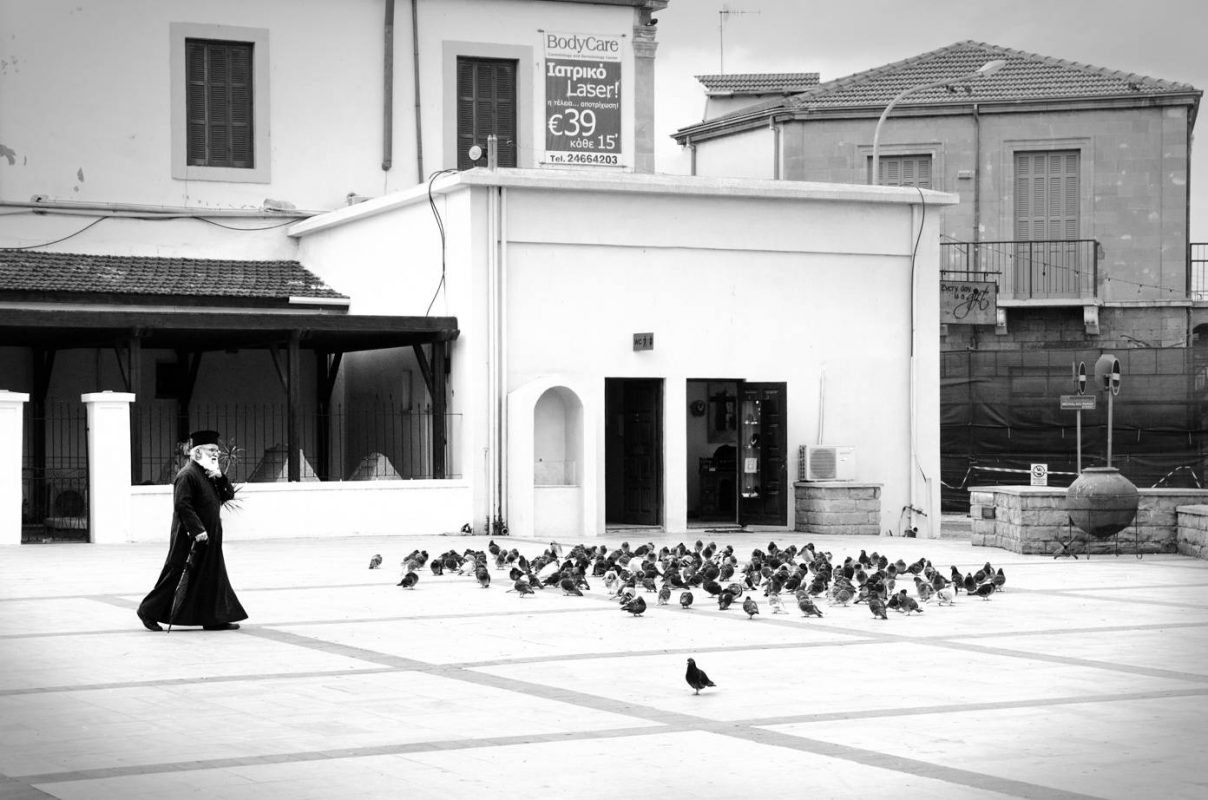 ---
Tours in Larnaca
We LOVE exploring a city by foot and at our own pace. There's something special about discovering a hidden park, or having coffee with the locals in a random cafe off the tourist trail that makes for really special memories.
To help you make the most of your time in Larnaca, here is an itinerary that will take you to the best sights in the city, and it's perfect if you've only got one day in Larnaca.
Got a weekend in Larnaca, or longer? We've also included a few extra options on the side 🙂
Scroll down for more info on each of the things to do in Larnaca – we've got all the info you need to plan the perfect holiday!
One Day in Larnaca
Morning
9:00am – Start your day with a light breakfast at To Kafe Tis Chrysanthis
10:00am – Explore the gorgeous Byzantine Church of St Lazarus
11:00am – Learn about Larnaca's weird and wonderful medical history at the Kyriazis Medical Museum (Wednesdays and Saturdays)
Afternoon
12:30 – Put on your best Indiana Jones impression at ancient Kition
2:00pm – Enjoy a hearty Cypriot lunch at Takis Kebab House
3:30pm – Experience Larnaca's Muslim heritage at the Kebir / Buyuk Cami Mosque
4:30pm – Walk the ramparts of Larnaka Mediaeval Castle
5:30pm – Chill out under the warm Cypriot sun on Finikoudes Beach and promenade
6:00 – Stroll through the narrow streets of Skala – Larnaca's old The Turkish Quarter
Evening
7:00 – Soak up an unforgettable sunset on Finikoudes Beach
8:00 – Finish your day with a delicious dinner at Art Cafe 1900 – don't forget, Cypriots eat late!
Total Length: 6km / 3.5 miles
Optional Extra 1: Mackenzie Beach (Allow an extra hour)
Optional Extra 2: Larnaca Salt Lake (Allow an extra hour)
Free Larnaca walking tour
If you like the idea of a local guiding you around town, but you're on a budget, then have a look at these two FREE! guided walks offered by the Larnaka Tourism Council.
"Larnaka – Past and Present"
"Scala – Its Craftsmen"
Both walks take around 2 hours, including a short break at a local kafenion (traditional coffee shop).
There's no need to book – simply rock up at the starting point ready for a 10am start. More information is available here. It's one of the best, and most cost-effective things to do in Larnaca 🙂
---
---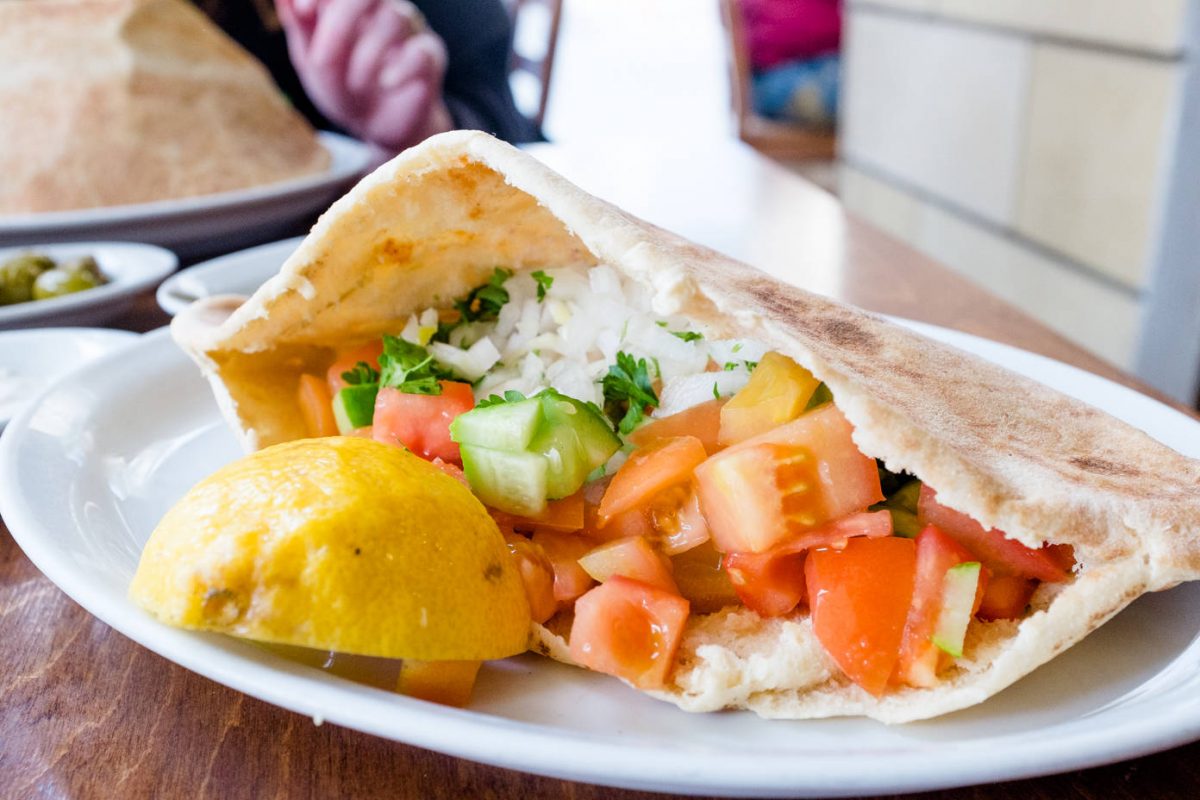 Larnaca food tour
Want to tempt your taste buds and try some of Cyprus' delicious traditional cuisine under the expert eye of a local? Check out Cyprus Taste Tours here. Louisa and Yiota offer tours ranging from 2hrs (€30) up to a full day in and around Larnaca. Meze, olive oils, wine tasting, cooking classes…they've got the lot and they get great reviews from their customers!
---
Things to do in Larnaca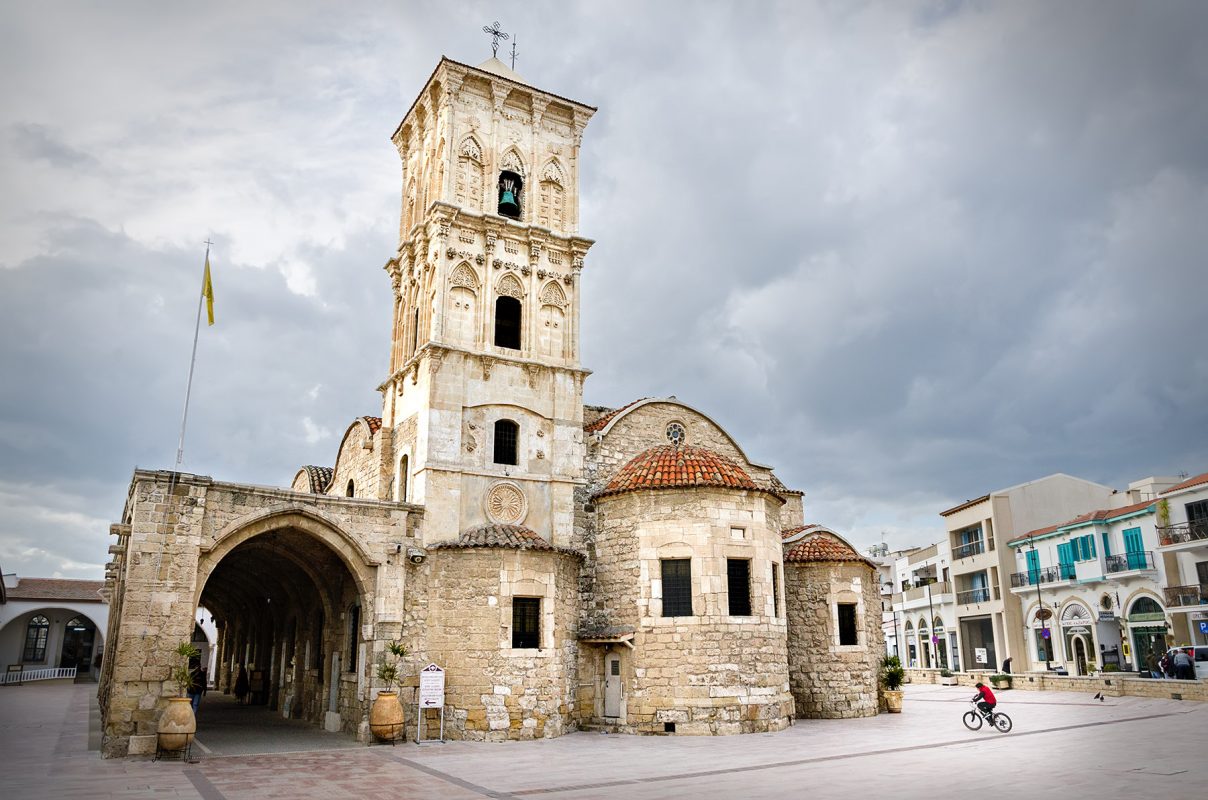 Byzantine Church of St Lazarus
Remember old mate Lazarus that Jesus rose from the dead? Well, the story goes that he fled to Larnaca and became their first bishop. After his (second!) death he was placed in a tomb, and then in the 800s the Greek Orthodox church commemorated him by building the Church of St Lazarus on top of his tomb.
This is the heart of Larnaca and it's the perfect landmark to guide you in your urban exploration.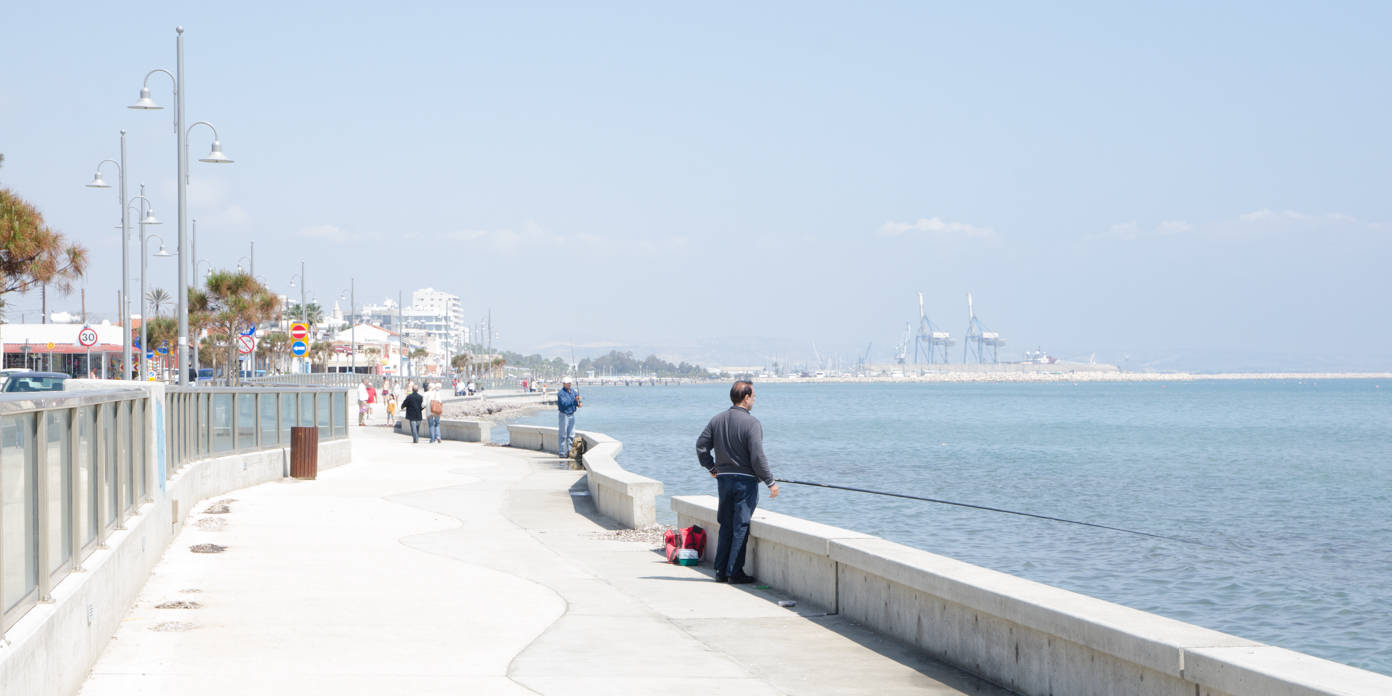 Finikoudes Beach
This strip of yellowish-grey sand extends 2km from the Larnaca Marina down to Psarolimano wharves. The waters are calm, are patrolled by Surf Guards during the summer and have Blue Flag status, making it a safe and clean beach for the whole family.
Even if the beach isn't your thing, walking the Finikoudes 'palm trees' promenade will take you past many of Larnaca's best attractions, such as Larnaca Castle, Buyuk Cami mosque, and the old Turkish Quarter of the city.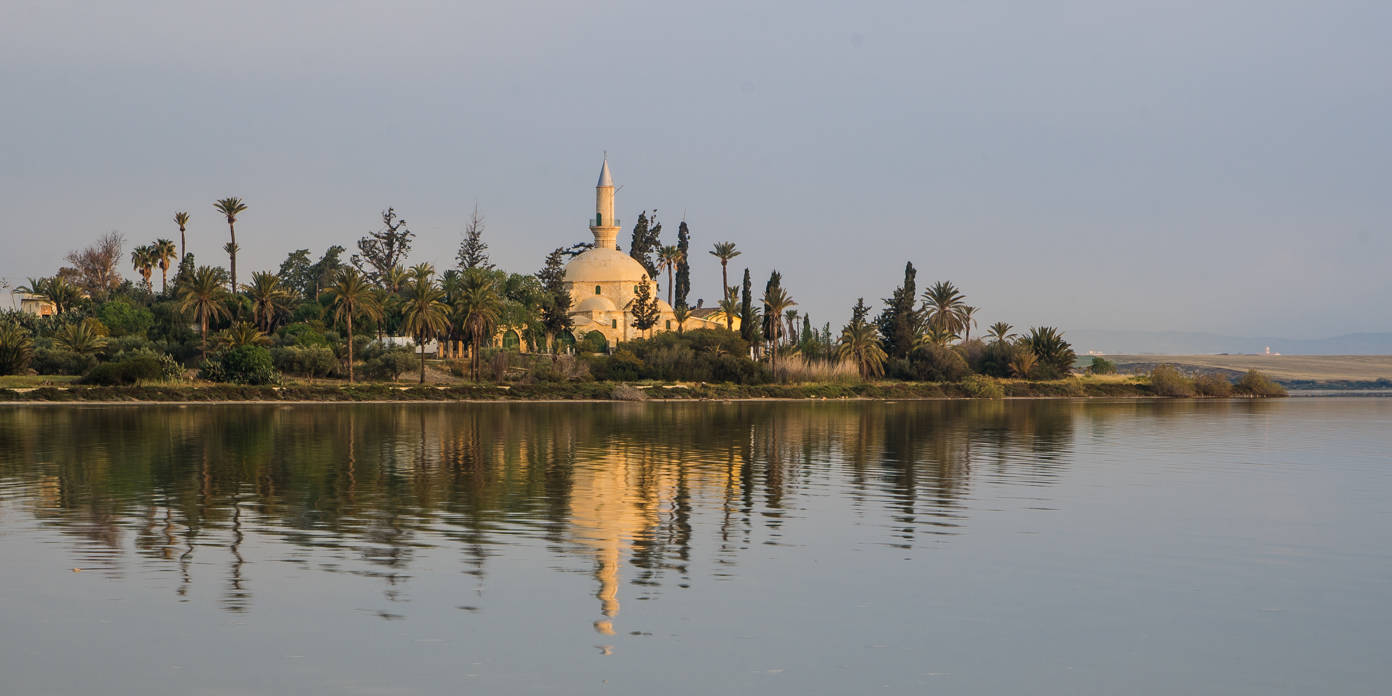 Larnaca Salt Lake and Hala Sultan Tekke
This lake lies to the west of Larnaca, about 30 minutes by foot, and is a HUGE destination for bird watchers in the winter months when thousands of pink flamingos make it their home.
On its western shore you'll also find the gorgeous Hala Sultan Tekke mosque, built where the prophet Muhammad's auntie, Umm Haram, fell off her mule and died (for real!). Odd story, but it looks amazing at sunrise, and there's literally a thousand kittens that call it home 🙂
Kamares Roman Aqueduct
The Kamares ('arch' in Greek) Aqueduct was built back in the 1700s by one of the Ottoman governors of Larnaca, and was still transporting water as recently as 1939. There were 75 arches originally, but more than half are gone now. Regardless, it's still a beautiful piece of ancient architecture.
There's a parking area out front, and if you're up for a walk you can follow the path around Larnaca Salt Lake for miles.
Entry: FREE!
Hours: All day, every day
Larnaka Mediaeval Castle
One of the smaller castles you'll come across in Cyprus, Larnaka Mediaeval Castle was built back in the middle-ages by King James to provide protection for the city.
Inside it's yellow stone walls you'll find a museum where you can learn about the role the castle played throughout history for the French, Turkish and British. But one of the best things to do is to climb its walls and get a fantastic photo of Finikoudes beach!
Entry: €2.50
Hours: (Sep-Apr) M-F: 8am-5pm, S-S: 9:30am-5pm | (April-Sep) M-F: 8am-7:30pm, S-S: 9:30am-7:30pm
Kebir / Buyuk Cami Mosque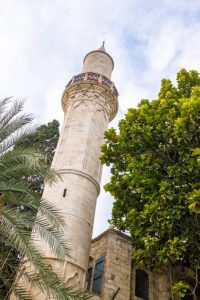 The Buyuk Cami Mosque (also called the Kebir Mosque) was originally built as a Catholic church, back in the 13-14th century.
As so often happens in this part of the world, the Turkish arrived in this part of cyprus in the 1500s and repurposed the church into a mosque, building the iconic minaret that you can see out front.
The mosque still functions as a place of worship for the Muslims that call Larnaca home, but entry (free!) is possible outside prayer hours all year round.
It might be tiny, but it also has a nice little garden/cemetery worth exploring. You'll see the old fountain that used to be supplied by water from the Kamares Aqueduct.
Skala – The Turkish Quarter
If you're familiar with the tense Cypriot/Turkish political situation you'll understand the significance of 1974 – the year when Turkey invaded Cyprus.
Prior to this, the district of Skala was a place many Turkish Cypriots called home. Understandably, with rising tensions many (all?) relocated from Larnaca across the 'Green Line' and into Turkish-occupied Cyprus. Similarly, many Greek Cypriots moved south, and into Skala.
Skala was always a place of cottage industry – pottery and other crafts, cafes, artists. Despite the modernisation you'll see on Finikoudes Beach, central Larnaca, and south along Mackenzie beach, Skala has retained its olde worlde charm, and is an interesting little detour off the promenade.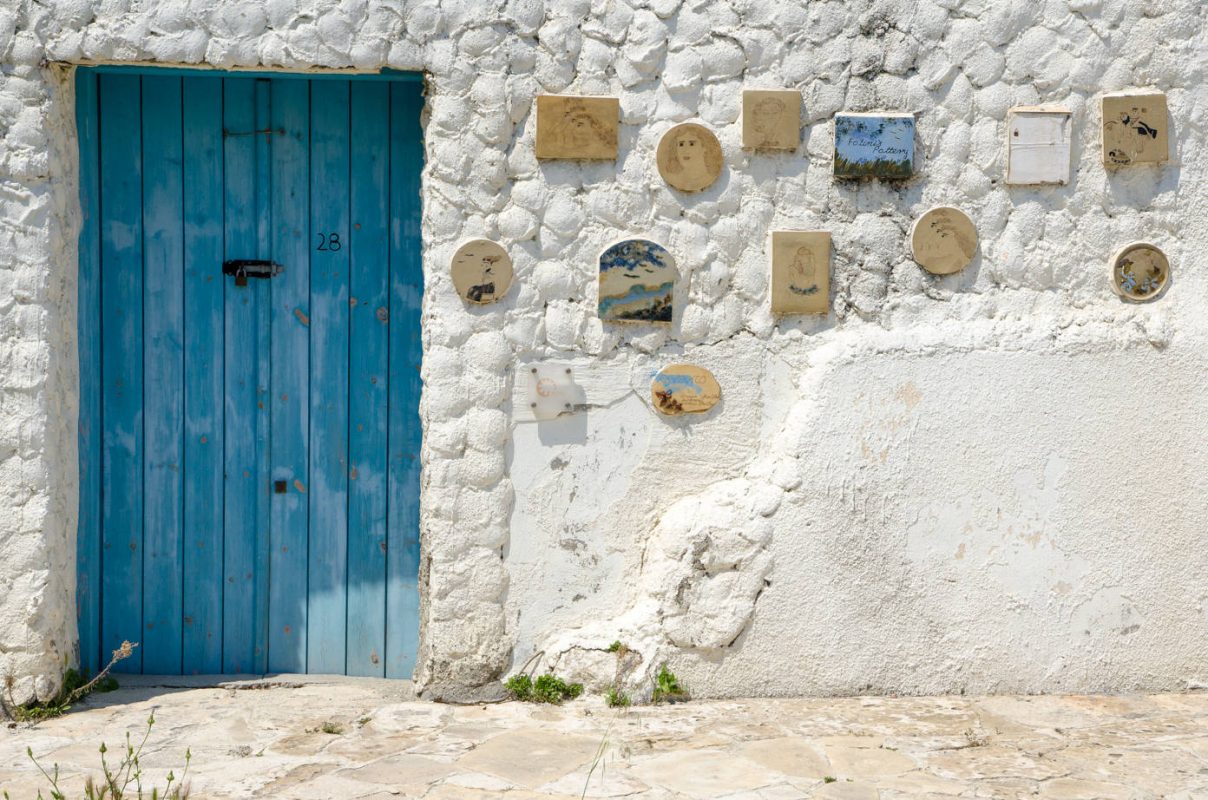 Ancient Kition
There is so much history on Cyprus, and you never what you'll find by simply digging deep enough! Underneath Larnaca lies the remains of the ancient city of Kition – a Mycenaean trading port from more than 3,000 years ago.
The archaeological site is a 20-30min walk from central Larnaca and you'll probably have the place to yourself. It's not as impressive or complex as some of the other sites around the island, but if you don't have the time to get out of the city it's an excellent way to experience ancient Cyprus.
Entry: €2.50
Hours: (Sep-Apr) M-F: 8am-4pm | (April-Sep) M-F: 9:30am-5pm – Closed on weekends
Note: The entrance was recently moved from the northern side of Archbishop Kyprianou Avenue, to the southern side.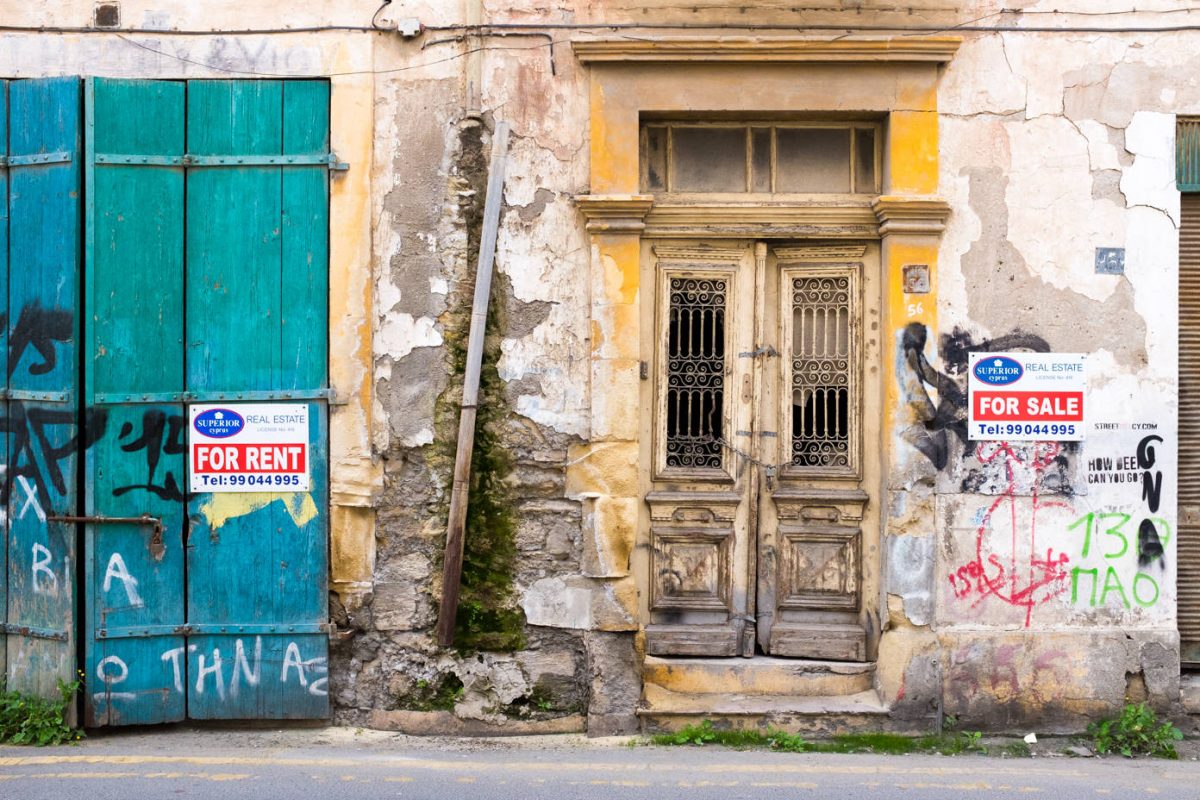 The Doors of Larnaca
You won't find this in guide books!
As you walk its streets – old and new – take your time to admire the many gorgeously decorated and intricately carved doorways to shops, homes and government buildings. It's such a refreshing contrast to the boring, cookie-cutter doors we get back home, and if you enjoy your photography you'll be in heaven!
Kyriazis Medical Museum
A very left-field choice, but if the weird, quirky and unusual is your style then you'll love the Kyriazis Medical Museum.
It's only small, but what they lack in size they make up for in variety – it's a treasure trove of information, providing a unique insight into how the citizens of Larnaca were treated back in the day.
There's an obgyn bench that they tout was used by half of Larnaca's population (which you'd kind of expect, since 50% of the population was female and having babies was the done thing…?). There's a fake amputated hand – and why not? Even a tonsil-extractor.
The most unusual? A collection of ancient stone dildos – from Kition – used to treat 'female hysteria' 🙂
Entry: FREE!!
Hours: Wednesday and Saturday only, 9am-12pm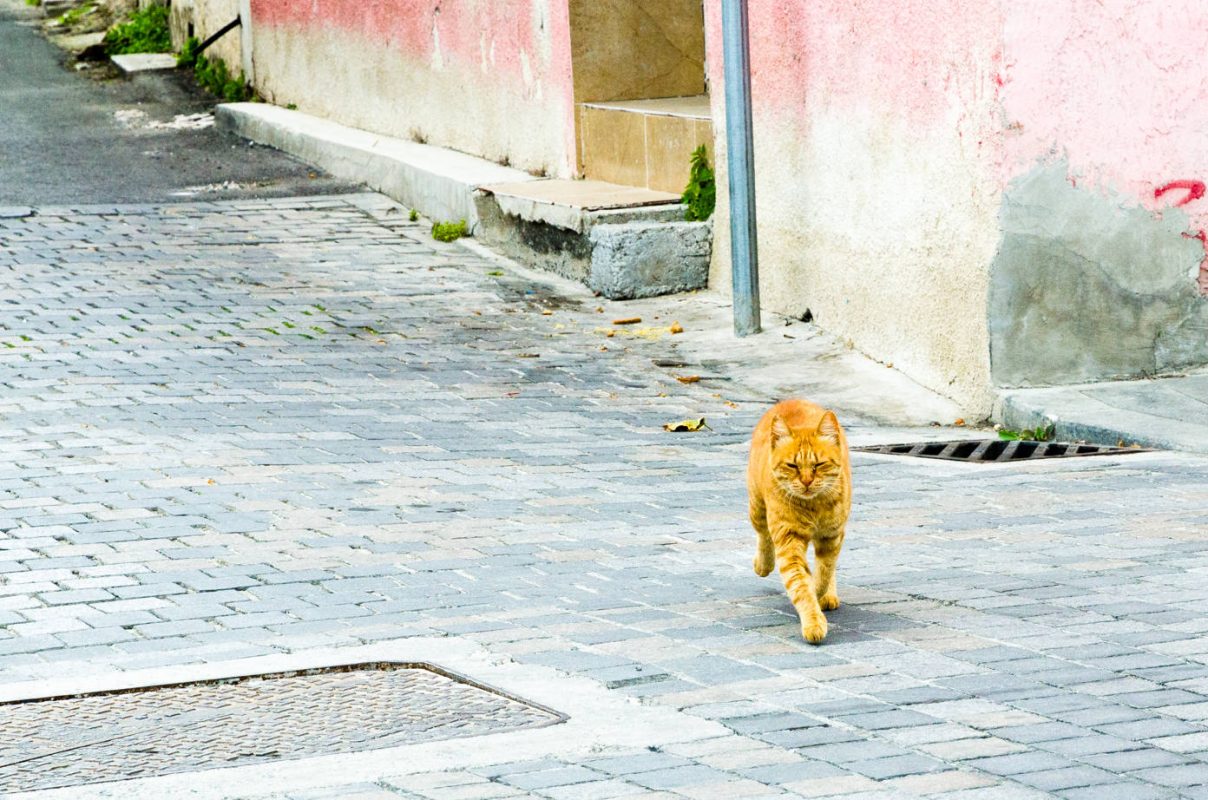 ---
How to get to Larnaca
Larnaca airport is the gateway to Cyprus for most travellers, handling upward of seven million passengers every year.
With more than 30 airlines arriving and departing from Larnaca airport you are guaranteed to find one that suits your travel plans, and budget.
Are you looking for a flight to Larnaca from the UK? Flights from the UK take 4-5 hours. British Airways is the largest of the carriers, but you'll also find flights provided by Blue Air, Cobalt Air, easyJet, Jet2.com, Thomas Cook Airlines, and TUI Airways.
Other major airlines flying to Larnaca include Emirates, Lufthansa, KLM, Aeroflot, and Qatar Airways.
If you'd like to read about other options for how to get to Cyprus, you'll love our 'Ultimate Guide to Cyprus'.
---
Click here for Your Ultimate Guide of Things to Do in Cyprus!
---
How to get around Larnaca
By foot
As you can see from our self-guided walking tour, so much of Larnaca can be experienced by foot across a day or two.
It's a flat city, so you don't need to worry about climbing hills, and the sidewalks are generally in good condition.
Cypriots do have a tendency to park their cars in odd spots, making for the occasional detour off the sidewalk and onto a road, but this doesn't happen often enough to be a real hazard.
Larnaca Car Hire
If you're only staying for one day or a weekend in Larnaca then a car will probably be overkill. But if you're staying longer and want to cover all the things to in Larnaca that we've listed here – or would like to explore the regions nearby such as Ayia Napa, Protaras, Lefkara or Limassol then a car hire is a great idea.
Considering we spent 3 months in Cyprus we did rent a vehicle (twice!), and it just so happens that our favourite rental company – Stevens Car Rentals – was based in Larnaca.
Stevens have excellent prices that are among the best you'll find (our Hyundai i10 cost us €710 for 2 months in the low season), and their service was exceptional. They arranged for an airport pickup, where their representative explained everything very clearly and we were off and exploring in no time!
A good backup option to Stevens is Regency Car Hire, who also proved to be very good.
Larnaca Uber and Taxis
Unfortunately as of early 2018 there is still no Uber in Cyprus.
Taxis are also expensive, which is why we recommend a rental if you're going to be in Larnaca or Cyprus for more than a few days.
We didn't use them, but if you do need a taxi then we hear very good things about nTaxi booking service – you can get the app here. If you flag a taxi down at either Larnaca Airport or in town, make sure they have a meter and that it's switched on.
Larnaca buses
The network of local buses in Larnaca is pretty decent, with buses generally running every 30-60 mins depending on the route – you can find a map of all the routes here: Larnaca Route Maps
Adult fares are €1.50 during the day and €2.50 at night (9pm-4am). If you're planning on taking multiple buses throughout the day then an excellent option we recommend is to purchase a daily ticket for €5.00. All tickets can be bought from the bus driver.
Children up to 6 years of age travel free.
Bus trips to Nicosia, Limassol and Paphos are also easy, with one-way tickets ranging from only €4 to €7.
Larnaca Airport Shuttle Buses
If you want to know how to get from Larnaca Airport to your accommodation in Cyprus you can also use 'Cyprus by Bus'. All the details for the Larnaca airport buses can be found here. The bus stop at Larnaca Airport is outside the arrivals terminal, to the left of the Upper Departure Level exit. Buses on each line leave around once per hour, with operations between 6am and 10:45pm. The quickest buses are routes 417 and 429.
Or if you can't be bothered with the stress and luggage limitations of public transport, why not pre-book a car or shuttle using one of these offers?
---
So, that's the lovely Larnaca done and dusted 🙂
Is Larnaca just your first destination in Cyprus? Maybe you've got plans to visit some of the other beautiful parts of Cyprus?
If that's the case you'll love our 'Ultimate Guide of Things to Do in Cyprus'!
Have you ticked off all the things to do in Larnaca, and you're now looking further afield for day trip options? You'll be enchanted by tiny Vavla, and neighbouring villages Lefkara and Kato Drys. Don't worry about accommodation either, because Vavla Rustic Retreat is amazing!
We've also got this EPIC guide to hiking, walking and nature trails in Cyprus that will get you out into the gorgeous Cyprus countryside in no time.
And if you're thinking of crossing the border into Northern Cyprus, our 'Northern Cyprus Holiday Guide' is the perfect place to start your planning.
Thanks for reading, and happy travels!!
Andrew and Karen.
---
LIKE IT? PIN IT!! 🙂 ~